Battle for the Top (Heroes at Home #2), Willow Dixon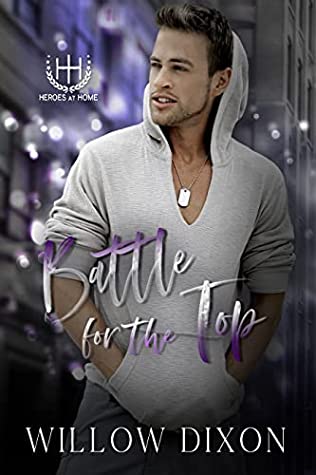 Rating: 4.5 Stars
Publisher: Willow Dixon
Genre: Gay Romance
Tags: Contemporary, Addiction/Recovery/Thoughts of Suicide, Former Military, Romance, Series
Length: 272 Pages
Reviewer: Cindi
Purchase At: Amazon
Blurb –
I know who I am and what I want, but Jordan makes me question everything. – Luke
My life is as predictable as it comes. I go to work at my security job, I hang out with my friends, and I spend my free time alone. I don't want or need anyone or anything else.
Then I'm assigned a night contract with Jordan, who's my complete opposite, and my world is flipped upside down.
Jordan is friendly, outgoing, and nothing like the men I'm usually attracted to. He's also big, confident, and can turn me to putty with just his words. I don't know who I am when I'm with him, and while he makes me feel better than anyone ever has, I'm not sure I'm ready to let someone else take control.
I like Jordan, and I trust him, but is that enough for me to give in and let him take care of me?
***Battle for the Top is an opposites attract, grumpy/sunshine, hurt/comfort story featuring a jaded former solider turned security guard, his friendly but guarded co-worker, a found family, and accidental feels. It is Book 2 in the Heroes at Home series, but can be read as a standalone.
Review –
The first thing I have to mention because it's absolutely driving me CRAZY is the misspelled word in the blurb, which I highlighted above. I noticed it at the end of the first book thinking maybe it was just a fluke. It wasn't. It's everywhere, having obviously been copied and pasted without it being caught. Normally if a typo/misspelled word is in the blurb, I go into the book expecting more of the same. Thankfully, it wasn't. I just couldn't not point it out, because again, it's driving me crazy.
Now to my review.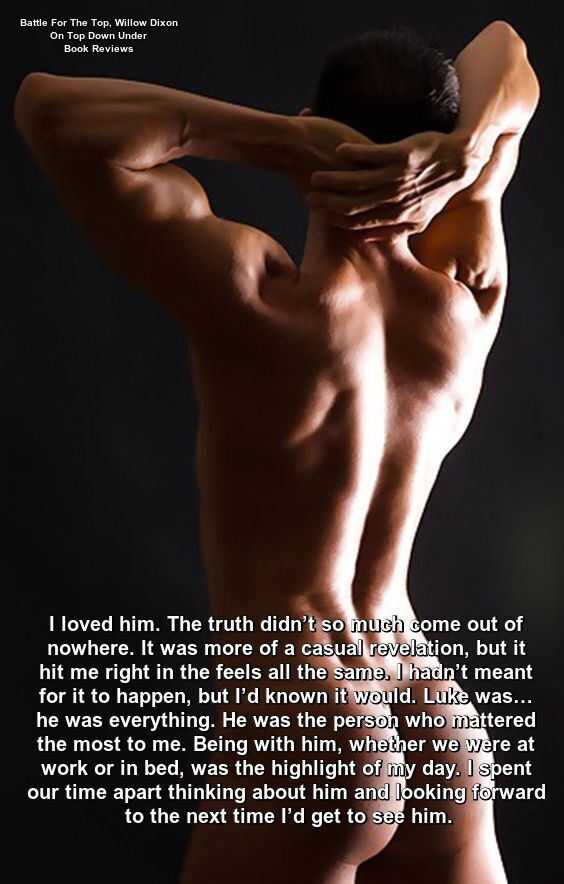 The reader meets Luke in Doc's and Gage's stories. A security guard, he's just taken a job guarding a big office building that's under construction. With it being an overnight shift, he will be working with somebody else for the duration of the contract. That somebody else is Jordan. It's a little awkward at first for Luke because he mostly keeps to himself and isn't good with small talk. Jordan's the opposite. He's talkative and just an all around friendly guy. Over a short period of time Luke comes out of his shell a little, enjoying Jordan's company. They become friends when Jordan offers to pick him up and drive him back and forth to work. They work the same shift, live relatively close to each other, so why not? It's a nice arrangement for both of them until one morning after work when they stop to get gas. Something happens inside the store that changes their relationship completely. Shortly after, a kiss turns into a hell of a lot more. This 'more' carries over to long after that morning and their sexual relationship becomes a regular thing.
Luke is a recovering alcoholic who hasn't had a drink in three years. As someone who lost two close family members to illnesses related to addiction, I was pleased with the way the author wrote Luke's story. It was realistic. He didn't just suddenly wake up one day and was all better. The addiction is always there. It was something he battled every day of his life. During the worst of he addictions, he was in the service and basically didn't care whether he lived or died. If anything, he felt he'd have been better off dying because then he would be remembered as somebody other than the loser – his word, most definitely not mine – that he always believed himself to be. He's only still here now because of his best friends, Doc (Keaton), Gage, and Sarge (Hunter). They all served in the military together and were as close as brothers. Thanks to his friends, he's alcohol free and now has a steady job and is taking things day by day.
"When I was a civilian, I was just Luke. A loser with nothing and no one. I didn't matter. But I put on the uniform and suddenly people saw me. I was a hero. I mattered. I was someone, and the thought of going back to nothing was worse than the idea of dying. At least being killed in action would make me a hero. People would remember me. They'd celebrate me."
"I just wanted to matter…"
Jordan is the complete opposite. Unlike Luke whose childhood was pretty bad, Jordan is the only child to doting and loving parents. He's relatively new to the security company, so he's still learning his way around. What he wants to be learning his way around (snort) is his new coworker.
They start hooking up a lot, with Luke turning over control when that's something he's never done before. There's something about Jordan that has him being a little more submissive than he's ever been. It freaks him out because that's just not him. Even so, he goes with it, opening himself up more every time they're together.
He had one hand under my pants and his finger buried between my cheeks, teasing the outside of my hole. I wanted to tell him to stop. Not because I didn't like it, but because I wasn't used to it. I'd never bottomed, and I didn't indulge in assplay, not even when I was alone. This was completely new to me, and my mind was fighting it, telling me that it wasn't right and I needed to stop it, but I didn't.
On top of the sex, they become really good friends.
Luke, not understanding what it is he's feeling when it comes to Jordan, gets advice from Doc, Gage, and Sarge. I loved all three of them. I just wish they all had a little more page time, especially together as a group.
I loved Luke and Jordan together. The sex scenes were super hot, with them getting closer with each encounter. Feelings start getting involved but neither man is willing to admit it, scared by doing so they'll lose what they have. When they finally did come together, it was beautiful.
BUT…
I hate rush, rush endings. It's one of my biggest reading pet peeves, is even listed on my bio on this site and on Goodreads. I can't express how much I hate reading long books that build up something only for everything to be resolved on the final page or close to it. That's what happened in Battle for the Top. When I got to 95% of the book and they still weren't there, I was really frustrated. There's an epilogue that takes place 9 months later, which is good, but it wasn't enough. I was invested in Luke and Jordan. I kept waiting for one of them to finally, FINALLY admit they wanted more than a sexual relationship. How it happened was really nice, but it also made me mad because it literally happened a few pages leading up to the epilogue. After all that build up, I wanted to see what happened immediately after, not 9 months later.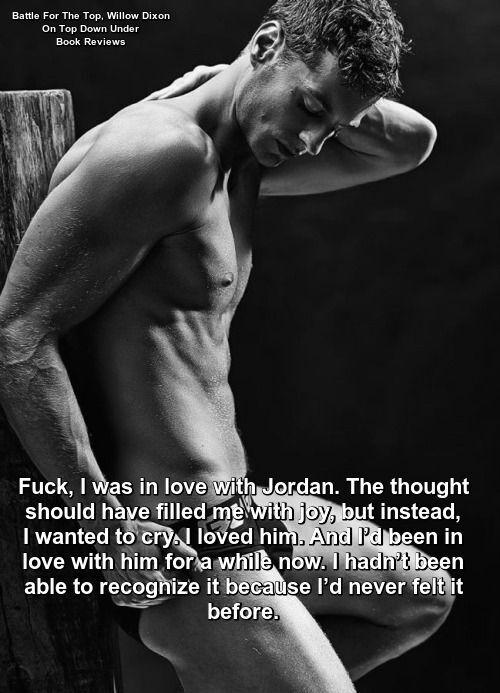 They really sucked at communication unless it was about sex. And, as much as I enjoyed the sex scenes, I felt like there were too many. When they needed to be talking, they were having sex.
Another issue I had was how many times the author had one or both of them either saying or thinking 'I'm a top' or 'he's a top' or something along those lines. After about the tenth time, I was thinking, "Okay, we get it. They're both tops. I wonder how many more times we're going to be told this before the end of the book?"
The answer to that question is a lot.
Even so, I really enjoyed the book. It was nice seeing Luke just let go and allow somebody else to be in control. And Jordan was amazing. He was so patient, and just an all around good guy.
Even with what I just mentioned, I still give it 4.5 stars. I'm really looking forward to Sarge/Hunter's story. Sarge is the most secretive of the friends. I'm eager to see more about him.