Straight Battle (Heroes at Home #1), Willow Dixon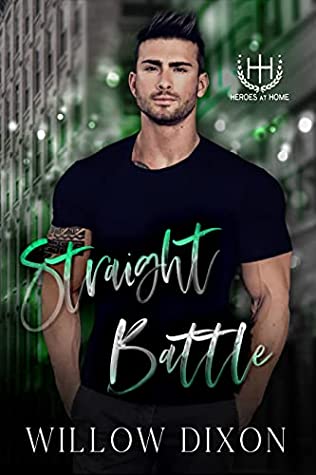 Rating: 4.5 Stars
Publisher: Willow Dixon
Genre: Gay Romance
Tags: Contemporary, Bi-Awakening? / GFY (x 2), Former Military, Romance, Series
Length: 272 Pages
Reviewer: Cindi
Purchase At: Amazon
Blurb –
"I've always been interested in women, so why can't I stop thinking about Tyler?" – Gage
Buying a house was supposed to be a good investment. Too bad I bit off more than I can chew. Between my job at the bank and my utter lack of home improvement skills, I'm in way over my head. Then a friend suggests I hire a handyman. Enter Tyler.
Tyler is down on his luck after a recent divorce, and we strike a deal that he fixes my house while I give him room and board as part of his pay. He's the perfect roommate, amazing at his job, and he quickly becomes one of my closest friends. But there's something there, something I've never felt for another man before.
Tyler and I both thought we were straight, but that doesn't stop the attraction that grows between us. Is it possible I found the person who could finally show me what love is?
***Straight Battle is double bi-awakening, opposites attract, hurt/comfort story featuring a former soldier with trust issues, a divorced handyman looking for a connection, a found family, and accidental feels. It is Book 1 in the Heroes at Home series, but can be read as a standalone. 
Review –
I'm going to start with this – leave reality at the door if you read this book. I'm always funny about reading gay-for-you books with one 'straight' MC falling for a guy, but two? Most of the books I read that are tagged as GFY are actually OFY, or the character has at least been attracted to the opposite sex at some point in their lives. That's not the case with Gage and Tyler. Both have only been with women, have only ever wanted women. Suddenly they're wanting each other and only each other.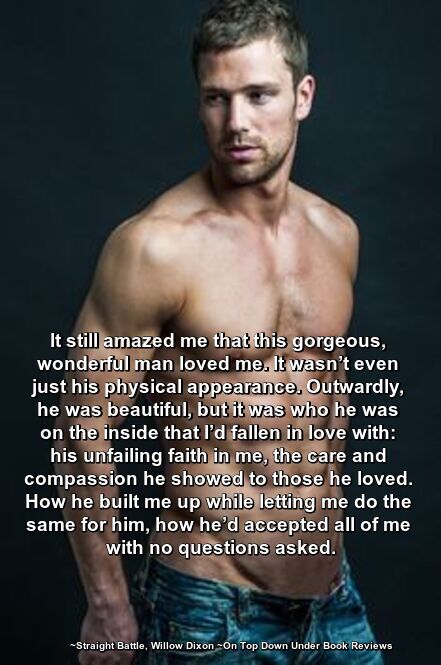 Even so, I loved Gage and Tyler both together and apart.
Tyler has recently gone through a pretty nasty divorce after being married for twelve years. I say recently, but he and the ex hadn't lived together in a year and a half before the divorce was final, I think? Even so, after losing pretty much everything in the divorce, he's now living with his parents. Being 38 and living with his mom and dad is about as much fun as it sounds. In other words, it's not. Unfortunately, he has no choice. He has no job, no prospects, and no money.
Gage, 33, is former military. He's had a few relationships here and there over the years, but nothing ever stuck. There was just no real emotional connection with any of the women he's been with. Kind of a loner, he's okay with not spending his life with somebody, though he does enjoy the occasional hookup.
Gage recently bought a big fixer-upper house not realizing just how difficult it would be to make the necessary repairs. He's not a handyman by any means and it shows. One of his friends recommends Tyler, the twin brother of another friend,  Trevor. Tyler is a handyman of sorts, and really needs work. Gage can't afford to pay a lot, but he can offer free room and board. After a quick conversation, the two men work out a deal and Tyler moves in.
Tyler and Gage become friends pretty quickly. Another thing that happens pretty quickly is how each man is noticing things about the other one that somebody who only likes women wouldn't be noticing.
This happens really fast, not long after Tyler moves into Gage's house.
They do battle with themselves a little, and even discuss it with close friends away from each other, before one kiss changes everything.
After that, it's pretty much full speed ahead. They explore each other while at the same time becoming closer as friends. Once the awkwardness of the, "I'm wanting a man when I've never wanted one before…" goes away for them both, they're open with each other about their wants and what they're eager to try in the bedroom. If you take the unrealistic double GFY out of it, they actually have a really sweet, really nice relationship. And it was fun watching them as they learned their way around each other and their feelings.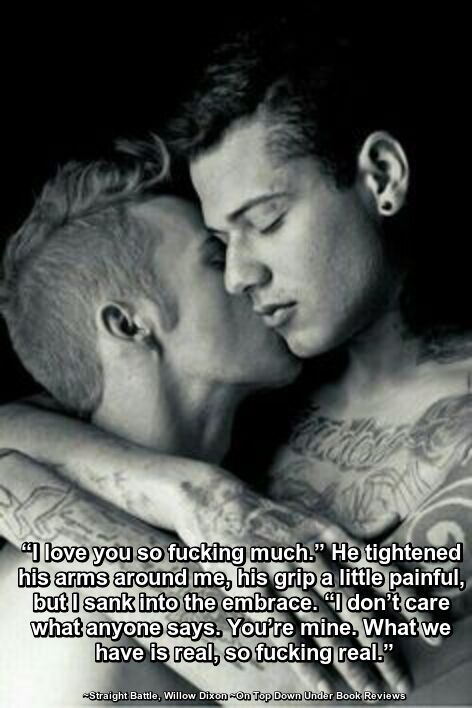 Not everybody is happy for them once they come out. There's a total bastard coworker of Gage's that makes some homophobic comments that Gage has a hard time dealing with even several hours later. Had he been dating a woman, this coworker – who Gage had considered a friend before this incident – never would've said a word, but because he's seeing a guy, true colors came out. Thankfully, he was dealt with quickly, and Gage didn't sit by and let it just happen.
Honestly, I enjoyed the hell out of this book. I loved both Gage and Tyler, and I enjoyed watching them navigate their way through a relationship territory neither had ever thought they'd have before. The sex scenes were hot, even if they hadn't been with another man before. They took turns learning as they went along. No matter what was happening with their sexual relationship, their friendship came first. It was really nice.
Overall, a great book, and a sweet read. I admit to going into it thinking it probably wouldn't work for me. Surprisingly, it did. It's a very sweet romance with two very unique men. They were really good together.
I normally avoid military or former military type books. Gage is still dealing with what he saw, what he lived, when he was deployed. I like the way that was written. It was sensitive without being so in your face.
I'm glad I took a chance with this one.