Audiobook Review: A Dance Too Far, H.L. Day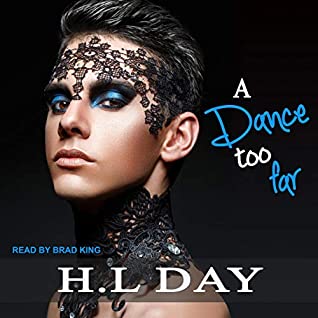 Genre/Tags: Contemporary Gay Romance, Ballet Dancer, Russian Mob, Suspense
Author: H.L. Day
Story Rating: 5 Stars
Narrator: Brad King 
Narrator Rating: 5 Stars
Length: 8 Hours and 33 minutes 
Audiobook Buy Links: Audible 
Love can be dangerous!
Valentin Bychkov, rising star of contemporary Russian ballet, appears to have everything: wealth, talent, success, and a face and body to match. Not that anyone can get close. Bypass the entourage and there's still Valentin's sharp tongue and acerbic wit to deal with. He may give his body freely, but his emotions are kept tightly locked away.
Max Farley's life is a simple one. All he's interested in is work, drinking, and picking up the latest in a long line of one-night stands. The way he chooses to live may not be to everyone's taste but it suits him down to the ground. He's never met anyone who's made him want to confront the demons from his past. Until now.
A show in London brings the two together. Lust brings them closer still. But if rumors of Bratva connections turn out to be true, then dangerous men wait in the wings. One dangerous man in particular, who's used to people following his orders without question.
Difficult choices need to be made on both sides. Valentin and Max need to stop playing with fire and let each other go, or face the consequences. But letting go isn't that easy where love is concerned.
And some things are worth the risk.
Review:
My original review of the e-book is here.
I loved this audiobook. Loved. It! I actually thought Brad King was British. What a surprise it was at the end of the book when he was giving the writer and copyright details, etc, and he spoke with an American accent. He does a very good British and British-Russian hybrid accent. I'm so impressed with Brad King I went looking for more books with his narration. Why aren't there a lot more books with him narrating? He's so good.
I already know and love these characters. Valentin and Max are real favourites of mine. The haughty Russian ballet dancer, Valentin Bychkov, and the 'halt, no relationships allowed here!' sound engineer, Max Farley. Brad King nailed their personalities through dual POV narration, as well as their mood throughout, and it peaks and dips perfectly. Every night I couldn't wait to listen to this after a long day. I couldn't wait to get back into their world of danger and hot, fast, rougher sex. As well as Valentin's quick-witted razor barbs, and Max's repeated journey back to be with the off limits ballet dancer. I enjoyed Valentin's attempts to keep Max as sex only, but not winning, and Max's confusion at how hard he was panting after, wanting to be with the gorgeous Valentin, the (seemingly) cold and distant ballet diva who appears to have it all… until Max realises he doesn't. A little bit of Max-karma. 🙂
As well as the romance, there is a good edge and suspense element throughout with Valentin's mentor, the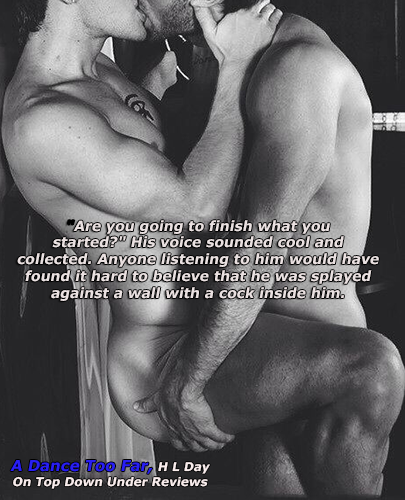 repulsive Dmitry Gruzdev, keeping hard tabs on Valentin via bodyguards breathing down his neck. Watching for any encounters Valentin might have. Valentin is allowed to have sex, just not with anyone more than once, and not with anyone he could potentially develop feelings for, or vice versa. Of course, this is a romance and Max and Valentin do develop feelings and a close connection, one that Dmitry leans hard on. But no matter what threats there are, they are both surprised at just how hard they're prepared to work to stay together.
I couldn't help but admire how brave Max is, and he truly is. He's an everyday guy, a sound engineer, whose only crime is falling for a ballet dancer with Russian mob ties, having to deal with the sociopathic Dmitry's brand of cruelty. Even with that in the foreground, Max is loyal in the face of Bratva breathing down his neck. Something that Valentin has leaned to live with for a decade. When no one else was there, when Dmitry hit peak assholitry toward Valentin, Max was right there.
Valentin is so haughty and acerbic. He cuts Max to the bone for a while. He takes no prisoners. At first Max calls Valentin his Cold Russian, but Max discovers it's a way Valentin's learned to lock down his emotions for survival's sake. And Valentin is such a survivor. His resilience is amazing. I love how quick on his feet Valentin is. How cool he could appear on the outside while having a lot at stake. Dmitry may be a total controlling bastard, but Valentin has game.
The dialogue in this book is totally suited to narration. It's quick, clever, sexy, intriguing. The story's pacing is excellent, just right for audiobook. As I said earlier, Brad King impressed me no end. He took the story and ran with it, making it his. I'll forever hear Valentin and Max in King's voice. He gave H.L Day's characters the respect and depth they deserved. He voiced them with great passion. I totally fell in love with Valentin and Max all over again listening to A Dance Too Far. If you haven't picked up this contemporary gay romance before, if you have and you enjoyed the e-book and wondered about the audible, or, if like me, you didn't know there was one, there is and I definitely recommend grabbing it.