Inked in Blood, K. Evan Coles & Brigham Vaughn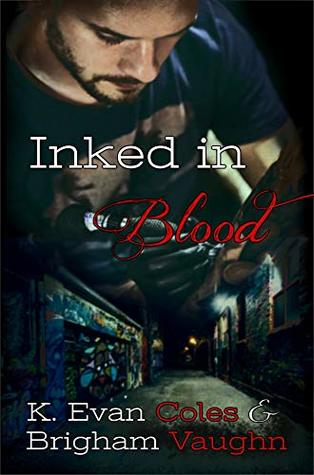 Rating: 4 Stars
Publisher: Self Published
Genre: Paranormal
Tags: Gay, Romance, Vampires
Length: 54 Pages
Reviewer: Kazza
Purchase At:  amazon
Synopsis:
Jeff Holloway is a twenty-five-year-old skater with a killer smile and lots of free time on his hands. He's also a vampire who prowls the dark corners of San Francisco looking for entertainment and his next meal. Lately, he's been spending lots of time watching a tattoo parlor in the Mission District, where someone tall, artistic, and handsome has caught his eye.
Santiago Alvarez, the forty-three-year-old owner of Iron & Ink has a huge secret. He lives a quiet life, finding joy in his career and his friends, but it's caused him to shut himself off from dating and getting close to anyone romantically. When he bumps into Jeff on the sidewalk near his shop, he's intrigued but hesitant to let anyone get close.
An unexpected event one night will change everything for both men, and neither of their futures will ever be the same.
Review:
Jeff is a vampire with the look of a young twenty-something skater boy, complete with a smattering of freckles and a board with a bat on it. He lives in San Francisco and has his local area for hunting and feeding. It's here he's discovered an interesting tattoo artist that he spends nights checking out from the roof of a building across the road.
Despite his earlier thoughts about exploring other parts of the city, midnight once again found Jeff in the Mission, moving among the crowds toward a block on Valencia Street. There, a tattoo shop called Iron & Ink sat between a Pilates studio and a hair salon.
Jeff is an interesting character. He was turned when he was twenty-three and has been on his own for nineteen years. There is a relatable human aspect to Jeff, but he also acts on the darker side when he hunts. He's careful now not to drain people because the authorities get involved but he's also casually darker about it too.
Mace would probably live if he were found and taken to a hospital. He'd have a hell of a story to tell, too. If no one found Mace … well. Jeff didn't bother concerning himself with thoughts like that.
But the tattoo artist, also owner of the shop, calls to him night after night. He's good at what he does, and he works every day the shop is open, including long hours. Is there no one for him to go home to?
Jeff decides to make sure he'll bump into him so he can meet him in person. After introductions, Jeff learns that Santiago is the name of the tattoo artist. He also discovers a lot more after a couple of discussions – Santiago is forty-three and may not make forty-four because he has a terminal brain tumour. Santiago shares this information because it becomes clear Jeff is interested and he doesn't want anyone being wrapped up in what's to come for him. He's unaware Jeff is a vampire.
"Look, Jeff, this is very flattering." Santiago wrapped his hands around his mug. "I find you attractive, but I am not in a position to date. I don't want you to get your hopes up about something that will never happen."
Jeff is in a quandary, he can turn Santiago and the tumour will be healed. But how does he tell him he's a vampire and hit him with the whole you can be immortal with me thing? It sounds easy in a book but when I think of real life, that would be one interesting conversation.
This is a short e-book but the co-authors manage to build a decent contemporary world with some of the usual takes on vampire added to their own spin. No burning in the sun for one. Jeff seems to be able to eat, or at least pass for a good facsimile of eating, stakes don't work, only vampires can kill another vampire and since there aren't any others around in Jeff's area he could look forward to a long undead life.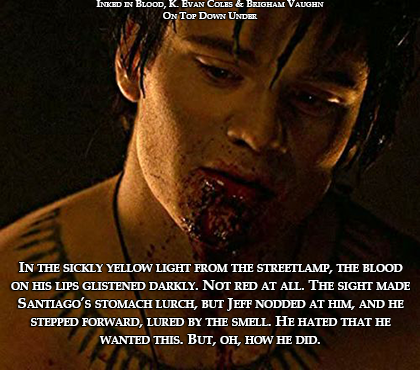 There was no particular drama in this book. The primary concern was would Santiago be okay with turning and what would that look like. Things are kind of taken out of Jeff's hands to a degree and I very much liked the reaction Santiago had, how he processed, how they dealt with what occurred. Jeff had been on his own since his turning. Santiago is alone in the world as well. They fall in love, I don't remember seeing the L word but there is commitment, and quickly. I'm onboard for quick in shorter and paranormal books. No issues for me. Would I have liked it to have been longer? Yes, I would have, but it still works as is.
This was an enjoyable read in the middle of a busy schedule for me right now. I was pleasantly surprised with how much I enjoyed little things in the writing – the take on vampires, the thoughts both men had, the lack of drama that could have easily been used to drive a plot point, kudos to the writers for that. There is one sex scene and it's hot and apt for a vampire story. Enjoyable reading with a little bit of extra bite. 4 Stars!