Skater Boy (Hot Off the Ice #4), A.E. Wasp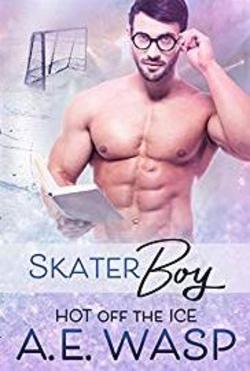 Rating: 4.5 Stars
Publisher: A.E. Wasp
Genre: Gay Romance
Tags: Contemporary, Athletes, Friends To Lovers, Kids, Series
Reviewer: Cindi
Purchase At: Amazon.com
Blurb –
In a world that measures success in dollars, how do you put a price on happiness? 
Love, marriage, and a baby carriage. It's all Alex Staunton has ever wanted. Well, that and an Olympic medal for figure skating. The medal he got. The rest of it – not so much. 
When his most recent poor decision comes to a door-slamming end, Alex moves into the house of his best friend, Thunder starting goalie, Sergei Pergov. But when tragedy strikes, giving Sergei custody of the twins he fathered confidentially, Alex's problems take a backseat to the needs of two infants, and Alex vows to be the best fake-dad and house-husband he can be. 
Sergei is dazzled by the way Alex makes managing all the craziness look as easy as doing a triple-axel. As their friendship grows even deeper, Sergei realizes he doesn't want to imagine a life without Alex in it. Alex is the one who makes their house a home; his love makes them a family. How can Sergei make Alex understand he's worth everything? 
Skater Boy is a story about falling in love with your best friend. It contains discussions about baby poop, day drinking, girls' night out, and the purchase of a mini-van.
Review –
I loved the first book in this series (Bryce!), wasn't a big fan of the second one (Paul 🙁 ), and 2.5 (Joey!) was nice but it was a story before a story. Skater Boy was the one I was really looking forward to. Alex and Sergei were introduced in earlier books so I was eager to see them have their own HEA. What an amazing two guys.  There were some things that bugged me about the story, but the author did write Sergei and Alex's relationship well.
Alex and Sergei have been best friends since they were teenagers. Alex went on to become an Olympic gold medalist in figure skating and Sergei became a popular goalie for professional hockey team Seattle Thunder. Regardless of what was going on in the other one's life, they remained closer than family.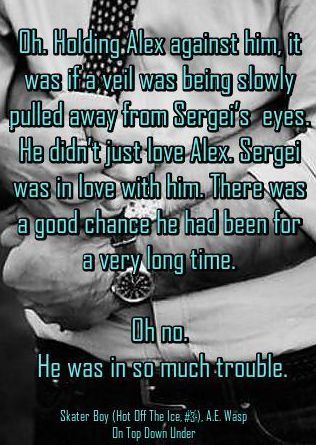 Sergei left Russia when he was sixteen. The story behind him leaving his homeland comes out little by little. It was such a traumatic event that even his best friend (Alex) didn't know the story. Alex never pushed, knowing that when or if the time was right Sergei would confide in him.
The book starts with Alex having a pretty miserable night. He dumps his boyfriend (though I use the word boyfriend lightly) after finding out the man wasn't divorced as he'd said he was. Sergei walks in during the middle of the breakup. Watching the man treat Alex the way he does angers Sergei and not just in a 'my best friend is being treated bad' kind of way. Oh, no. Sergei is jealous and seeing his old friend in a much different light. By the time the argument is over, Alex is holding Sergei (who's six-eight and all muscle) back from killing the guy. With nowhere for Alex to go – the apartment he'd been living in belonged to the jerk boyfriend – Sergei insists on him living with him. This was something he'd tried to get him to do in the past but Alex wouldn't hear of it. He was already feeling like a kept man and refused to take advantage of his best friend.
Alex has always loved Sergei. He never knew that Sergei felt the same for him. Outside of friendship anyway. But then again, while Sergei identified as gay, he didn't date or hook up – ever. Alex thought he was asexual. Not that it mattered one way or another. Sergei was just his friend and that was that.
Well, not quite.
Sergei wants more, but Alex, even though he's loved Sergei forever, doesn't want to be a burden. He has no money while Sergei is extremely wealthy from playing pro hockey. Feeling more than a little sorry for himself, Alex doesn't allow himself to accept Sergei's advances. He's thinking, "Why now?" when he considers it to be the worst possible time for a new relationship. Sure, Sergei is still his best friend, but Alex isn't sure he even knows how to differentiate between heavy lust and real love.
Sergei has to work for it, and damn if it wasn't the sweetest thing.
I adore Sergei. His English still isn't perfect and he often has a hard time finding the right words to express himself. He's just a big teddy bear who has fallen hopelessly in love with Alex and is determined to show him that he is so much more than the ex and even he himself believes him to be.
About the time things are just about to come together for the couple, tragedy strikes and Sergei is suddenly being thrust into parenthood to ten month old twins. They're his biological children, but when he agreed to father them, it was with the understanding that the mother, a famous Russian/Hollywood actress, would have custody. Sergei would still be part of their lives. If you read the book you'll see how amazingly awesome Sergei is. He wouldn't not be there for his kids. The plan (from both Sergei and the mother) was to be part of their lives but as Uncle Sergei, not Poppa.
But then the mother of the twins is killed and Sergei has to make some serious decisions, not just about the twins but about Alex. It's a no-brainer for him because he's head over heels in love with Alex and wants to spend the rest of his life with him. But how can he expect Alex to become an instant parent when the relationship beyond friendship with Sergei is just taking off?
That's all I'll say about the story.
What I loved –
Sergei. Oh, what a kind, beautiful man. Unlike with most characters in the books I read, I can't think of one bad thing about Sergei. Maybe a little oblivious at times but that wasn't a fault. It was him learning as he went with Alex and with being a dad.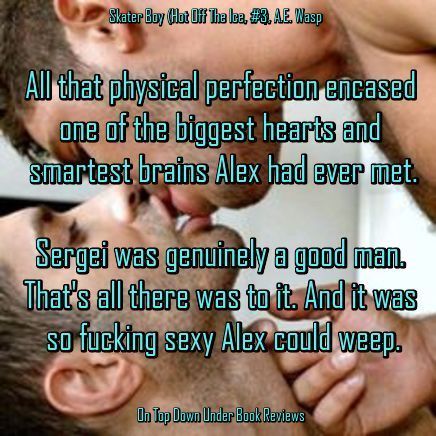 Alex. Flamboyant, loud, exactly the opposite of Sergei in every way. He's also kind and eager to do everything in his power to make Sergei happy and to make a good home for the twins. Unfortunately, he's very hard on himself. What good are gold medals and championship trophies from figure skating when your career is over? His job is working part time for the Seattle Thunder, and he teaches skating lessons, but he feels useless because he doesn't believe he's bringing much into the relationship. Sergei has everything. Alex has nothing… or so he believes.
The twins. I love books with kids and about family. These two were so adorable.
Sergei's teammates (with an exception). When they found out Sergei was coming home with the twins they all got together, along with their significant others, and handled things at home so Alex and Sergei would have all they need.
Robbie's ankle injury from Country Boy was explained. Probably not a big deal, but it had been brushed over in that book.
Alex's cats. So cute and so bossy.
What didn't work for me –
The length. This book, as with the others (except Boy Toys, that doesn't count because it's a story before a story) is much too long. Don't get me wrong, I loved the book. I just wish it would've been a little shorter.
Editing. I know I sound like a broken record. I've read several of this authors' books recently, this series and the two Pros & Cons books. I'm seeing a ton of typos in this series but not the other one. I wouldn't even mention it but they're distracting.
Allie. Allie is a character that I won't describe in detail. While I liked her and what happened with her in the book, it's not something that's even remotely realistic.
Paul. Yeah, I sound like a broken record again. He kind of played a somewhat important part of something that happens in this book, but if I was picking I'd have chosen one of the other players to be the one, not Paul. I had a hard time reconciling the naive little southern boy from book 2 with somebody with all-knowing wisdom in Skater Boy. If you know me, you know I'm from the South – the same state Paul is from – so don't take the 'naive little southern boy' in a way I obviously don't mean it. Once upon a time I was that naive little southern girl. I know I'm a little biased here against Paul, but I didn't start liking him even a little bit until the next book.
Overall, a good book. Too long, as I said, but I fell in love with both Sergei and Alex, especially Sergei. While City Boy (book 1) is still my favorite in the series, Skater Boy runs a really close second. I admit to missing Bryce and Dakota in this one.