Boy Toys (Hot Off the Ice #3) – Hot Off The Ice At Christmas – A.E. Wasp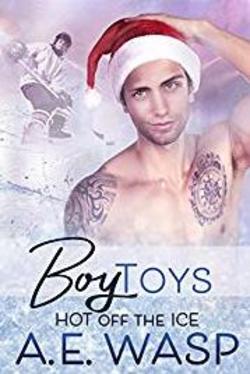 Rating: 3.5 Stars
Publisher: A.E. Wasp
Genre: (Start of a ) Gay Romance
Tags: Contemporary, Age Gap, Athletes, Christmas, Cliffhanger, Not Quite A Gay Romance – Yet, Short Story, Prelude to Boy Next Door (#5 in Series)
Reviewer: Cindi
Purchase At: Amazon.com
Blurb –
10 siblings, 7 fish courses, 6 hockey players, 5 cousins, 4 calling birds, 3 spouses, 2 houses & 1 night that changes everything. 
Betrayed by first his body and then his girlfriend, Liam O'Reilly, assistant coach of the Seattle Thunder, is not having a very merry Christmas. So when a smoking hot hockey player in a Santa suit offers himself up like a present begging to be opened? Well, it's a freaking Christmas miracle. 
If only the man in question wasn't hockey's own bad boy, Joey 'the Looch' Luciano, his best friend's little brother and the same kid who used to trail behind Liam like a loud, mouthy shadow. 
Whatever. Wrong as it might seem, a one-time hookup with Joey is exactly what he needs to make the yuletide gay. By tomorrow, he'll be back in Seattle, Joey will be in New York, and his troubles will be miles away. 
But as Christmas Eve becomes Christmas Day, Joey weaves his way past all Liam's defenses, and Liam starts to see the sensitive, caring man behind the cocky smirk. 
When the last present is opened and the Christmas lights go dark, will Joey and Liam's night together be just another Christmas memory or can the holiday magic they made survive the pressures of the real world? 
Boy Toys is a heart-warming Christmas story featuring the inappropriate use of a Santa suit, sibling bribery, and ninety separate instances of the f-word.
Review –
This is a nice intro to Liam and Joey's story, which will be Boy Next Door, two books from now.
Liam and Joey's big families grew up living next door to each other. Joey, a decade younger than Liam, used to follow him around like a lost puppy. As they got older they went their separate ways, both playing hockey but on different teams in different parts of the country. Joey's now one of the hottest players out there. Liam is an assistant coach for Seattle Thunder, having been forced to give up his playing days. They always try to come back home for the holidays, along with dozens of other family members on each side.
It's Christmas Eve and Liam has come home. What does he come home to? The news that the woman he was going to propose to has been cheating on him with someone Liam loves like a brother. Oh, not just cheating, but carrying the other man's child.
I hated Michelle from the minute she was introduced.
Nothing will change that, regardless of what happens later.
It's Joey's turn to play Santa for all the O'Reilly and Luciano kids. Wearing his Santa suit, he's forced (along with everybody else) to watch Liam call Michelle out for what she'd done. Only then does Liam discover who she's cheating with.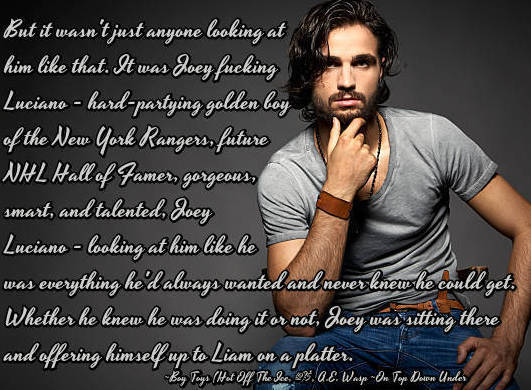 Joey, being the good friend that he is (snort) pulls Liam away and they find a private place to talk. One thing leads to another and there's a bit of naked time happening. Liam, who's openly bisexual, hadn't known that Joey was even into guys. He's known publicly for being a wild playboy with women. It's all an act. It has always been an act. Joey's always had a crush on the oblivious Liam.
There's not a whole lot to say beyond that. The story ends at 81% on a Kindle and then goes on to give a glossary of characters, an excerpt from the full-length book of Liam and Joey's, and info about other books in the series.
Thoughts –
Liam did not endear himself to me in this book. Instead of seeing cheating Michelle for who she is – a cheating bitch – he took the blame. You know, for HER cheating. That angered me. No, honey, it's her fault, not yours. If she wasn't happy she should've done the right thing and ended the relationship with you.
I like Joey – a lot.
Nana, Liam's grandmother, is a naughty girl. 😉 She entertained me, as did a few of the other characters.
It ends on a cliffhanger, which I expected.
I didn't love it. I didn't hate it. It was a quickie read.