Deven and the Dragon, Eliot Grayson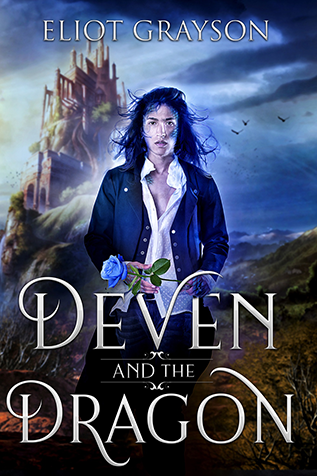 Rating: 4 Stars
Publisher: Smoking Teacup Books 
Genre:  Gay Romance 
Tags: Paranormal – Dragon, Alt-Universe, Fantasy, Romantic, Sweet
Length: 229 Pages
Reviewer: Kazza
Purchase At:  amazon
Blurb:
The beast doesn't ever really get a fairytale ending…does he?
Deven's mission is clear. All he has to do is convince the dragon to give up one of his magical scales. Lies, deception, seduction—nothing is off-limits. It should be easy. But it isn't. Especially not when said dragon is so alluring in human form. It's not long before Deven starts to want something way more valuable than a scale from his beautiful beast. But how do you convince a dragon to give you his heart when your entire relationship was built on deceit?
Fiora is cursed. Love can kill him. Literally kill him. So keeping his mind (and hands) off the devilishly handsome Deven shouldn't be a challenge. But it is. Deven's entirely too warm, too attractive, too…everything to resist. And spending time with the lovable human makes Fiora question what's more frightening—the curse, or the possibility of a life without Deven by his side.
If they want a shot at happily ever after, Deven and Fiora will need to break the potentially deadly curse and overcome all the secrets that stand between them. Easy, right?
They wish…
This book is an explicit M/M romance with an absurd cloak worn during the summer, a dragon who hoards—well, it isn't gold, and some extremely angry parents who can breathe fire.
Review:
I just want to start by saying that the cover for Deven and the Dragon is not only striking to look at but is totally apt for the story. That is Fiora. The colouring, the castle, his hair, the rose in his hand, the representation of a dragon… perfect.
The best way for me to review this book is to say that it's humorous. Quirky. Andrei, Fiora's personal assistant/ man of affairs, is protective but amusingly inventive and suggests some… original ideas as to what they can say about Fiora's curse if the local council and townsfolk get too close or nosy, and it seems they are now doing just that. Fiora is not impressed with the council, definitely not Andrei's epicurean suggestions about the curse…
It's also a slow burn romance even though there is an initial attraction. The two main characters spend a bit of time apart for reasons that fit the story. Fiora can be a little OTT at first but he grows and develops as the story unfolds. As they come together and get to know one another they are a good match – Deven, the physically imposing human, fit from manual labour, and Lord Fiora, the petite, cursed and insecure human and also striking and regal Dragon.
Eliot Grayson always makes me care for her characters. Usually one starts out with more growth needing to take place, and with good reason as you read. This story is no exception: Deven had me from the start, Fiora needed to grow on me to fully see his gentle and kind nature. Atmospheric, humorous, and kind, Deven and the Dragon is a feel-good story with heart. 4 Stars!