Come On, Get Lucky, Jacqueline Rohrbach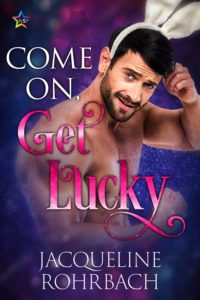 Rating: 3.75 Stars
Publisher: NineStar Press
Genre: Gay Romance
Tags: Humour, Paranormal, Mystery Element
Length: 235 Pages  
Reviewer: Kazza
Purchase At:  amazon, NineStar Press
Blurb:
Grant is looking for love, but there's one big problem—himself. Due to Grant's massive size, not to mention the fact he's also a werewolf, all the eligible bachelors steer clear of him, preferring men who are a little less ginormous and a lot less monstrous. Only Lee, Grant's best friend and vampire extraordinaire, sees him as a gentle giant who longs to give awesome backrubs, cupcakes, and endless affection to his lifelong mate.
Lee is tired of the same old song and dance of dating and then breaking up. The only steady presence in his life has been Grant, a tried-and-true friend who always knows what to say and the right spot to scratch. So, when Grant finally breaks up with his flighty boyfriend, Lee sees an opportunity to let his carefully guarded heart out of its box and try for something real and lasting.
There's a problem, though: Lee has always forbidden romance between friends, an order he's drilled into Grant's head over and over again.
That means Lee might need to throw their friendship to the fire. To find passion, they'll have to become enemies. To find love, they'll have to get lucky.
.
Review: 
I enjoyed this "flooff-monster" story. It was fun and sweet and full of humour and it took me away for a while.
Lee and Grant have known each other for some time, been raised together, and they're best friends. They've both  recently split up with their respective boyfriends and take a trip – on Lee's insistence – for Grant to get away from a social media shellacking by yet another ex who can't get over how big he is as a werewolf. Lee is this 'fabulous' vampire with chutzpah, bitchiness, and attitude for days. Grant is a sweet werewolf with more bark than bite. They make a good pair in this slow burn, paranormal gay romance.
As lithe and graceful as Grant was bulky and clunky, Lee glided in on a cloud of glitter and sarcasm.
I enjoyed the back and forth between the MCs. I really like Grant and I adored Lee. He's hilarious… just ask him. The mystery didn't work for me so much but the banter and humour did. Quirky, humorous, escapist reading. 3.75 stars!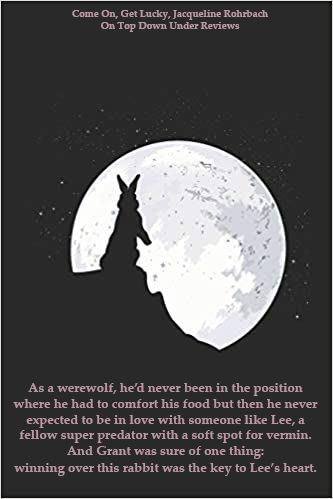 .