Fixing Little Red (Different Hearts #2), Izaia Winter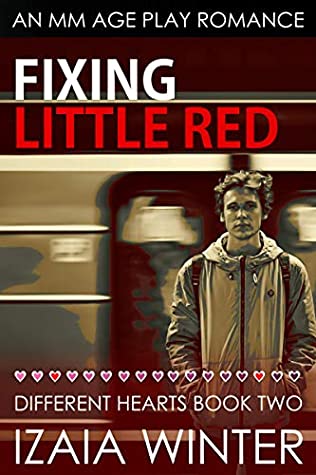 Rating: 4 Stars
Publisher: Izaia Winter
Genre: Gay Age Play Romance
Tags: Contemporary, Age Play/ABDL, Daddy Kink, Exhibitionism, Romance, Series
Reviewer: Cindi
Purchase At: Amazon.com
Blurb –
One little mistake was all it took to land little Red in the hospital.
Red never thought his weekend project of assembling his new playscape with his best friend would lead to a broken arm, a quick ride in an ambulance, and the chance meeting with the man of his dreams. It's too bad he's not a Daddy. Well, Red can still hope, right?
All it took was one look into his teary green eyes and Nate was hooked.
While out on a routine call about a broken arm, paramedic Nate is surprised and intrigued by the man that so openly admits to his fear and pain. The fact that he's cute doesn't hurt either. When his partner questions Red's decorating style and possible submissive tendencies, Nate is a little more than intrigued. Could he really find the intimacy and care that he'd always felt missing in his life with someone like Red? And what exactly was a little?
Join Nate and Red as they discover everything they need in each other.
WARNING: This book is intended for Adult (18+) readers. While not all books in this series will feature Age Play, Daddy Kink, or Adult Baby/Diaper Lover elements, this book does. I understand this kind of content is not for everyone, and if this is not your cup of tea, feel free to skip this book. I try to write all books so that they can be read and understood as stand-alone stories. However, reading them all together will create a more complete and rich experience as past characters can and will make surprise appearances.
~63.7k words
Story Contains: MM Sexual Content, Daddy, Kink, BDSM Elements, Power Exchange Relationships, Age Play, Mild AB/DL, Spanking, Mild Medical Play, Some Exhibitionism, Fast Feelings, Sweetness Overload, Happily Ever Afters, and No Angst.
An MM Age Play Romance.
Review –
I met Red and Nate in Caring For Little Ollie, the first book in the Different Hearts series. I adored them both right off, especially Red. In that book they had been together for about a year. Fixing Little Red tells their story.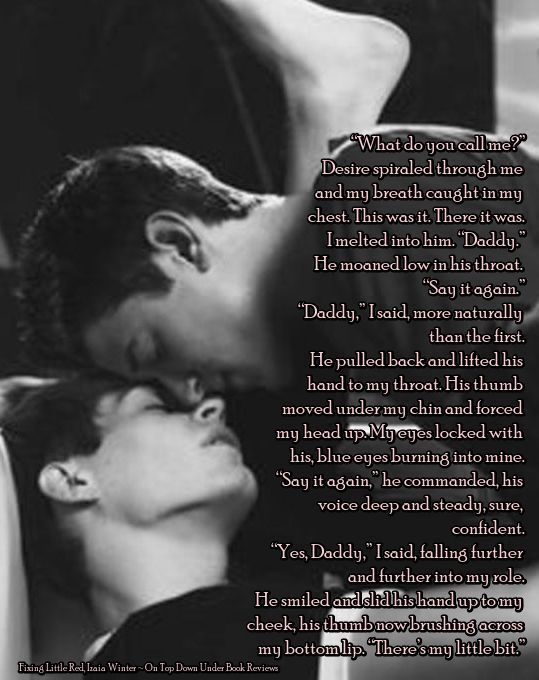 It all starts with Red and his best friend Danny trying to put together a playscape in Red's backyard. He could've paid to have somebody install it but he refused. A little/boy, his house is decorated to reflect that. The colors are childlike and he has stuffed animals and other toys all over the place. The only way to get into his backyard was through his house and back door. No way was he allowing strangers to see the inside and then give him weird looks or worse.
But then something happens and strangers have to come through it anyway.
Red and Danny missed a bolt when they were putting together the playscape and all it takes for it to come crashing down is Red leaning against it. He throws his arm out as it starts to fall, breaking his arm in the process as the playscape lands on top of him. Danny rushes to call 911 to Red's horror. The paramedic who treats him is kind, even more so when Red tells him honestly that he's scared and that he hurts. The honesty does something to Nate, the paramedic, that leaves him thinking about the man long after he and his partner drop him off at the hospital. After having a conversation with his partner about the way Red's house was decorated, and learning a few things from the partner's sister whose reading obsession is gay romance and Daddy/boy books, he goes back to the hospital after his shift to check on Red. Later, he shows up again to learn that what he suspected about Red – that he's a little – is confirmed.
Everything, like with Ollie and Marshall in the book before this one, happens quickly between Red and Nate. Nate, also like Marshall, isn't an experienced Daddy. Everything he learns he learns by reading and serious research. They start a Daddy/little relationship with Nate learning as he goes. Along the way, Nate's introduced to friends of Red's from his BDSM club – The Church – including the two owners whose stories I'm eager to read someday. Also like with the first book, there's ABDL but it's so mild it's almost not worth mentioning.
I really liked Nate a lot. He goes out of his way to do right by his boy. If he's in doubt about something he asks questions.  I liked Red too, but he got to be too much at times. He's in little mode almost 24/7. While I thought that was cute enough, it got to be tiring when he was almost never in adult mode. He was always a little. Nate didn't seem to mind but I kept waiting to see a mature, grown up side of him. Which brings me to something else… Red is a successful adult fiction author, his specialty being gay romance/age play books but he also writes science fiction. For a few lines in the book I got to see him doing some writing, but seconds later he was back in little mode. I just kept waiting to see him fall into his adult thinking long enough to write books for adults. He's obviously successful if his home and other possessions are to by, but the Red I saw on every page of this book was him being little little or submissive little, not adult.
I liked the secondary characters, especially Danny and the two owners of The Church. Everybody seemed to adore Red and treated him well, including all the members of the club he came in contact with. The few times Red and Nate had sex it was written well considering they literally went from Red being a little to having sex. There's also some exhibitionism with these two. While I thought it was written well enough, for some reason it just seemed off. I did like what happened afterward with a conversation Nate had with someone else.
Overall, a nice book but I felt like there was a bit too much of a good thing with Red constantly being little. I needed to see his adult side, his responsible side. I get that the point of him being a little was to give it all to his Daddy but I need to see more than him playing with trains, coloring, or getting dressed in his pajamas. Even so, he was adorable.
Like the first book, this is pure sweetness and fluff. There's no angst, no arguments, no disagreements. It's just… happy.
The next book in the series is Serving Mr. Chamberlain. I wasn't really sure about that one until something clicked from Caring for Little Ollie and I had a bit of a Duh! moment. That one is not an age play book.