Serving Mr. Chamberlain (Different Hearts #3), Izaia Winter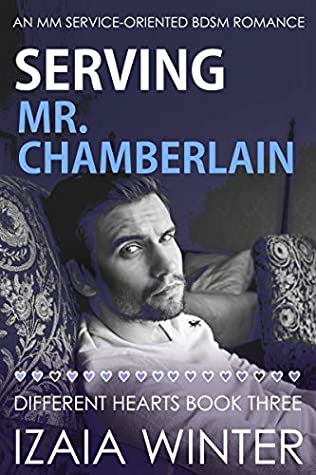 Rating: 4.5 Stars
Publisher: Izaia Winter
Genre: Gay Romance
Tags: Contemporary, BDSM, Interracial Couple, Pansexual Character, Romance, Series
Length: 180 Pages
Reviewer: Cindi
Purchase At: Amazon.com
*** This review has a spoiler from Caring For Little Ollie, the first book in the Different Hearts series. ***
Blurb – 
An MM Service-Oriented BDSM Romance
It was so cliché it hurt.
Quentin Davis never expected to crush on his new boss, his new straight boss. It was just that Mr. Chamberlain was everything he'd ever wanted in a man. He was handsome with a quick wit, a dominant attitude, and piercing, gray eyes that could cut you with a look. What wasn't there to like?
It would never work.
Nolan Chamberlain finds his new secretary a little too tempting. Sometimes, Quentin is all he can think about. With one best friend heavily entrenched in the BDSM lifestyle and the other recently finding happiness in an alternative relationship, Nolan decides it's his turn—which means leaving his painfully polite, vanilla, sexy secretary alone.
An accidental encounter.
During his first night out with his friends at the local BDSM club, Nolan locks eyes with the impossible. Quentin dressed in nothing but a few scraps of lace, combat boots, and gold highlighter serving the crowded room. And not because he works there, but because he likes it. Maybe Quentin isn't so off-limits after all.
WARNING: This book is intended for Adult (18+) readers. This book features service-oriented BDSM. I understand this kind of content is not for everyone. If this is not your cup of tea, feel free to skip this book. I try to write all the books so that they can be read and understood as stand-alone stories. However, reading them all together will create a more complete and rich experience as past characters can and will make surprise appearances.
~61k words
Story Contains: MM Sexual Content, Service-Oriented BDSM, Kink, Power Exchange Relationships, Bondage, Fast Feelings, Sweetness Overload, Happily Ever Afters, and Some Angst in Relation to Family Dynamics.
Review –
Nolan Chamberlain, a partner in a law firm, has the hots for his new secretary. Quentin, said secretary, has the hots for his boss. Neither man does anything about it.
Until it gets where they kind of have to. 😉
Nolan has no problem getting dates. Pansexual, he's never had much of a preference of gender. He's attracted to who he's attracted to. Right now his attraction lies with his secretary, Quentin Davis. Quentin takes care of him in ways Nolan's not accustomed to. He's always professional and never crosses any professional lines, but he goes the extra mile when it comes to his boss. He even brings him home cooked lunches when he notices that Nolan often forgets to eat and he makes his special coffee every day. Quentin has become sort of an obsession for Nolan that he knows he has to put a stop to. So when Spencer, one of his best friends, pushes him to go to his BDSM club, he agrees. Spencer and Nolan will also be meeting Marshall's new boy Ollie for the very first time.
At the club, they're all in a booth talking to the two owners when Nolan gets the shock of his life. Ollie wants some juice so Marshall calls over a young man who appears to be a server. The man is wearing not much more than a couple of straps of black lace, gold body glitter, and combat boots. The man goes by N in the club, but Nolan knows his name is Quentin Davis, the same man he lusts over every day at work.
Who knew his hot young secretary had a kinky secret?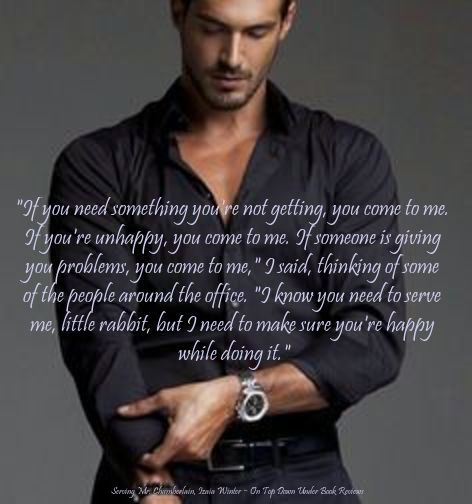 All of that was in Caring For Little Ollie but it was told from Marshall and Ollie's point of view, not Nolan's. Even so, it didn't take much for the reader to know that N was none other than Quentin, Nolan's new secretary.
Needless to say, after the drinks are dropped off, N – aka Quentin – can't get away fast enough. He plays it cool until he no longer can. He rushes to the employee lounge and has a massive freak out. He's not an employee of the club. Serving people is his kink. He takes off knowing he'll definitely be quitting his job with Mr. Chamberlain the next day. He'd already planned to turn in his notice because he doubts he'll be able to keep his crush on his boss under wraps for too much longer. This just pushes him to do it sooner.
After hiding from Mr. Chamberlain until he no longer can at work the next day, he makes his way to his office and gets to work. He somehow manages to get things accomplished knowing the man he embarrassed himself in front of the night before is on the other side of the door a few feet away. He'd made sure that Nolan's morning coffee was on his desk at eight o'clock sharp so Nolan would know he was somewhere in the building. He only hid long enough for Nolan to get into his office and close his door.
Quentin's able to avoid a face to face meeting until lunchtime. He's rushing to heat up the lunch he brought for Nolan when the office bitch corners him in the break room. She'd already been on page once before, but this time her sharpened claws come out. What she says to Quentin is horrible but thankfully he calls her out for the bitch she is without totally losing his professional cool. And imagine both their surprise when they see Nolan at the door who has apparently heard the entire exchange.
Back in Nolan's office he insists that the very uncomfortable Quentin have lunch with him. Nolan's not one for small talk so he gets right to the point pretty much as soon as the door is closed. Before the lunch hour is over, he's told Quentin about his feelings and Quentin has shared his. Nolan also learns a bit of the story of why Quentin feels the need to serve and what he was doing at the club. Nolan makes it clear that he's wanting to move forward with their relationship like now, and that he has no desire to keep it a secret, even from their coworkers. He's waited long enough and so has Quentin.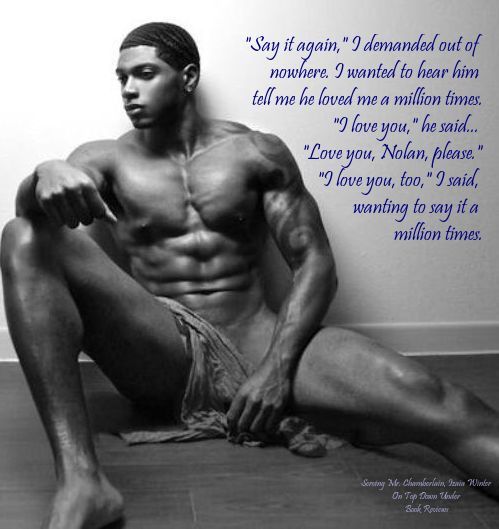 This starts their relationship that, like the two books before this one, moves rather quickly. The L word isn't thrown out within a few days, but once they get together they're almost always together. And I have to say that the way they did tell each other was amazing. Very romantic but not in the usual sense.
Quentin lives to serve Nolan. It's what he wants to do. It's what he needs to do. With Nolan having a dominant personality, he gives Quentin free rein. But something I really loved about this is how he gave Quentin that freedom to do what he needs to do. He does it kindly and without being demanding. He may be the more dominant in their relationship but he makes sure that Quentin knows he's an equal partner.
In the background Quentin's dealing with family issues. I despised his parents, especially his mother. When they're forced to a dinner party at their home, Nolan is right there to protect his man. As for Nolan's parents, I adored them. The complete opposite of Quentin's.
Nolan and Quentin are good together. As with the other books in the series, there's no drama or real angst, though my heart did break for Quentin when it came to his parents. I called the last two books sweet and fluffy. I don't think I can call Serving Mr. Chamberlain fluffy, though it is definitely sweet. I'm really looking forward to the next book that will be Carson's story. Carson is one of the owners of the BDSM club, The Church. He's been mentioned a few times so I'm eager to read his book.
Another thing that was different in Serving Mr. Chamberlain is that Nolan wasn't a Daddy or Master or Dom. He had a dominant personality, as I've already mentioned, which made him a good attorney, but he wasn't called any of those things by Quentin. Honestly, he preferred simply being called Nolan but Quentin couldn't do that early on. It wasn't in his nature and it felt disrespectful in some way. When he did call him by his first name instead of Mr. Chamberlain or sir it was during emotional moments, not when he was serving him. That was quite different from other books of this type that I've read. It was kind of refreshing in a way.
The office bitch gets hers after taking her jealousy of Quentin and Nolan's relationship too far. The way it happened was a bit of a surprise. It was awesome.
I'm enjoying this series so far. I enjoyed both Caring for Little Ollie and Fixing Little Red, but Serving Mr. Chamberlain is my favorite so far. I enjoy reading about littles and their Daddies but it was a bit two much with two books back to back.