Caring For Little Ollie (Different Hearts #1), Izaia Winter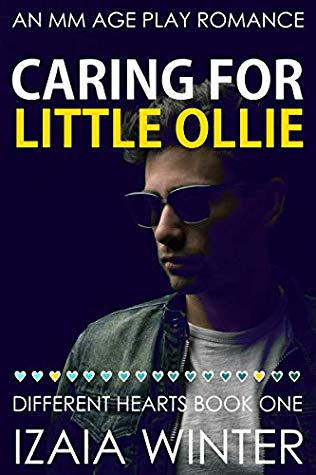 Rating: 4 Stars
Publisher: Izaia Winter
Genre: Gay Age PlayRomance
Tags: Contemporary, Age Play/ABDL, Daddy Kink, Romance, Series
Reviewer: Cindi
Purchase At: Amazon.com
Blurb –
Ollie never expected to meet his Daddy in the baby aisle.
All Oliver wanted was some more paint, a new box of crayons, and a maybe some more candy. Scared of putting himself and his needs out there in fear of rejection, Oliver never expected to meet eyes with the Daddy of his dreams. He definitely didn't expect the man to hunt him down in the store and ask him out while standing in the baby aisle holding a basket with a bottle of his favorite strawberry bubble bath, a new yellow sippy cup, and an awesome dinosaur coloring book. He might as well have the word 'little' stamped permanently across his forehead.
Marshall never expected to be anyone's Daddy.
While enjoying his coffee and reading a book, Marshall never expected to feel someone watching him and he definitely didn't expect to meet the eyes of a beautiful man that pushed every one of his buttons but in a second he was gone. Unwilling to let him slip out of his grasp, Marshall searches everywhere and when he finds him in the baby aisle perusing the pacifiers, he boldly approaches. Once he realizes Oliver is a little in every sense of the word and is in need of a Daddy to love and care for him, Marshall finally succumbs to the desires he's suppressed for so long.
Follow Oliver and Marshall on their sweet journey of discovery and acceptance as they both reach for the connection they never thought they would find.
WARNING: This book is Intended for Adult (18+) readers. While not all books in this series will feature Age Play, Daddy Kink, or Adult Babie/Diaper Lover elements, this book does. I understand this kind of content is not for everyone and if this is not your cup of tea, feel free to skip this book. I try to write all books so that they can be read and understood as stand alones although reading them all together will create a more complete and rich experience.
~60k words
Story Contains: MM Sexual Content, Daddy Kink, BDSM Elements, Power Exchange Relationships, Age Play, Mild AB/DL, Brief References to Past Child Abuse, Fast Feelings, Sweetness Overload, Happily Ever Afters, and No Angst
Review –
Oliver, aka Ollie, is a little in need of a Daddy. He's never had one but he knows that's what's missing in his life. Kicked out of his family home at eighteen for trusting the wrong person, he's now living openly gay and running his aunt's bookstore. It's been a few years since he left home and moved in with his aunts. He's now living on his own and is relatively happy. He just has specific wants and needs that he's too shy to share with anybody, especially prospective partners. He wants a Daddy. He needs a Daddy, but he's too scared of people making fun of him so he doesn't actively seek out others like himself. Instead, he indulges his kink alone in the privacy of his own home. It's nowhere near enough but he makes do because he has no choice unless he puts himself out there.
He's so not ready to put himself out there.
He needs new yellow paint, crayons, and a sippy cup so he forces himself to get over his panic and walk into a shopping center to buy them. Inside, he stops suddenly when he sees a man at a table in a coffee shop reading a book. Embarrassed to be caught staring, he rushes off when the man looks up. After getting a few 'adult' items, he picks up the things he came in the store for – hiding them underneath the other stuff, of course. He's on the baby aisle when the man he was caught looking at touches his arm.
When Marshall catches the man staring he's immediately interested. Something tells him that he can't let the guy get away without talking to him. After searching the store, he eventually sees him on the baby aisle and speaks to him. Oliver is shy – something that's endearing to Marshall – but even more so when Marshall notices what's in Oliver's shopping basket. Oliver freaks out but it only takes seconds for Marshall to know without a doubt that Oliver is a little. Instead of being repulsed by it, he's intrigued. Strike that. Intrigued isn't quite the word. He's turned on and desperate to get to know Oliver better. Not just get to know him. Marshall wants to be his Daddy. After a few uncomfortable moments, Marshall enters his number (and a cutesie text) in Oliver's phone, with the plan to have dinner the next evening.
A psychologist, Marshall studied enough about BDSM in college to have an idea what he needs to do if he and Oliver start something together. Even so, he spends hours in his home office doing research. He's never been anyone's Daddy before. He wants to make sure he does right by Oliver if things go that far.
They do.
Their first date – after a few uncomfortable moments when Oliver's aunts pop in unannounced – goes perfectly. Ollie easily slides into his little personality with gusto with Marshall enjoying every second of it. One date leads to two and before either man knows it, they're practically living together. For the first time in Oliver's life he's happy. He has a Daddy who takes care of him and instinctively knows his needs. He feeds him, bathes him, dresses him, and allows him to be the little boy he's always wanted to be. He plays, he colors, and does everything his Daddy tells him to do. He still goes to work every day but Marshall is there in the evenings to take all his worries, his stresses away.
Marshall continues his day to day but instead of going home to an empty house, he's going home to Ollie. In the background, Marshall's seeing a young patient named Adam who's been referred to him by his school counselor and the boy's parents. Adam is just shy of eighteen. Normally I'd be a little iffy about a side story like Adam's, but I found myself interested in what he was going through.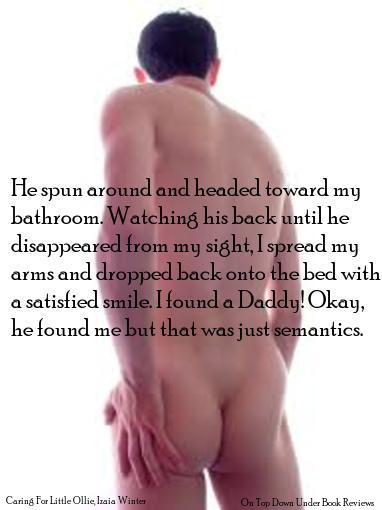 Caring for Little Ollie is pure sweetness and fluff. There are no conflicts and no real issues arise at all. Marshall and Ollie fall into the Daddy/boy relationship almost seamlessly. Well, too seamlessly, which means you need to kind of leave reality at the door if you go to read this.
A few secondary characters were introduced that should be mentioned. First, there are Spencer and Nolan, Marshall's friends. I liked Spencer a lot. The jury was still out on Nolan when I finished this one. Second, there are Red and Nathan. Red was absolutely adorable. He's another little and he and Ollie become friends instantly. His and Nathan's story is next. Nolan's is book #3.
This is a super sweet story. I mentioned ABDL in my tags above but don't let that scare you off. Yes, it has diapers, but only a couple of times and it's not at all graphic like some of the books I've read recently. They're used kind of as a security blanket of sorts, nothing more. Age play isn't for everyone so read the author tags in the blurb carefully before picking this one up.
An entertaining read. I ended it with a few questions but nothing major. Also, while I wouldn't exactly call this insta-love, it's pretty close. Everything happens quickly between Marshall and Ollie.