Gentle Hand (Perfect Hands #2), Nora Phoenix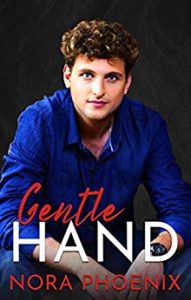 Rating: 4.5 Stars
Publisher: Nora Phoenix
Genre: Gay Erotic Romance
Tags: Contemporary, Age Gap, Age Play/ABDL, Daddy Kink, Erotica, Romance, Series
Reviewer: Cindi
Purchase At: Amazon.com
Blurb –
Raf never knew he needed a Daddy until he meets Daddy Brendan…
Adulting is hard for Raf. After a less than ideal youth, he'd hoped to find where he belongs. But despite trying several things in the club his best friend frequents, nothing clicks for him.
Until he meets Daddy Brendan, the perfect bear of a man with the gentle voice, the soft cuddles, and an appendage Raf is rather fascinated by.
Daddy Brendan wants to take care of Raf in every way, and Raf quickly discovered he loves being Daddy Brendan's baby boy. He's finally found where he belongs. If only he could forget about his past and be truly happy…
Gentle Hand is a daddy kink MM romance with age play and ABDL. Please note trigger warnings for mild homophobia, parental mistreatment, and depression. It's the second book in the Perfect Hands series, but can be read as a stand-alone.
Review –
This author can sure bring out all the emotions. Each book I've read so far has had me a little teary.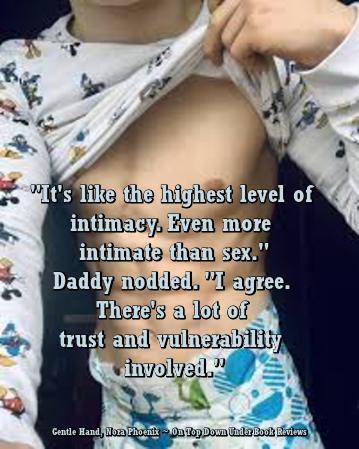 I'll start this with a disclaimer. I've read very little as far as age play books and I think this is my first one with ABDL. That's obviously not me judging. I just wasn't familiar enough with it to know for sure how I'd feel about it. I ended up loving the book.
My apologies if my wording/lingo is off. This is, as I said, new to me.
Rhys from Firm Hand is in this quite a bit. Just when I thought I couldn't love him any more, I pick up this book and see how amazing he's always been, and not just with Cornell. With the exception of a prologue that takes place five years prior, Gentle Hand is set during the same time period that book was. The reader briefly meets Raf and Brendan when they're invited to Rhys' house for dinner with him and Cornell. He and Cornell aren't quite there yet but they're close. Raf and Brendan are almost an already established couple.
The prologue goes back to Rhys and Raf's senior year of high school. They're both eagerly looking forward to graduation and going to college, especially Raf. Rhys has accepting parents (Cassie and Jonas) so he's out and proud. Raf has a homophobic father and a doormat mother. He knows there's no way he can come out as long as he's living at home with his parents. Rhys, ever the Dom (even if he didn't realize it at the time) immediately picks up on Raf's stress and tries to calm him. Raf has just been diagnosed with ADHD. This has his horrible father treating him worse. I have ADHD and I also had parents who didn't even attempt to understand that it was beyond my control. I was much older when I was diagnosed, and didn't still live at home, but I remember all too well how bad my school years were. I understood sweet Raf in ways a lot of people might not. I fight it every day of my life, though each person is different.
Fast forward five years and Rhys is trying to help Raf find his way. He's the best friend anybody could ever hope to have. He protects Raf from the big, bad world. They've never been anything more than friends, though they did kiss once but it didn't do much for either one. They're in a BDSM club and Raf is having an emotional moment. He just had his fifth bad scene with a Dom. He knows he needs something but he doesn't know what. Rhys is trying to help him but nothing he's done has so far. Rhys, training to be a Dom, has to leave Raf at his table for a few minutes because he's promised his mentor (Ford) that he'll observe a scene. Every time they go to the club together Raf's ADHD is all over the place and he tends to wander. After promising Rhys he'll stay put until he comes back, Rhys reluctantly leaves him sitting there. He's barely walking away before a man, Brendan, a longtime Daddy, is sitting down with Raf. He overheard the conversation between him and Rhys and wants to see if he can help. His heart breaks when he sees the tears in Raf's eyes. Brendan takes charge and within seconds Raf is in his lap being held, calming him instantly. He relaxes even more when Brendan places his thumb in Raf's mouth. Moments later, Raf is sound asleep in his lap sucking his thumb. When Rhys comes back a few minutes later, he's shocked at what he sees. He's been trying to help Raf. There have been scenes for him with spanking, blindfolds, and even puppy play. None of them worked. It never crossed his mind to suggest age play. This is Brendan's specialty (so to speak) so he's able to pick up on things that Rhys might not.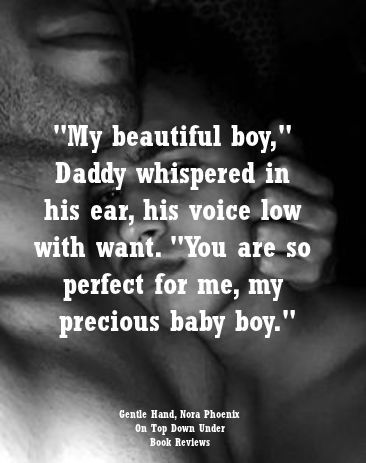 Brendan's wanted a permanent boy in his life for a long time. He thought he had one at one point, but it didn't work out for reasons mentioned in the book.
After assuring Rhys that he's legit – even insisting on him checking his references – Brendan and Raf embark on their own little journey, with Brendan falling hard for the broken man rather quickly.
Everything Raf has ever done in his life has been affected by his bad childhood. He thinks he's weak, that he's not good enough for anybody. Even when he and Daddy Brendan are moving along smoothly, Raf has doubts. He's scared if he isn't perfect for Brendan that he'll walk away and leave him alone again. There's no reason for him to feel that way other than what his horrible father had shoved down his throat for so long.
Brendan is amazing. About twenty or so years older than Raf, he's ready to settle down with his boy and he'll do everything in his power to make sure Raf knows that he's not the person his father always claimed he was. He's patient and kind and doesn't do anything Raf doesn't want to do. Lucky for them both, Raf takes to being a little right off – from using a pacifier, to having Brendan give him a bottle, to even (later) wearing a diaper. This is who he is, what he needs. Some may be put off by the things I just mentioned. Everybody has different kinks. I could've been, I suppose, but the author eased Raf into these things. It wasn't an in your face type of thing. I read another review that said that this is the perfect book for somebody who's not familiar with age play but is curious about it. It explains things without being overwhelming or sounding like a how-to manual. I couldn't agree more. Brendan works these things into Raf's every day life, and by doing so, also helps him with his ADHD. Of course, he can't be with Raf 24/7 because they both have jobs, but he does what he can at home.
Raf is a teaching assistant for younger children. He's great with the kids, but even with his ADHD medication, it's tiring as he tries to stay on top of things, of remembering things, while he's at work. Everything kind of comes to a head when a sweet transgender child puts him on the spot. Raf is asked questions that he's scared to answer. What if he says the wrong thing? He knows all too well how words can hurt. I thought his responses were perfect but apparently the so-called LGBTQ friendly school – and the child's parents – didn't agree.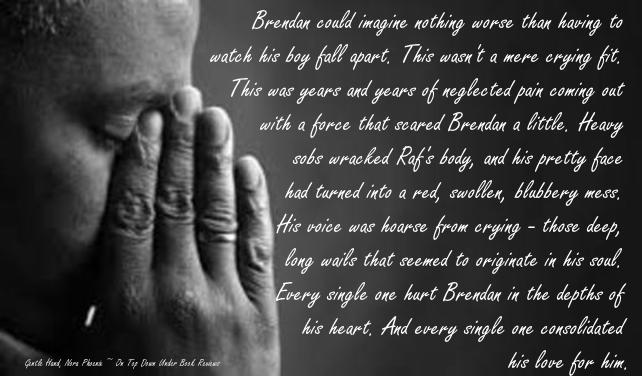 This is one of the better Daddy/boy books I've read. Brendan and Raf are meant for each other.
Rhys is simply amazing, as I've already mentioned a few times. He's only twenty-three but he's described as an old soul. I can't think of a better way to describe him. With this taking place around the same time as the last book, Jonas' death is mentioned, as are some of the circumstances behind Rhys and Cornell's relationship. Reading this one actually had me upping my review of Firm Hand a half star. It reminded me of how much I loved those guys.
This is another beautiful story by this author. Like I said above, I was hesitant about reading it because I've read very little about age play. I'm really glad I took a chance.