Never Say Never (Lost in New York, #3) Felice Stevens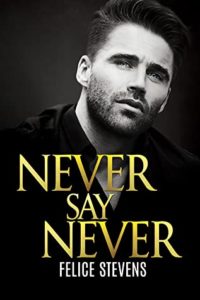 Rating: 4.25 Stars
Publisher: Self Published 
Genre:  Gay Romance
Tags: Contemporary Romance, Restaurant Industry (I'm officially a Pod Person), Unknown Enemies to Lovers, Can be Read as Standalone Book in Series
Length: 289 Pages 
Reviewer: Kazza
Purchase At:  amazon
Blurb:
One taste leaves them wanting more…
INGREDIENTS:
Francisco "Frisco" Martinelli. Hot and spicy. Beautiful on the outside, dark and damaged on the inside. Handle with extreme caution.
Salvatore "Torre" Rossi. Sweet with a kick of spice. Gentle at first, can become swiftly and irrevocably addictive to the heart.A RECIPE FOR ROMANCE
One snobby food critic who doesn't believe in love
One down-to-earth food blogger who does
Add a touch of suspicious brother
A heaping serving of best friend who's been waiting for this to happen. Blend with secret identities, past hurts, and judgments.
Stir in equal portions of desperate longing, desire, fear, and snarky humor.
Set over open flame, step back, and wait for sparks to fly.
Serve as is for an explosive love story that will leave you with a full heart and a ridiculously happy smile at the end.
This is the third book in the Lost in New York series but can be read as a stand alone.
Review: 
I blame Felice Stevens for viruses. This is only the second book of hers I've read and I've been sick both times. What gives, Felice?
Why?!?!


.
But seriously, I'm enjoying these books. Okay, I didn't read book #2 but book #1, Fool For Love, and now book #3 have been so good. It's because I loved Frisco from the minute he was on page in book #1 and this was his book. I was there once I knew this was out.
.
I'm officially a pod person because two books in a row I've read have had cooking central to them and I don't like books centred around restaurants or chefs or cooking. Yet here I am. Reviewing Never Say Never. But I was so looking forward to Frisco's story and I trusted in Felice Stevens to deliver after Fool For Love, and she did.
.
Overall this series is romantic with a lovingly written backdrop of New York City and interesting characters who live and love there. Yet again, the writing flows well and has an easy to read style. People who follow my reviews know I tend toward the darker, psychological side. I'm also a major character obsessive. There are times I like to mix up dark and light though. When I'm in the mood for some lighter, contemporary gay romance, I'll continue to pick up Felice Stevens' stories to read because she writes strong characters, with just a bit of bite, and develops her storytelling well. 4.25 Stars!
Audio Review Correction: I say it's Frisco's blog (once) when I mean Salvatore's blog.
.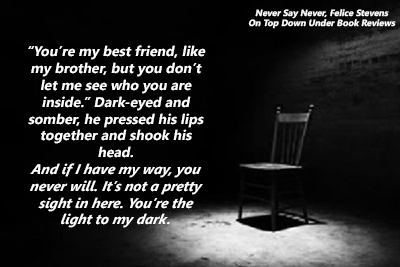 .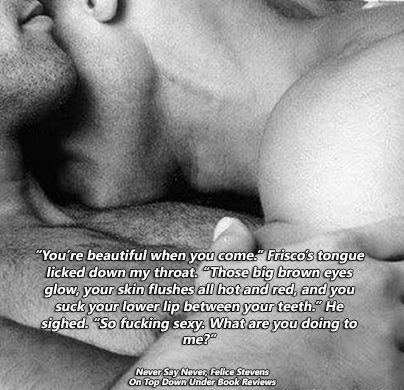 .