Book Blitz Excerpt & Giveaway: A Face Without A Heart, Rick R Reed

Title: A Face without a Heart
Author: Rick R. Reed
Publisher: NineStar Press
Release Date: June 1, 2020
Heat Level: 3 – Some Sex
Pairing: Male/Male
Length: 56700
Genre: Paranormal Horror, LGBTQIA+, photographer, drag queen, dancer, addiction, drug use, dark, suspense
Synopsis
A modern-day and thought-provoking retelling of Oscar Wilde's The Picture of Dorian Gray that esteemed horror magazine Fangoria called "…a book that is brutally honest with its reader and doesn't flinch in the areas where Wilde had to look away…. A rarity: a really well-done update that's as good as its source material."
A beautiful young man bargains his soul away to remain young and handsome forever, while his holographic portrait mirrors his aging and decay and reflects every sin and each nightmarish step deeper into depravity… even cold-blooded murder. Prepare yourself for a compelling tour of the darkest sides of greed, lust, addiction, and violence.
Excerpt
A Face without a Heart
Rick R. Reed © 2020
All Rights Reserved
Prologue
GARY
There is blood on my hands. I look down at a body, a body that's become a thing—monstrous, ugly, inanimate. It could be a sculpture, a figure formed from wax or porcelain. The soul inside is gone, leaving a shell. I wipe a line of sweat from my forehead with a trembling hand, trying to tell myself these things, trying to believe that what lies at my feet is nothing more than an object, something to be reviled, something not worthy of further consideration.
It's not easy to believe. Although the corpse does not have a twinkle in its eye or the simple rise and fall of a chest, it's hard to remove myself from the plain fact that the body possessed those movements, those simple signs of life, just minutes ago. Distance, for now, seems more a matter of location than of feeling. The body at my feet wears the badges of its untimely demise—a dented face, a split-open skull, blood and grayish-pink matter seeping out. The bruises have already begun to rise, ugly yellow-pink things all over the body.
I stoop, plunge my fingers into the deepest hole, the one on the belly, to feel the warmth and the entrails. Amazed that the breathing has stopped. Amazed that I have such power.
I lift a finger to my mouth and slowly run it over my lips, the blackish liquid warm and viscous, metallic to the taste. I recall the vampire films I loved as a youth, never really believing such a thing could exist.
Now I do.
I have stolen a life so that my own might continue. There is something vampiric in that, isn't there? Because without this theft of a beating heart and an expanding and contracting pair of lungs, I would be unable to live.
Isn't that the real essence of the vampire?
It seems too quiet here, deep in the basement of a high-rise. A dull clanging is my only accompaniment, pipes bringing warmth and water to tenants above, whose lives continue, ignorant, untouched by my murderous hand. And that's the amazing thing, the thing that causes my breath, when drawn inward, to quiver.
Life goes on, in spite of this monumental act, just a quick, surprised scream and a heartbeat away.
There is blood on the walls, spattered Jackson Pollock-style. Who can say what is art and what is murder?
This so-called victim who now lies in final repose on a cold concrete floor, staring vacantly at nothing or perhaps at the hell that will one day consume me, can no longer chastise me, can no longer beg me to drop to my knees with him and pray, pray for forgiveness, imploring Jesus to lead me down the path of the righteous.
It's not too late, he said before I brought the mallet down on his skull, cracking it open like a walnut, slamming it into his windpipe, his gut, an eye socket, his shoulders as he fell, anywhere the mallet would ruin, destroying, sucking life.
He was wrong. The final irony of his existence, I suppose, is that he thought he had the power to do anything, to change another person, whom, I must admit, he cared very deeply about.
No, that power rests in my hand, the death-dealing claw that changed him. And people whine about how change never really lasts when it comes to others, how they always unfortunately revert to their old ways, the ways you don't want them to be. Anyone who has ever tried to change another knows this to be true. Oh certainly, the change may last a week, a month, even a year. But soon the real person comes back, the one who has been waiting in the wings for just the right cue, the one that will allow him to say "Ah fuck it, I've had enough."
But the change I've wrought in my friend can never be undone. He is dead and always will be. I have a power of which psychiatrists and psychologists can only dream. And I accomplished my transformation in a matter of seconds, behind a red-tinged curtain of rage.
Pretty sly, eh? For a man who's spent most of his life doing nothing but looking after his own selfish needs and pursuing his own pleasures, it's a pretty accomplished thing. Decisive. For once, a man of action.
I nudge him with my foot and am amazed at the heaviness my friend has taken on in death. His body doesn't want to give, to roll; it has become a body at rest…forever.
I turn and head back upstairs. There are matters to attend to…clothes to be burned, an alibi to be concocted. People will want answers. And conveniently, I will have none. Knowledge is a dangerous thing. What was it my other friend once told me? "The only people worth knowing are the ones who know everything and the ones who know nothing."
I know nothing about this. And now I must go back into the realm of the living to ensure my ignorance remains secure.
But alone, I know that ignorance is one of the few luxuries I can no longer afford. Alone, I have only the luxury of time to contemplate how it all began.
Purchase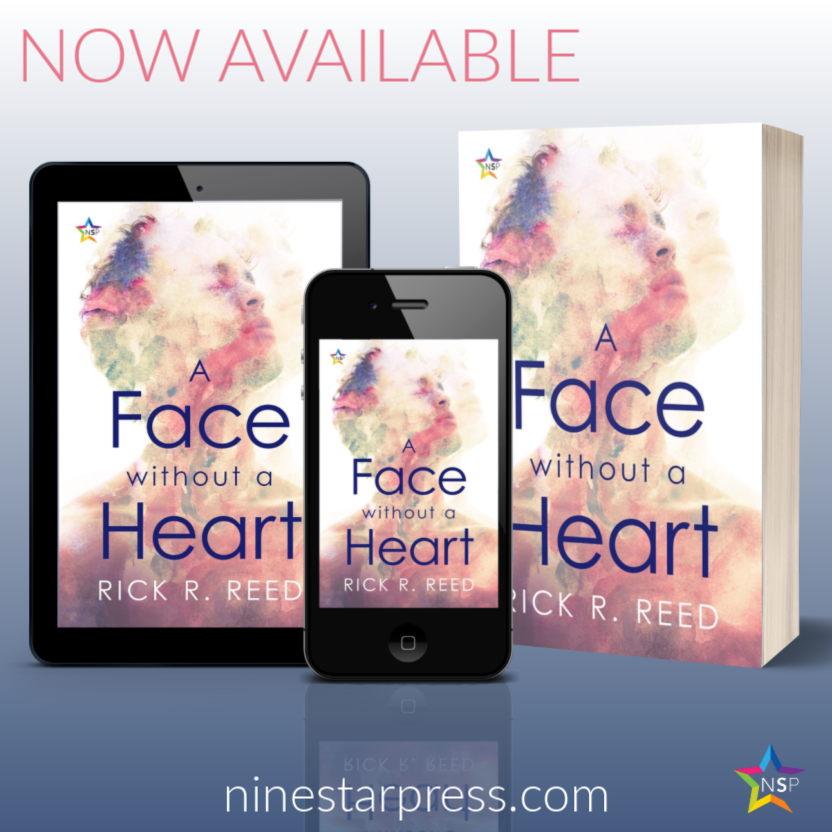 Meet the Author

Real Men. True Love.
Rick R. Reed is an award-winning and bestselling author of more than fifty works of published fiction. He is a Lambda Literary Award finalist. Entertainment Weekly has described his work as "heartrending and sensitive." Lambda Literary has called him: "A writer that doesn't disappoint…" Find him at www.rickrreedreality.blogspot.com. Rick lives in Palm Springs, CA, with his husband, Bruce, and their fierce Chihuahua/Shiba Inu mix, Kodi.
Giveaway