Blog Anniversary Author Post + Giveaway: Suki Fleet

It's lovely to have Suki Fleet come and join in our 8th blog anniversary celebrations. Also highlighting one of her own, her 18th book. It can be hard to remember some of the things we can and should celebrate in times of COVID.
It's a lovely post to remind us to celebrate the little victories in our lives.
Thank you so much On Top Down Under for letting me be part of your 8th blog anniversary. Review blogs are super important at getting the word out about new stories, especially for self-published authors, so thank you for being around! And I wish you many more happy, sexy reading and reviewing years lol!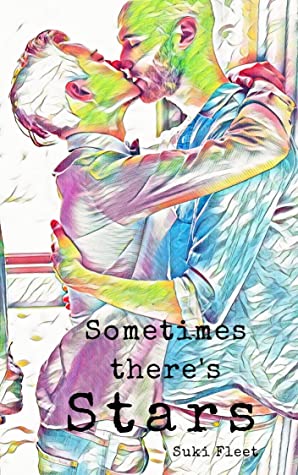 I was going to write a bit about celebrating stuff as it's good to have something to look forwards to, to get you through, when life's a bit crap and even when it's not, celebrating marks an event, makes a memory, all of the important stuff you can hold onto and think back on. But then I realised I finished a story during lockdown in my country (UK)—my (I had to go check this) 18th published story called 'Sometimes There's Stars'—and I realised I didn't really celebrate that. I mean, I did all the things I usually do when I release a book (ie. trying not to go on the internet for a while, staring aimlessly into space after not sleeping properly for days, lol), but I do wish I'd at least gotten the mojito shaker out, or had a disco in the kitchen with the kids—or maybe without them as they take over the music and they're much better dancers than me lol 😛
It's not that I'm completely crap at celebrating (I mostly am), I do Sundays. Not in any religious way, more in a determined I'm going to do some things (generally the same things :P) I love—like eating pancakes, taking a long walk somewhere green and full of trees, and reading (and maybe reading a bit more). It's the one day off I (try and) give myself. Maybe it's become more of a tradition in our house than a celebration as such, but I definitely need that.
And even though I didn't really celebrate 'Sometimes There's Stars' release, I did write a main character who celebrates every moment as though each one is precious and new. Peri is perhaps the sweetest, purest character I've ever written, and he falls so hard and so innocently for Echo that, lol, it feels like a celebration in itself <3
Here's a snippet:
As he cycled out of the car park, Peri glanced around at the inky shadows of the tower blocks that lined the road. The tiny yellow lights of their windows glowed like little stars. He imagined the warmth inside them. All the families, the children, the people in love.
There were so many people in Peri's life that he loved, but sometimes, like now, the longing for someone he didn't think he'd yet met caught him unawares and filled him until he could hardly breathe. He wanted to share his world with someone as intimately as a world could be shared. And that sort of sharing wasn't quite possible with his close friends and his close family. It was the sort of sharing you did with someone you gave your whole heart to. Your whole body. He swallowed and pedalled faster. He didn't believe that he never would meet someone he could share his whole self with, but sometimes even if you didn't believe something it could still scare you.
Motorcycle engines buzzed somewhere close by, and Peri let the noise chase his longing away. He thought instead of flowers, of summer, of bright things to light his way. Of possibilities.
What do you love to celebrate? Or what was the last thing you celebrated? And how?
**GIVEAWAY**
**This giveaway is now over. Congratulations to Liz.
For a chance to win my 'finished in lockdown' story 'Sometimes There's Stars' or any other of my backlist stories, please enter the giveaway.
You can enter this giveaway via Rafflecopter or by leaving a comment below. The giveaway runs for 10 days from this post date. Good luck!
Author Bio:
Suki Fleet is an award-winning author, a prolific reader (though less prolific than they'd like), and a lover of angst, romance and unexpected love stories.
They write lyrical stories about memorable characters and believe everyone should have a chance at a happy ending.
Their first novel This is Not a Love Story won Best Gay Debut in the 2014 Rainbow Awards, and was a finalist in the 2015 Lambda Awards. Their novel Foxes won Best Gay Young Adult in the 2016 Rainbow Awards.
If you'd like to offer your support and buy Suki Fleet a coffee you can do that here: https://ko-fi.com/sukifleet
If you would like info on upcoming releases and the occasional free story, please sign up to Suki's newsletter: https://sukifleet.wordpress.com/newsletter/
If you'd like to read snippets of new stories, see how cover designs progress, and hear other bits of writing news, please join Suki's facebook group Suki's Stories: https://www.facebook.com/groups/2312508419006752
If you're interested in reading first drafts of Suki's new stories, or reading stories that are no longer available or cuts that can't be published on Amazon, and other extras, please consider signing up to Suki's Patreon: https://www.patreon.com/sukifleet
Say hi to Suki:
Email: sukifleet@gmail.com