Blog Anniversary Author Post + Giveaway: Thom Collins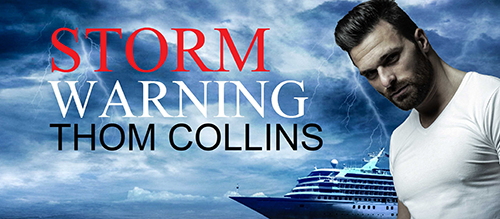 Thanks for having me here today at On Top Down Under Reviews for your 8th blog anniversary to tell you about my latest novel.
Storm Warning is an emotional romance set onboard a luxury cruise ship sailing around the amazing coast of Iceland. I thought it might be fun to give an insight into the main characters Jamie and Dexter. When I create my characters a lot of information goes into their back stories, not all of which makes it into the finished book.
Jamie was a very interesting character to develop. When we join him he's at pivotal point in his life. He lost his husband Tyler, the love of his life, five years earlier in horrific circumstances. Jamie was once a photo-journalist travelling all over the world with Tyler, a reporter, specialising in conflict and war zones. During one assignment Tyler was fatally wounded and Jamie suffered life changing injuries. Though his physical wounds have healed, Jamie is a shadow of his former self. He's given up on travel and spends his time running a small online camera business from his home. At the start of the book his sister in law has persuaded him to join her on a working holiday, giving photography lectures onboard the ship. This will be his first time away from home since Tyler died. Jamie is conflicted. He knows he can't hide away from the world forever, but taking that first step is a huge ordeal.
In contrast, Dexter is fearless. He's fun, outgoing and always up for a good time. The cruise will be his first holiday in years too, but for very different reasons. As a self-made business man, he's a work-a-holic who refused to take his eye off things for even a weekend. Two weeks at sea poses a big challenge for him. But unlike Jamie, Dexter is prepared to throw himself into the experience from the start: drinks, hot guys, cool locations – Dexter is up for everything.
When Jamie and Dexter meet, the attraction is there from the start, but Jamie has so many emotional barriers in place, it isn't easy for Dexter to win him over.
I loved writing these characters and joining them on this once in a lifetime voyage. It was an exciting trip of romance, glamour, anguish, frustration, excitement and one hell of scary storm.
Storming Warning is out now in ebook, paperback and Kindle Unlimited.
**GIVEAWAY**
Thom Collins is giving away 5 x (individual) e-books of his book Storm Warning. To be in the running to win a copy, simply enter the Rafflecopter draw or leave a comment below. This giveaway runs for 10 days from post date. Good luck!
Jamie Johnson is going to sea for the first time in his life. Atlantic Star is one of the most luxurious cruise ships in the world, and a two-week trip to Iceland offers Jamie the perfect escape. His life has been on hold since the death of his husband and a working holiday onboard a state-of-the-art ship is an opportunity to explore the world he's been hiding from. A chance to think about his future and decide what he wants to do with the rest of his life.
When Dexter Fordyce steps onboard, all he wants is a good time. The cruise is his first holiday in years, and workaholic Dexter is ready to relax and enjoy himself. If he can manage a little fun with someone like Jamie, even better. Jamie is flattered by the attention. Dexter is handsome, charming and great fun and proves impossible to resist.
Jamie's hopes of romance died with his husband. The prospect of a shipboard passion is attractive, but Jamie's heart has been broken for too long and he can't take the risk of falling in love. With stormy weather ahead, the two men are set for a voyage they will never forget.
BUY LINKS:
Excerpt
"Beautiful, isn't it?" he said, gazing into the night. Straight ahead he could see nothing but dark, the blackness was complete, but leaning on the balcony and looking down, he saw the moderate swell of the ocean and the white-capped waves hitting the side of the ship.
"We're moving at a fair speed," Jamie said, glancing at the wake they gave off.
"I suppose we have to, to cover the miles."
Jamie stepped near to him, their upper arms touching as they stood against the railing.
He's regaining his composure, Dexter thought.
Somewhere inside Jamie was a desire to be loved again, Dexter was sure of it. To be desired and wanted and not to spend the rest of his life alone. His love for Tyler could never be doubted, but Jamie was too young, had too much of his life remaining, to be on his own forever.
Dexter took a mouthful of champagne and swallowed, choosing his words. "I know this is new for you, and that it can't be easy. I don't want you to do anything you don't want to, or aren't ready for. What I'm trying to say is this is all up to you. How much or how little we do together, you decide. I won't push you into anything."
Jamie took a deep breath and sighed. He moved his hand from the railing and put it on Dexter's waist. "I know what I want. And he's standing right here."
Dexter turned to face him. How handsome, how striking he looked, in the early hours of the morning, so far out to sea. He caressed Jamie's face with the tips of his fingers, along his cheek and the lean length of his jaw. "You're taking my breath away right now; I hope you realise that."
Jamie put his own hand on top of Dexter's. "Let's go inside."
Author Bio: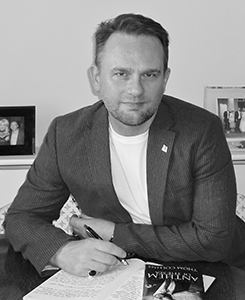 Thom Collins is the author of the novel Closer by Morning, with Pride Publishing. His love of page turning thrillers began at an early age when his mother caught him reading the latest Jackie Collins book and promptly confiscated it, sparking a life-long love of raunchy novels.
His novella Silent Voices will be published by Pride in May, followed by the novel Anthem of the Sea, the first book in the Anthem Trilogy. He has recently finished writing the second book in a series and is making plans for the third.
Thom has lived in the North East of England his whole life. He grew up in Northumberland and now lives in County Durham with his husband and two cats. He loves all kinds of genre fiction, especially bonk-busters, thrillers, romance and horror. He is also a cookery book addict with far too many titles cluttering his shelves. When not writing he can be found in the kitchen trying out new recipes. He's a keen traveler but with a fear of flying that gets worse with age. Since taking his first cruise in 2013 he realized that sailing is the way to go.
Social Media Links
Newsletter Sign-up: Mailing list