Blog Anniversary Author Post + Giveaway: Susan Mac Nicol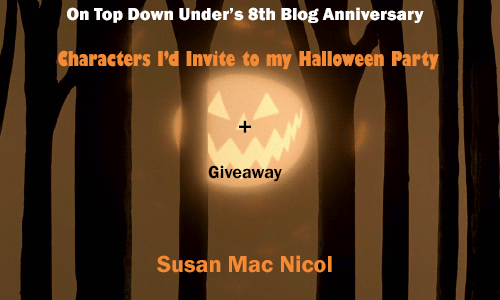 Today On Top Down Under Reviews welcomes Susan Mac Nicol. Susan has an extensive list of MM or gay romance books under her name and she has an excellent post in the lead-in to Halloween, plus a great giveaway. Or… maybe we'll get an invitation to her character Halloween party? Boo!
Characters I'd invite to my Halloween Party
I was asked recently who I'd invite to a Halloween party if I could invite anyone in the world that I wanted. I gave it a bit of thought and came up with this list.
Stephen King – horror writer. I love his writing, his characters and the fact he lives in Maine. This is one place I've always wanted to visit in the US so if I invite him to my party, his innate politeness will dictate he feels obliged to invite me to his place. As long as he pays the bill to get me over there of course. His house looks so spooky and I'd love to sit and shoot the breeze with the man.
I'd insist that Stephen brings Pennywise with him. The clown from IT has to be one of the scariest dudes ever. I have two reasons for inviting this rather malevolent entity to my party. One is that he will scare the crap out of the neighbourhood kids and I rather like that idea.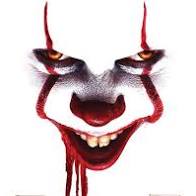 As an aside, I think I have this deep-rooted desire to feed on people's fear -a little like old Penny himself. Not to mention the fact that my twenty-year-old daughter has a bit of a phobia about clowns. I once offered a birthday present to her that she almost had a heart attack over. There's a gent that dresses like a clown and stalks the birthdayee. (It's a great word, so stop frowning) The guy hides behind lamp posts, jumps out of dark corners, and generally makes their life miserable as they wonder where he's going to turn up next. My daughter didn't like that idea for some reason so letting Pennywise smile at her from across a crowded room while gently fondling a carving knife sounds like a great substitute. (Umm, she doesn't seem to like that idea either. But who cares? It amuses me.)
So that's two party goers taken care of. My next guest would be the incredibly talented chef Hannibal Lecter. The young Hannibal is pretty yummy, but Mr. Hopkins would be a delight too. Hannibal is a man of great discernment, witty conversation and he's remarkably intelligent. He's dapper, well-spoken and honestly, any hostess should be privileged to have him. I'd sit him next to someone I really didn't like and watch the chemistry between them ignite.  I hope nothing else develops though, like a torn-out liver in a state of being flambéed and served with a nice cranberry coulis.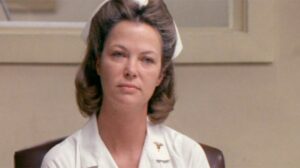 I need a lady guest or two to balance this out. So I say a warm welcome to Nurse Ratched, she from 'One Flew Over the Cuckoo's Nest.' Unfortunately she won't be able to say anything back as her vocal cords were irreparably damaged when Randle McMurphy tried to choke her to death. But I'll put a pen and notepad at the side of her table setting and she can at least have a conversation that way. She promised she would bring her little black bag of drugs with her in case any of the other guests got out of hand.
And of course no Halloween party would be complete without the loveliness of Bellatrix Lestrange, the loveable, psychotic pure-bred witch and Death Eater from the Harry Potter series. Her Gothic beauty and her sadistic and violent tendencies coupled with her narcissistic tendencies would fit in really well with the other dinner guests. She and Hannibal could trade cooking recipes perhaps, while Pennywise could nuzzle her lovely neck with his rather large teeth. Stephen would be sitting observing the character interplay for his next book, and Nurse Ratched would probably be trying to bully and intimidate all the dinner guests. I'm guessing though that this would be quite a feat to achieve…
And of course, there would be me, Hostess Extraordinaire, watching the casual interaction between my dinner guests with a fond smile and a very large gun held in my hand under the table. The weapon would be necessary in case any of the humans decided to turn on me. Of course, I'd need a couple of magic spells, an incantation or two and the Ritual of Chüd. (Google this if you're not sure what the hell I'm on about and you'll find out which character it can kill) I would wine and dine these guests, listen avidly to their stories, laugh at their jokes and then set them loose on an unsuspecting public.  After all, it is Halloween. People expect to have the bejesus scared out of them and I think my dinner guests will do this admirably.
I look forward to seeing you all at the next one on the 31st October 2020. Come along and join the fun. I think you'll enjoy yourselves. Oh, and leave the children at home. Just in case. You know how IT loves little kiddies.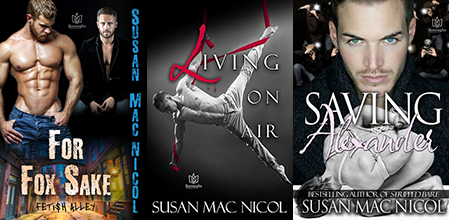 **GIVEAWAY**
This giveaway is now over. Congratulations to Amber and Ashleigh. 
Susan Mac Nicol is offering a giveaway of 2 x e-books of winner's choice of her extensive backlist of books. Entry is either via Rafflecopter or the comments section below. The giveaway closes 10 days from post date. Good luck!  
Author Bio:
Bringing lovers together, one book at a time!
Susan writes steamy, sexy and fun contemporary romance stories, some suspenseful, some gritty and dark and hopefully always entertaining. She's also Editor in Chief at Divine Magazine, an online LGBTQ e-zine, and a member of The Society of Authors, the Writers Guild of Great Britain, and the Authors Guild in the US. Susan is also an award-winning script writer, with scripts based on two of her own published works. Sight Unseen has garnered no less than seven awards to date and her TV pilot, Reel Life, based on her debut novel, Cassandra by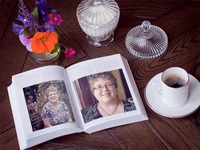 Starlight, was also a winner at the Oaxaca Film Fest.
She loves going to the theatre, live music concerts (especially if it's her man crush Adam Lambert or the divine Cumberbatch) walks in the countryside, a good G and T, lazing away afternoons reading a good book, and watching re-runs of Silent Witness.
Her chequered past includes stories like being mistaken for a prostitute in the city of Johannesburg, being chased by a rhino on a dusty Kenyan road, getting kicked out of a youth club for being a 'bad influence' (she encourages free thinking) and having an aunt who was engaged to Cliff Richard ?
Say hi to Susan:
I'd love you to stalk me so here you go..
Email susan@authorsusanmacnicol.com