Our Blog Turns 10 in October!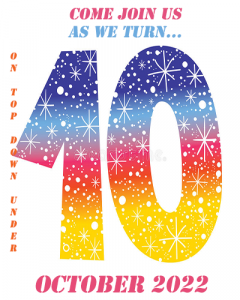 2022 marks On Top Down Under's 10th blog anniversary. Ten years is a hell of a lot of reviews. We have an archived blog as well as this one, which is here. There are a lot of words, quotes, and quotes within pictures on our blog, as well as some social media, Goodreads and Amazon. Basically, a lot of blood, sweat and tears. A ton of passion.
Today people have a lot of creative choice for reviews – Instagram, TikTok, YouTube. So blogs are just a part of the big picture of how we choose to get info about things we may be interested in, something we may not have known existed before. Still, we have wonderful support and continued views and interest from fellow readers checking out our reviews on an annual basis, which is really nice.


Every year our blog anniversary is a busy time on the blog. Come and join us. There will be giveaways and interviews and any number of things we haven't quite had the time to fully figure out just yet.
If you are an author we have read and reviewed. If you would simply like to be a part of our 10th blog anniversary with an interesting blog post about your book, your characters, or maybe you are a soon-to-be author with a new book. If you would like to take part in a giveaway alone, email us at ontopdownunderbookreviews@gmail.com and we'll email you back and work out scheduling you in during October.
The blog anniversary runs from October 1st-31st but we need to know who is going to be taking part by mid September to make it easy for us to manage. 
Happy 10th birthday to us. Thank you for the views, the books, the connection. 
~Kazza and Cindi