9th Blog Anniversary Giveaway: Kasia Bacon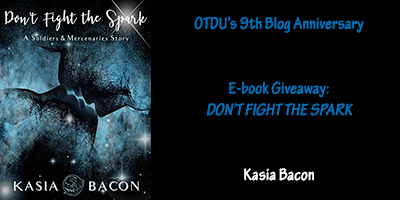 Today Kasia Bacon is part of our 9th Blog Anniversary celebrations with an e-book giveaway of her novella Don't Fight the Spark. This giveaway runs from October 19th – 31st inclusive. Enter via the Rafflecopter or leave a comment below.
**We contact winners as soon as the draw is complete. To ensure fairness and to be able to run a smooth giveaway, all winners are given 48 hours to contact us back otherwise we have to redraw. Thank you for taking part in this giveaway and our blog anniversary. Good luck!
About the Author:
A linguist and an avid reader with a particular fondness for fantasy and paranormal genres, KASIA BACON lives in London with her husband. When not tearing her hair out over a translating project, she writes stories about the shenanigans of emotionally constipated assassins and sexy Elves. Otherwise, she can be found shaking her loins at a Zumba class, binging on anime or admiring throwing knives on Pinterest. A lover of MMA and Muay Thai, she also enjoys nature and the great outdoors. She dreams of becoming independently wealthy, leaving the city and moving into her wooden mini-manor—located in the heart of stunning forests resembling those of the Elven Country depicted in her tales.
For excerpts, free stories and updates about new projects, sign up for Kasia's newsletter at:
kasiabacon.wixsite.com/orderseries/ne…