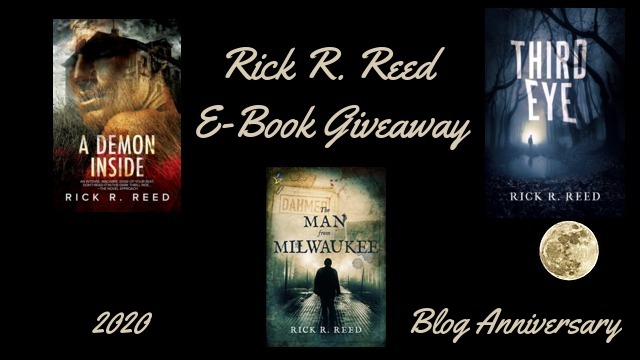 Blog Anniversary E-book Giveaway: Rick R. Reed
I think it's common knowledge to all our followers that I (Cindi) simply adore Rick R. Reed. Sure, I love his books, but he's also a genuinely good guy away from them. In all the years I've been a serious fan girl of his, he's always been kind. I've always called him my comfort author because I can be in the worst mood ever and still be able to get lost in one of his worlds, whether it be horror (my first love of his) or romance.
To help us celebrate our 8th blog anniversary and Halloween, Rick is giving one lucky reader an e-book of the winner's choice from three of his horror books – The Man From Milwaukee, A Demon Inside, or Third Eye. I've not yet read A Demon Inside (I know, right?) but I have no doubt it's as amazing as the other two. You can find my review of The Man From Milwaukee here, and my review of an older edition of Third Eye here.
Check out the info below about the three books and make sure you enter the Rafflecopter giveaway!
Thank you to Rick for supporting On Top Down Under almost from the very beginning and for helping us celebrate our 8th year!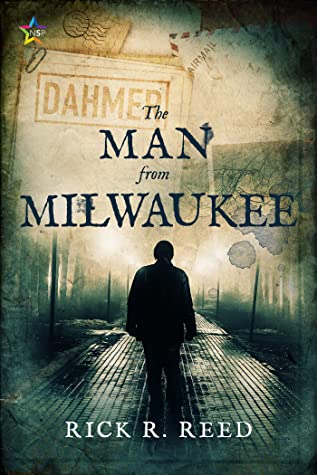 The Man From Milwaukee
It's the summer of 1991 and serial killer Jeffrey Dahmer has been arrested. His monstrous crimes inspire dread around the globe. But not so much for Emory Hughes, a closeted young man in Chicago who sees in the cannibal killer a kindred spirit, someone who fights against the dark side of his own nature, as Emory does. He reaches out to Dahmer in prison via letters.
The letters become an escape—from Emory's mother dying from AIDS, from his uncaring sister, from his dead-end job in downtown Chicago, but most of all, from his own self-hatred.
Dahmer isn't Emory's only lifeline as he begins a tentative relationship with Tyler Kay. He falls for him and, just like Dahmer, wonders how he can get Tyler to stay. Emory's desire for love leads him to confront his own grip on reality. For Tyler, the threat of the mild-mannered Emory seems inconsequential, but not taking the threat seriously is at his own peril.
Can Emory discover the roots of his own madness before it's too late and he finds himself following in the footsteps of the man from Milwaukee?
Third Eye
Who knew that a summer thunderstorm and a lost little boy would conspire to change single dad Cayce D'Amico's life in an instant? With Luke missing, Cayce ventures into the woods near their house to find his son, only to have lightning strike a tree near him, sending a branch down on his head. When he awakens the next day in the hospital, he discovers he has been blessed or cursed—he isn't sure which—with psychic ability. Along with unfathomable glimpses into the lives of those around him, he's getting visions of a missing teenage girl.
When a second girl disappears soon after the first, Cayce realizes his visions are leading him to their grisly fates. Cayce wants to help, but no one believes him. The police are suspicious. The press wants to exploit him. And the girls' parents have mixed feelings about the young man with the "third eye."
Cayce turns to local reporter Dave Newton and, while searching for clues to the string of disappearances and possible murders, a spark ignites between them. Little do they know that nearby, another couple—dark and murderous—are plotting more crimes and wondering how to silence the man who knows too much about them.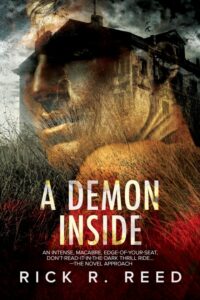 A Demon Inside
Hunter Beaumont doesn't understand his grandmother's deathbed wish: "Destroy Beaumont House." He'd never even heard of the place. But after his grandmother passes and his first love betrays him, the family house in the Wisconsin woods looks like a tempting refuge. Going against his grandmother's wishes, Hunter flees to Beaumont House.
But will the house be the sanctuary he had hoped for? Soon after moving in, Hunter realizes he may not be alone. And who — or what — he shares the house may plunge him into a nightmare from which he may never escape.
Sparks fly when he meets his handsome neighbor, a caretaker for the estate next door, but is the man salvation…or is he the source of Hunter's terror?
*** GIVEAWAY!!! ***
Rick R. Reed is an award-winning and bestselling author of more than fifty works of published fiction. He is a Lambda Literary Award finalist. Entertainment Weekly has described his work as "heartrending and sensitive." Lambda Literary has called him: "A writer that doesn't disappoint…" Rick lives in Palm Springs, CA, with his husband, Bruce, and their fierce Chihuahua/Shiba Inu mix, Kodi.