The Man From Milwaukee, Rick R. Reed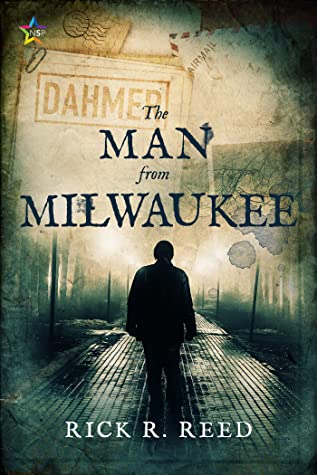 Rating: 5 Stars
Publisher: NineStar Press
Genre: Gay Horror/Thriller
Tags: Historical (1991), Horror, Mental Illness, Non-Romance, Psychological
Reviewer: Cindi
Purchase At: NineStar Press, Amazon.com
Blurb –
It's the summer of 1991 and serial killer Jeffrey Dahmer has been arrested. His monstrous crimes inspire dread around the globe. But not so much for Emory Hughes, a closeted young man in Chicago who sees in the cannibal killer a kindred spirit, someone who fights against the dark side of his own nature, as Emory does. He reaches out to Dahmer in prison via letters.
The letters become an escape—from Emory's mother dying from AIDS, from his uncaring sister, from his dead-end job in downtown Chicago, but most of all, from his own self-hatred.
Dahmer isn't Emory's only lifeline as he begins a tentative relationship with Tyler Kay. He falls for him and, just like Dahmer, wonders how he can get Tyler to stay. Emory's desire for love leads him to confront his own grip on reality. For Tyler, the threat of the mild-mannered Emory seems inconsequential, but not taking the threat seriously is at his own peril.
Can Emory discover the roots of his own madness before it's too late and he finds himself following in the footsteps of the man from Milwaukee?
Review –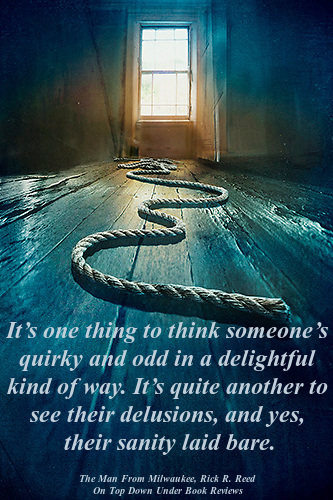 If you've followed my reviews for any length of time you know my love for Rick R. Reed's books. That love actually started with his horror not his romance. It's been awhile since I've been able to sit down and read a book, but when I saw The Man From Milwaukee was out, I couldn't buy it fast enough.
I have a fascination with serial killers. I always wonder what makes them do what they do. I'll never forget when Jeffrey Dahmer was arrested and his crimes brought to light. My very first thought when I saw him was, "My God, he looks like the typical boy next door." People have said that about Ted Bundy but he always creeped me out. There was just something about him that seemed off. Not so with Jeffrey Dahmer. I was sickened by his crimes – and the news stations and newspapers were all too eager to go into graphic detail – and I truly felt for all the families affected. But I kept thinking that he just looked so normal, not like someone capable of doing those things. Which goes to show that looks mean nothing when it comes to telling you how a person really is.
Emory Hughes has an abnormal obsession with Jeffrey Dahmer. He's convinced that they have some type of connection. So he starts writing letters to him in prison. When he starts getting responses back his obsession deepens. Around this time is when a young man Tyler Kay begins working with Emory. Tyler's just out of college and this is his first job. Emory is his mentor of sorts on his first day and they begin a rather odd friendship. I say odd because Emory's not the type of person who's easy to get to know.
Emory lives at home with his dying mother and his flighty sister Mary Helen, who is eight years younger than him. I call Mary Helen flighty but there's really more to her than what the reader sees early on. She's one of those characters that I assumed I'd never like. I was wrong.
Tyler wants more than friendship with Emory, especially after Emory's mother passes away and Mary Helen moves out of the apartment. I had a hard time understanding why but the heart wants what the heart wants, right? After a couple of pizza slash horror movie nights the relationship goes a step further than them just being buddies. Emory is a loner, has never had a boyfriend or girlfriend, and is constantly trying to convince himself (and others) that he's not gay. But Emory is falling in love with Tyler – and for some reason the feeling is starting to be mutual – so he goes with it.
What Tyler doesn't know is that Emory has problems that go beyond being a loner who just lost his mother and doesn't have a lot of friends.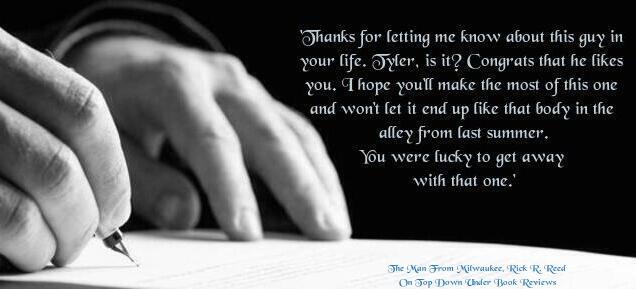 I need to stress that this book would not be considered a romance. If you go into it expecting it to be, you'll be disappointed. I'm glad it wasn't because it wouldn't have worked. There are a couple of quick, mostly off-page sex scenes, but don't take that as it being romance. It most definitely is not.
On one hand, I didn't like Emory. On the other, I felt sorry for him. Mental illness is so often glossed over in books. That wasn't the case with Emory in The Man From Milwaukee. You could tell he was sick almost from the get-go but you don't know what will happen. He just wants somebody to stay. And if the one he wants (that would be Tyler) doesn't, then Emory has to make sure it happens anyway. The reader knows something is going to happen but you don't know what.
There are the letters that are sent back and forth between him and Jeffrey Dahmer. Are they truly being sent and received or are they a figment of an obviously unstable Emory's imagination?
Then there's Tyler. I adored him. I felt that he should've been bopped upside the head a couple of times because he was too trusting, but I did adore him. If you read the book, you'll see what I mean. Tyler and Emory are as different as night and day. Where Emory is a bit awkward and keeps to himself, Tyler is outgoing and friendly. They were a true odd couple.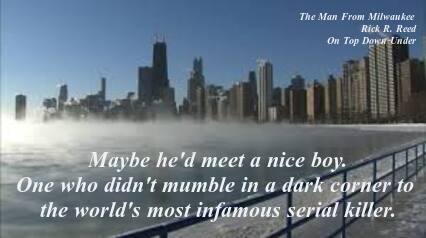 I had sympathy for Emory's mother, though I did find myself questioning certain things about her as the story played out. I despised his sister early on, but as I said, that changed later. She comes through when it really counts. I can't say how without giving a huge spoiler.
The ending surprised me. You ever read a book where you're 100% convinced you know how it will end? Well, don't be that way with this one because you'll be wrong. Seriously. I've read enough of the author's horror books to know better, but I still didn't see it ending the way it did. I was pleasantly surprised.
This is another great read by Rick R. Reed. It was nice getting lost in one of his worlds again. It's been way too long.