Moving Maverick (Made Marian #5), Lucy Lennox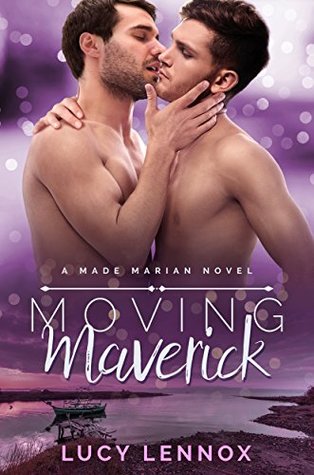 Rating: 4.5 Stars
Publisher: Lucy Lennox
Genre: Gay Romance
Tags: Contemporary, Family, Friends to Lovers, Romance, Series
Reviewer: Cindi
Purchase At: Amazon.com
Blurb –
Do you remember what you promised?"
Maverick: I haven't been back to Rabbit Island, South Carolina, since my parents died and my grandmother, Mimi, rejected me. I'm only returning now to attend her funeral and sell an estate I never wanted. But the moment I step foot on the island and fall into Beau's arms, I realize it might not be so easy to say goodbye after all.
Beau Talmadge was always the boy next door, but now he's no longer a kid. The man is hot as hell and pushes all my buttons in the very best way. I'm supposed to leave in a week. Sell everything, close the door on my past, and walk away forever. So why am I letting myself fall for someone who lives thousands of miles away? And how the hell am I going to break it off when it's time to go?
"That I'd come back."
Beau: It took one short summer to fall in love with Maverick Mitchell and fifteen long years to forget him when he left. I'd never expected to see him again, but when he shows up at Mimi's funeral looking lost and lonely I can't resist doing anything I can to comfort him. Falling into bed with Maverick is easy and the nights we spend together are as hot and steamy as a South Carolina thunderstorm.
I know it's not smart. I know it's not what he planned. But dammit, Mav belongs in my arms, in my bed, and in my life. So how the hell do I get him to stay?
"Took you long enough."
Fair warning: Moving Maverick is a 73k word gay romance novel featuring sweet tea vodka, fancy salt and pepper shakers, guys catching crabs (not that kind), Aunt Tilly with a knife, and multiple detailed instances of man parts touching.
Moving Maverick is the fifth book in the best-selling Made Marian series. It can be read on its own but is much more fun read as part of the series.
Review –
This was a little slow going. I'm not saying that's necessarily a bad thing, but I did feel that too much time was given to the small town and its residents than was probably warranted. Also, the amount of southernisms used during the first third of so of the book had me rolling my eyes and hoping I wouldn't be stuck reading that throughout the entire book. Thankfully, I wasn't. Anybody who follows my reviews knows how much I hate southern speak. It's nice in the real world but doesn't usually carry over in print. In Moving Maverick, the misspelled Y'ALL (YA'LL in the book), the bless your heart, the sweet tea, darlin'…. and even the nosy townsfolk got on my nerves. It was all about the southern stereotype.
I live in south Alabama. Trust me when I tell you that I know the southern stereotype.
Thankfully, one thing that wasn't in the book were the religious homophobes that are usually in the books I read that are set in the South. I've read the author's bio and I know she's from the southeast like I am.
I'm throwing that out there before somebody feels the need to tell me that she's also from the South.
Now to my review…
Maverick is back on Rabbit Island, South Carolina for the first time in fifteen years. It's his biological grandmother's funeral and as her only heir he's back to settle her estate. He doesn't want to be anywhere near the place. His parents died when he was young and his own grandmother (Mimi) refused to take custody of him. For that reason, he was put into foster care and eventually adopted by the Marians. He's walking into the church for the funeral when he's pulled into a hug by a man at the door. He's surprised to see that it's his best childhood friend, Beau. After suffering through the service and gathering at Mimi's house after, the two men catch up a little but it's all overwhelming for Mav. On top of the good memories he had with Beau, the sad ones of losing his parents and the hurtful ones of being rejected by his grandmother come crashing down on him. Beau is all too eager to comfort him.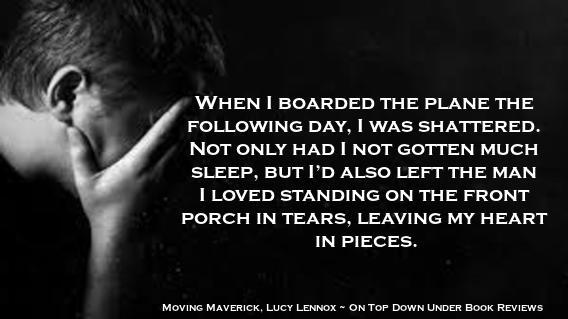 One thing I really liked about this book was how natural it was for Beau and Maverick to come together – first as friends and shortly after as lovers. It felt like it was meant to be almost from the start.
Beau is a general contractor who's lived in Mimi's home for five years. He was her caretaker as her health failed while he built up his business on the island. He knows that Maverick is back to sell Mimi's estate. Maverick lives in San Francisco. He doesn't give a damn about the 'Mitchell' family history or the town's history. He gave up the last name Mitchell when he was adopted by the Marians. He hasn't considered Rabbit Island his home since he was a young boy. The only connection he has to any of it is Beau. The problem is that Beau cares very much about the town and doesn't want Maverick to sell.
By the time Maverick has to leave to go back to California he and Beau have been sleeping together and getting reacquainted as friends. Maverick doesn't want to leave but his life is in San Francisco as a veterinarian with his mother and sister. He also, even though he cares about Beau, still has no desire to keep the estate. It was his grandmother's home, not his. He doesn't want to hurt Beau but he's still dealing with Mimi's rejection of him as a boy.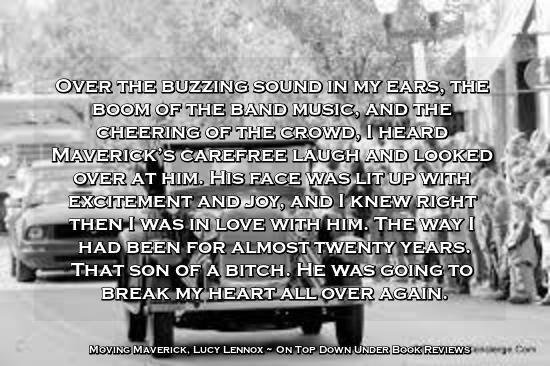 When he comes back a few weeks later, he and Beau pick up where they left off. Well, they actually never left off. They continued talking to each other on the phone and via texts. Maverick almost doesn't make it all the way inside the house before clothes are coming off. The sex between these two was off the charts. 😉 It was hot and heavy but it was also very sweet at times. I really loved these two together. My heart broke every time something was said about selling the estate or Maverick leaving. By the time he's forced to go back to San Francisco again, he and Beau have declared their love for each other and somehow, someway are determined to make their relationship work, even if it has to be done via long distance.
Oh, I should mention that crazy and pervy Aunt Tilly, Granny, and Irene made a little trip to Rabbit Island before Maverick left that second time. Aunt Tilly was in her true form, but thankfully not as overbearing as she could have been.
Beau makes a trip to San Francisco and gets to meet the huge Marian family.
I have to say that I laughed at a little prank that was pulled on Maverick in front of the Marian family. I can't say by who or even hint what it was, but it was funny. It kind of had me thinking, "Hmm…" until I realized it was a prank, not what Mav was led to believe it was.
I was, as always, entertained by the Marian clan.
It takes a natural disaster for Beau and Maverick to finally get their HEA. I really liked how that played out. It wasn't just about Beau and Maverick. It was also about the Marians and how they come together in a time of need.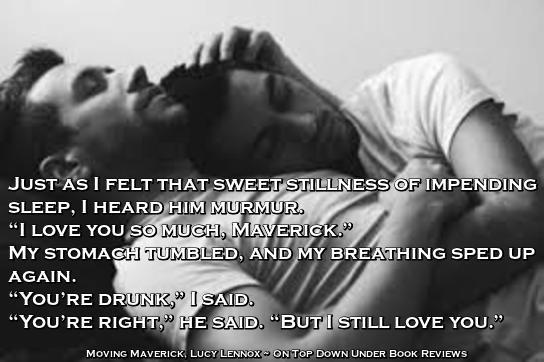 Other things to mention –
Maggie, Beau's best friend. I wasn't a fan, especially early on.
Beau and Mav share a collecting hobby that I found to be entertaining.
There's just something about an outside shower and nosy people. Oh, and two men who have a bad habit of forgetting to bring towels to the outside shower. 🙂
I couldn't stand Beau's parents. I did, however, like his brother. His dad was a piece of work. A snobby, 'I'm better than everyone else' piece of work.
Hayworth, Beau's ex. I wasn't a fan.
Overall, this is a nice story. Like I said above, it was slow going early on. I think that had there been more of Maverick's family during that time I'd have enjoyed it more. Don't get me wrong. I love Maverick and Beau together. They're an amazing couple and meant for each other. I just, as I said, felt that too much time was dedicated to the town and nosy townspeople. Even so, I still give it 4.5 stars.