The Plus-One Entanglement (A Love After Forty Story), Paulina Ian-Kane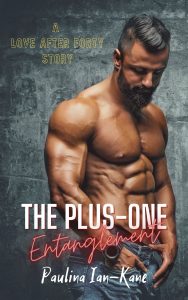 Rating: 3 Stars
Publisher: Paulina Ian-Kent
Genre: Gay Romance
Tags: Contemporary, Fake Boyfriend, Older Characters, Opposites Attract, Romance, Series
Length: 129 Pages
Reviewer: Cindi
Purchase At: Amazon
Blurb –
What happens when in a drunken moment of delirium you agree to attend the wedding of your cheating ex who stomped on your heart?
Well, if you're the epitome of responsible decisions like me, you obviously get the biggest, hottest, beefiest stranger you can find and blackmail him into pretending to be your new boyfriend.
Sure, Beefy's intense, broody personality may be a bit overwhelming, and his fashion sense a bit questionable, but he's still so far out of my league. There's no way he could truly want me.
But when he looks at me like he wants to consume me, body and soul, and touches me like I could be his everything, it doesn't feel like an act. And when things get heated and emotions run high at the wedding, will I let my fear and doubts get the best of me? Or could there be something real between me and this moody giant?
Content warning: This is an MM romance, with strong language, very hot sexual scenes, and hilarious moments. Each book in the series can be read as a stand-alone.
Review –
Jordan screwed up. Thanks to a little too much tequila, he RSVPs to the wedding of his recent cheating bastard of an ex. Even worse, he added that he'd be bringing a plus-one. Phil, the ex, is a real piece of work, and now that the RSVP has been mailed, Jordan knows he better show up with a plus-one or he'd never hear the end of it. The problem? He's not dating anybody and there are no prospects.
After a day from hell, it starts storming on him as he's rushing to an ATM. He ends up getting stuck inside the little glass room when there's a black-out in the area and the electric doors won't open. Only he's not alone. A big guy – who he calls Beefy in his head – came in after him, so he's stuck with this huge man who has zero fashion sense and could possibly be a mugger.
Then there's a loud bang of thunder that freaks Jordan out, he ends up pressed against the big guy, and before either realizes what's happening, they're kissing.
And it's a really, really good kiss.
Unfortunately, the doors are opened by a woman who works for the bank associated with the ATM, the power comes back on, and the moment's gone. Jordan uses the man speaking with the woman as his cue to disappear. They end up meeting again, this time in the tattoo shop of Jordan's brother, Kaiden. I loved Kaiden. He's a proud manwhore and doesn't care who knows it. 😉
Kaiden has to walk out of the room for a minute, leaving Jordan and the big man (whose name is Asher) alone just long enough for Jordan to convince Asher to be his plus-one at Phil's wedding. There's a bit of not quite blackmail involved, but it's pretty obvious that Asher would love to do anything and everything with Jordan for any reason.
Jordan and Asher end up seeing each other again a few times in the most random of places. It's like everywhere Jordan goes, Asher's nearby.
After bumping into him in the grocery store, Jordan offers to cook dinner for Asher. At Jordan's apartment a little while later, they end up kissing again and playing around a bit. Just when Jordan is mentally saying, "Yes!' Asher bolts, not even staying for dinner. After that, there are a few one or two word texts and an awkward phone call. Even so, Asher still plans to be Jordan's date to Phil's wedding, picking him up at the appropriate time and driving to the destination.
There are a couple of awkward moments in their hotel room, but nothing compares to Phil and his rude self being a big ass to Jordan during the pre-wedding get-together later, bringing up hurtful things about Jordan's past just because he can.
The author wrote Phil as a true bastard, and I can't say anything good about his future husband either.
After the Phil and future husband incident, Asher and Jordan spend one hell of a hot night together.
I can't really say much more than that without telling the entire story.
I liked Jordan well enough, I suppose. I liked Asher early on – thought I might end up loving him – but he went hot and cold so often than I was ready to throw my Kindle more than once. He never shared anything about his life before he moved to town, other than he grew up in Montana with brothers. If he was asked questions, he got all broody and changed the subject or disappeared.
I had a WTF??? moment when his history came out. At first, I was thinking, "Oh, this is nothing," but then other things started to click and I realized it wasn't nothing at all.
Don't get me wrong, I did like these two together, but if I were Jordan, I'd be a little hesitant. I'm not sure the relationship would be healthy long-term. It just kind of creeps me out that the author would make something like that good and part of the attraction.
I like that the book has older characters – Jordan is 41, Asher is 45.
The sex is pretty hot when Asher's not disappearing and being standoffish afterward. The reason for it is explained, but the hot and cold gave me whiplash.
I felt bad for what Jordan and Kaiden went through as kids, and why thunder scares Jordan so bad. I would've liked to have read more about their childhood, not just given a couple of lines here and there.
I like that Jordan and Asher are as different as night and day.
What I didn't like was the !!! overload throughout the book. I can handle a few, but these were everywhere.
I love the cover.
Overall, the book was okay. It could've been at least a 4 star read had the author not gone there and tried to justify something that's pretty high on the creep scale as being normal.