Barely Regal (Rosavia Royals #5), E. Davies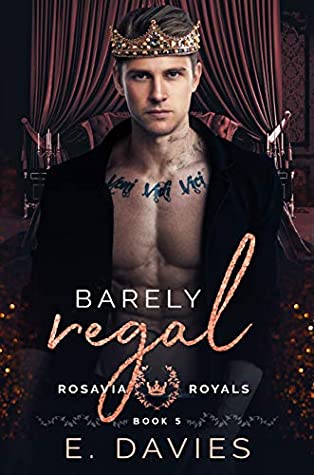 Rating: 4 Stars
Publisher: E. Davies
Genre: Gay Romance
Tags: Contemporary, Age Gap,  BDSM/Daddy Kink, Forbidden Romance, Royals, Series, Romance, Spanking
Reviewer: Cindi
Purchase At: Amazon.com
Blurb –
A bratty boy prince needs: a firm but fair Daddy.
Prince Renford is a royal brat. Nineteen and last in line for the throne, Wren hates his made-up job: Commander of Roses. Good thing his long-time valet has a firm hand—if only Wren could tempt him to break all palace protocol and use it.
Thom Pierce is sixteen years older. Old enough to know he should ignore his prince's less-than-subtle flirtation. He's been burned by a higher-ranked boy before. His job and reputation are at stake if the palace catches a scandal unfolding under their noses.
Wren needs the part of Thom that he's kept locked away for years. If the young prince wants to be taken as seriously as his older brothers, he has to grow up fast. Thom's rules could help Wren become the man Thom knows he can be in time for the Royal Ball… or they could attract the very attention that forces them apart forever.
Welcome to the tiny European country of Rosavia, where roses ramble over alpine slopes and princes fall for the men of their dreams. Every Rosavia Royals book happens simultaneously, so books can be read on their own, or in any order… but keep an eye out for familiar faces around the palace!
Review –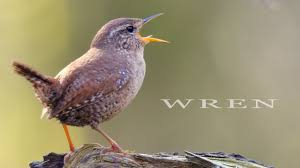 This is the fifth book in the Rosavia Royals series. Each book, starting with the oldest to the youngest, has been about one of the Rosavian princes. Barely Regal is Prince Renford's (aka Wren's) story.
Wren is nineteen and has a major crush on his longtime valet, Thom Pierce, a thirty-five-year-old former Army captain. Thom has been with the palace – with Wren – for a decade. He has a bit of a backstory on how he came to work for the king and queen of Rosavia. This comes out later in the book.
To be blunt, Wren is a bit of a spoiled brat. Not annoyingly so – he's actually quite charming – but when he wants something he goes for it, consequences be damned. Right now what, who, he wants is Thom. It starts with a little flirting after Wren's nineteenth birthday. He's always given Thom a hard time but this is different. This isn't the rambunctious actions of a child. Far from it. Wren, a virgin, makes it clear that he wants to be in Thom's bed.
Wren was a dumb nineteen-year-old kid. Not a child, but also not mature. Far from it, the baby of the family had always been the most spoiled prince. And Thom was a grown man who couldn't – couldn't – take advantage of that beautifully naive, innocent young man.
Thom isn't unaffected. The young boy he worked for is long gone, leaving in his place the man that Wren has become.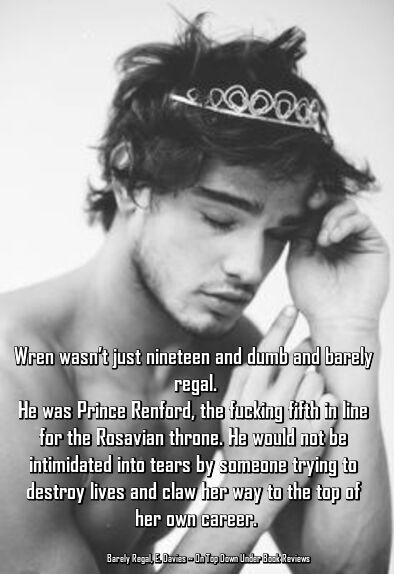 I give Thom A LOT of credit for his patience. There were a lot of times he could've easily given in but he knew better. He was the employee. Wren was his boss. No, not just his boss. He was part of the royal family. If he were to give in to what he and Wren both want, there would be a scandal if it was found out. The gossip mill is huge in the palace so it was a given that they'd be found out. It's also coming up on The Royal Ball, the celebration of Rosavia's 500th year. The entire world's eyes are on the little country of Rosavia. Thom won't risk doing anything to make the palace look bad.
This book takes place during the exact same time period as the four books before it. I liked that a lot because the reader is able to see things from different character points of view. It also helps being familiar with things going on in the background.
No matter how hard Thom fights the attraction, Wren doesn't let up. If anything, he gets more bold. It eventually gets to the point where Thom can't fight it anymore and he gives in.
Thom is a Daddy and it's known from the very beginning that Wren wants to be his boy. Wren may be his so-called boss during the daytime, but he wants to give up complete control when he and Thom are behind closed doors. It was a nice power shift.
Another thing happening is that Wren has been given a title by his father that he knows is made up – Commander of Roses. To someone who hasn't read the series that probably sounds silly. Because I have, it didn't. Roses are an important part of the royal family of Rosavia, with new roses being created and grown with each new member of the family. This dates back generations so that the residents can grow them themselves if they wish, maybe feeling a little bit closer to the royals.
It's coming up on The Royal Ball where Prince Leopold will introduce his fiance. Leo's official rose has to be chosen and it has to be done fast. Once it's chosen, it will officially be part of Prince Leopold's life up to and after he himself becomes king and then after he's long gone from the world. Finding his older brother's official rose is now Wren's job. Wren was not a good student when he was in school and now he's expected to learn everything there is to know about the palace's roses and then create one specifically for Leo, the Crown Prince? It doesn't help that every single person hired to tutor him can't stop the bowing and treating him like the prince he is. He just wants to learn. He doesn't want to be treated special. Thom steps in and helps him with that, finding someone who doesn't give a damn who Wren is in the grand scheme of things. I loved Mabel.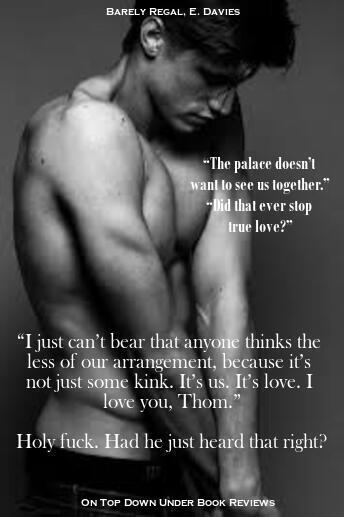 As with the princes in the other books who try to keep things under wraps – well, not Leo because he doesn't give a damn who knows what – secrets come out before they're ready to share. Thom and Wren have only just begun really, having only played a little sexually. Up to now it's been all about rules that Thom has given Wren and his learning patience, typical Daddy/boy stuff. There's even been a bit of spanking, something that Wren absolutely loves. 😉
Wren may know how much he wants Thom, and Thom may know how much he wants Wren, but their budding romance is forbidden for a variety of reasons, the main one being that Thom is Wren's valet and it would appear that he took advantage of his young charge. I actually snorted when I typed that because Wren is anything but what you'd expect. He damn sure wasn't taken advantage of. Needless to say, the king and queen aren't pleased when it comes out, and neither is Sander, Wren's older brother, the second in line to the throne.
I've read Sander's book and really enjoyed it. This little meeting took place during that, during one of the few times Sander (Cas) came home to handle something Leo refused to. I absolutely hated him and the king and queen in this one for a few moments. I'm glad I already knew Sander was a good guy. Of course, the king, queen, and Sander make good later. I'm just glad I read the books in the order they're listed. I'd already formed a good opinion of Sander. I was able to keep it. And honestly, I ended up liking the king a whole lot when he (they) did make good.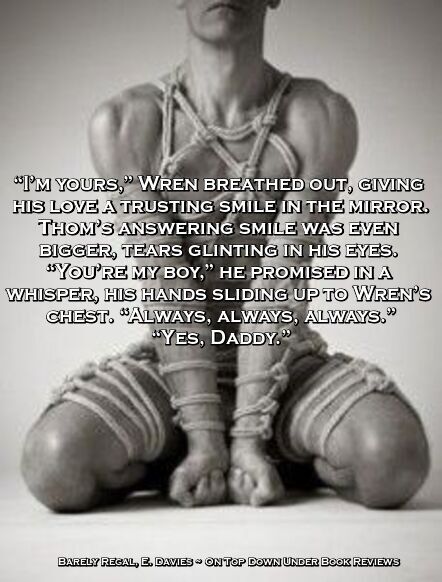 I really liked Thom and Wren together. Thom refused to allow Wren to rush things, even knowing how badly he truly wanted to jump in with both feet. Wren's brattiness was a big part of Thom and Wren. Most of the time it was cute. Other times, it showed how young and naive he truly was. He was a prince accustomed to never being told no. He did NOT exploit that with Thom. I need to stress that. What I'm saying is that because he was never told no he didn't stop to think that his/their actions might hurt Thom. And it did end up hurting him. Not only was Thom accused of taking advantage of the much younger prince, but his past was brought out in a mean, hateful way by the horrible reporter who has been causing trouble in the series since the first book.
Even so, they worked. Wren was forced to grow up and take his responsibilities as the son of King Alphonse seriously. Thom was finally able to live his life. There was a little humor too. I got a big kick out of Wren calling Thom Captain Daddy sir. He did it to annoy Thom but it was funny.
This ends with a prologue that takes place during Prince Leo and Edvin's wedding. It was sweet.
Overall, a nice ending to a really enjoyable series. I would have liked to have seen Leo more but I have no complaints really. Everything (minus one thing not resolved in the first book but that was written by another author) came together nicely with these guys.
"Daddy?" Wren breathed out, squeezing his hand as he stopped on the spot.
"Yes, my love?" Thom turned to look at him.
"Did I tell you that I love you?"
~~~
Sometimes, dreams do come true.