Reign or Shine (Rosavia Royals #2), H.J. Welch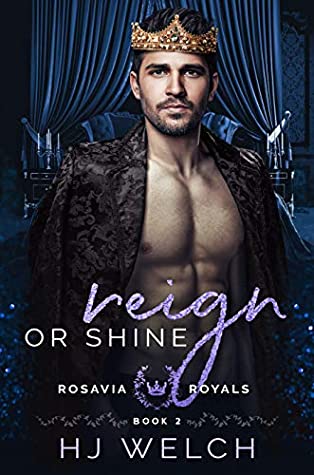 Rating: 4 Stars
Publisher: H.J. Welch
Genre: Gay Romance
Tags: Contemporary, Opposites Attract, Romance, Royals, Series
Reviewer: Cindi
Purchase At: Amazon.com
Blurb –
A secret prince needs: a lost tourist to save.
Prince Cassander is on vacation from his overdeveloped sense of duty. While hiding out as simply 'Cas' in the Rosavian capital, he rescues a gorgeous, distressed American tourist. Matty has no idea that Cas is second in line to the throne. And with only two weeks together to explore the sparks between them, he doesn't need to ever find out.
New Yorker Matty Doyle is a fish out of water, taking care of his niece and mending his broken heart. When Cas rescues him, the handsome stranger coaxes Matty out of his shell and he throws caution to the wind. Nobody knows him here. Would it hurt to live a little for once?
But a prince can't stay secret in his own country for long. Cas would give anything to protect Matty from reality, but how can this fantasy together continue when they belong in different worlds?
Welcome to the tiny European country of Rosavia, where roses ramble over alpine slopes and princes fall for the men of their dreams. Every Rosavia Royals book happens simultaneously, so books can be read on their own, or in any order… but keep an eye out for familiar faces around the palace!
Review –
This is the second book in the Rosavia Royals series with each book written by a different author. With the exception of one thing (and Edvin's internal rambling), I enjoyed Up for Heir, Leo and Edvin's story, with Leo being a big favorite. Reign or Shine is Cassander's story. Cassander is the second in line to the throne of Rosavia behind Prince Leopold. Sander – as he's knows to the family – is the fixer. Leo may be the heir but he's not exactly the most responsible of the brothers. He's wild and does his own thing. Or I should say that he did before Edvin came into his world. All of these books take place at the same time, during the same time period, leading up to The Royal Ball. Leo and Edvin are mentioned in passing in this book but that's about it.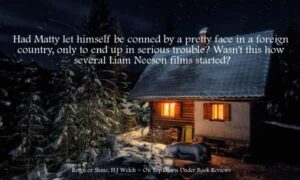 Cas – as Cassander is known as away from the palace – just needs a break. He's tired of always being the responsible one, the one expected to rein his brothers in when they do something that might embarrass the royal family. He just wants some time to be anonymous, not Prince Cassander. He's taken time for himself a few times over the years – even has a nice apartment to stay in – but not like this.
It's the two weeks leading up to the biggest event Rosavia has ever seen, The Royal Ball, to celebrate the small country's 500 years of existence. It's the biggest two weeks of the year but Cas just can't do it anymore. He's taking a break and leaving his brothers (mostly Leo) to fend for themselves.
If you've read the first book you know this is a good thing because it forces Prince Leopold to grow up a little and start taking his responsibilities as the heir seriously. Sure, Edvin helps him with that, but Cas taking off makes him wake up a little and see that it's time for him to finally step up for the role he was born into.
When Cas is in the city (hiding in plain sight, if you will) he wears hoodies and jeans and looks nothing like anyone would expect Prince Cassander to look. He looks like a typical citizen going about his days.
Matty, an American from Queens,  is in Rosavia with his niece (Finley) so she can go to a private archery school for two weeks leading up to a big competition. It's a huge honor for Finley to be one of the chosen. But unfortunately Matty's sister is ill and couldn't make the trip with her daughter. Her wife, understandably, stayed at home to be with her as her treatments started. Matty, being a good uncle, took their place on the long trip to ensure that Finley gets to the school safely. What he didn't expect was for their luggage to get lost and to be stuck with whatever they had in their carry ons and what they were wearing. They're inside a sporting goods store trying to find a temporary bow for Finley – and not having much luck because they're SO expensive – when a handsome man (Cas) steps up and offers to help them.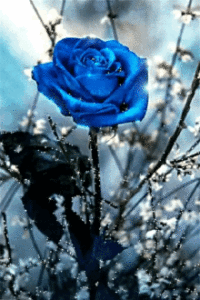 This is when Cas and Matty begin. Matty knew nothing at all about Rosavia other than what he'd read leading up to the trip. And why would he? Rosavia is a tiny European country that's really just a blip on an American's radar. So he obviously didn't recognize Cas as being one of the royal family.
With Cas' help Finley has a new bow and they make it to the school with no problem. Matty is understandably concerned – who is this guy? he could be a serial killer for all he knows – but he takes a chance. Thankfully, it works. After dropping Finley off at the school Cas doesn't want to let Matty go. For the first time probably in his life there's a man who seems genuinely interested in spending time with Cas the person, not Prince Cassander. The more time they spend together – and they spend quite a bit in the coming days – the more Cas starts to really care for the other man. He know's he should tell Matty who he is, but then what? Watch Matty walk away? They only have two weeks. Cas knows nothing can happen beyond that because he's the prince and he has his duties to his family and his country. But he wants those two weeks of simply being Cas, a man who lives in the capital city, not Prince Cassander the second in line to the throne. He likes being just an average guy with Matty, who doesn't want him for anybody but himself.
Of course the truth comes out anyway, and of course it does before Cas can share it on his own.
In the first book there was a bitchy female tabloid reporter who followed Prince Leopold around, even making fun of Edvin's stutter. She was annoying (and I wanted to slap her for making fun of Eddie) but she wasn't around too much. She was in Reign or Shine. She's your classic 'if I can't get anyone to tell me the truth I'll just make it up' type of tabloid reporter. It was no surprise that she and her trashy articles were how Matty found out. You can imagine how he took it when he saw his face plastered all over newspapers, and then seeing Cas' all over souvenirs in the city once he started paying attention. He felt like he'd been made a fool of. He'd finally found somebody he thought he could trust – his ex had been horrible, as had his and his sister's parents – and now he was feeling betrayed all over again.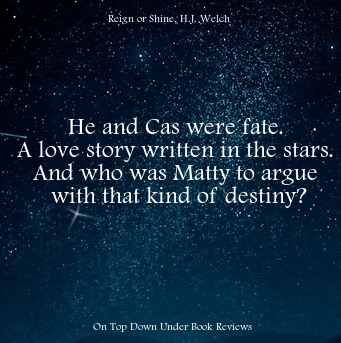 One thing I really liked about this book is that the truth didn't wait to come out until around 90% of the book. It came out with plenty of time for Cas to fix things and there wasn't a rush, rush ending.
I loved these two guys together. Matty was hesitant but when he went all in it was beautiful. Cas just wanted to be loved for the man he is, not his position in the royal family. He was concerned about his and Matty's relationship. Hell, he'd been the main one to say something to Leo (and later, Wren, a younger brother) about hooking up with a so-called commoner. He knew his duty as the prince and he knew that regardless of how he felt about Matty he was going to have to let him go. He couldn't see any other way, especially when he received a summons from his father, the king, to discuss the scandal that the reporter had caused with her lies.
There were quite a few secondary characters. I simply loved Valentina, Cas' valet. I also loved two new friends of Matty's, one of which he met at the airport when they arrived in Rosavia. He got close to her and her sister and their kids who were visiting from the UK. I adored Cas' brother Wren. I'd seen bits and pieces of him in the first book but I got to see a little more this go round. I even liked the king. I liked Matty's family a lot, especially Finley. She gave better advice than most adults would have. There was also Bella, Cas' cat, who was adorable. I'm a huge cat lover so I'm loving seeing all these cats in these books.
I think it goes without saying that I couldn't stand the reporter who doesn't get properly handled until later in the series.
"You're not fooling anyone. I thought Benedict and Leopold were the ones who kept things interesting around this place. Did you want your share of the limelight, Cassander, by bringing a commoner to dangle off your arm like a Christmas ornament?" She laughed, less like tinkling and more like shattering glass. Her tone changed to faux concern. "This won't last more than a minute, Mr. Doyle. Don't you have any self-respect? He's just using you for a joke!"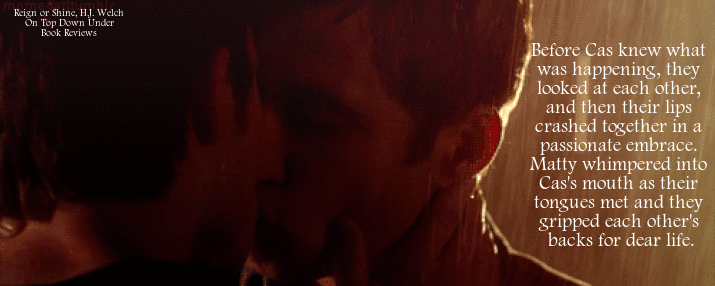 Overall, a really sweet modern day fairy tale with a true happily ever after. I loved how everything came together.