Homerun Daddy (Timberwood Cove #1), Liam Kingsley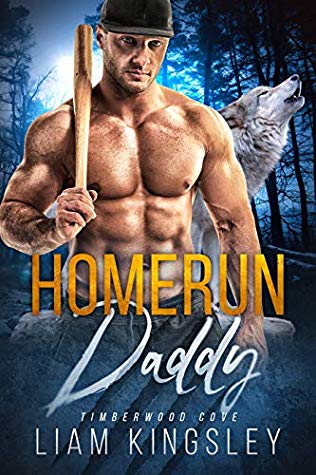 Rating: 5 Stars
Publisher: Liam Kingsley
Genre: Paranormal Gay Romance
Tags: Paranormal, Kids/Family, Fated Mates, Mpreg, Romance, Series, Wolf Shifters
Reviewer: Cindi
Purchase At: Amazon.com
*** This review has slight spoilers. ***
Blurb –
Not only is Jaxon a born Alpha, he is also one by choice. Or at least, he's about to be. His adoptive father wants to pass on leadership of the Timberwood Cove Pack to him but Jaxon has reservations. Why? Because this shifter wants his mate.
When Jaxon scents his fated mate at a local diner, he knows it's only a matter of time before he claims the man. But their courtship is complicated. Even though Bryce is an omega he has no idea shifters exist. What's more, he blames a wolf for the death of his sister and his current painful circumstances.
After causing an accident that left his sister dead and himself with chronic injuries, Bryce can't screw up raising his nephew. Money is tight and Bryce's new disabilities make caring for a young boy even more difficult. When he meets Jaxon, the man is too good to be true; a caring alpha who coaches his nephew's baseball team and looks at Bryce with heat and tenderness.
Will their rapidly growing family strikeout? Or will they be a home run?
Review –
This one brought out all kinds of feels. I smiled a lot, but I also got teary a lot.
Jax is an alpha who has just been asked by his adoptive father to take over as Alpha of their pack. Jax, who should be jumping at the chance, is hesitant for a variety of reasons. One, he doesn't believe he's worthy. A former Major League Baseball player, he let his team down when it counted the most. Not his fault, but he doesn't see it that way.  He's been really hard on himself since, though you'd never know it to see or talk to him. He puts up a pretty good front. He also takes pleasure in coaching little league at the local park. And two, he doesn't believe he can lead the pack until he has his mate by his side. That mate, so far, is nowhere to be seen.
Bryce is struggling both physically and financially to support his nephew, Liam. Liam's mother, Bryce's twin, was killed in a car accident when Bryce was driving. Bryce was injured in the crash and is now forced to use a cane to walk. He has a lot of pain and struggles just to get around sometimes. He blames himself for his sister's death. He also blames a big, black wolf that was stopped in the middle of the road, causing the crash. All he cares about is his nephew and giving him the best life he can. They don't have much, but they have each other. When Liam starts talking about his friend Cole and how he plays little league, it breaks Bryce's heart because he knows he can't afford the cost of letting Liam play too.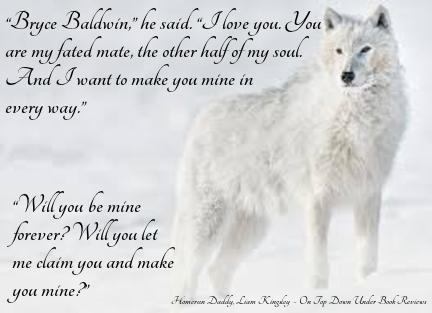 I was a baseball mother from little league through high school. It's not cheap.
After the first practice, eight-year-old Cole, the same age as Liam, is having dinner at a diner with his father (Linc) and his dad's friend Jaxon. He tells them about Liam and how sad he is that he can't play ball because his uncle can't afford it. Jax makes a decision to allow the boy to play on his team and to waive the costs. With Jax being a former pro baseball player, the waiting list to be on his team is quite long so he'll be making an exception with Liam.
They're leaving the diner when Jax scents who he knows is his mate. Cole has run across the diner to talk to a friend – who happens to be Liam – when Jax sees a man walking in with a cane. Of course, this is Bryce. The cane slips and Bryce immediately goes down. Jax tries to get to him in time but he can't. When he rushes over he knows this man is his mate. After introductions, and a few embarrassing moments for Bryce, it's agreed that Liam will play ball for Jaxon's team. This is huge for the little boy because Jaxon is his hero and has been since he played pro ball.
When the day of practice arrives and Liam and Bryce aren't there, Jax goes to their house to make sure everything is okay. When he gets there, he's forced to overhear a social worker being bitchy to Bryce about an upcoming court date that will decide if Bryce gets custody of Liam. Jax takes Liam to practice, an idea forming in his brain. He'll make damn sure that Bryce doesn't lose his nephew, who he obviously adores. His idea is to get into a relationship with Bryce. If they're together, and he and his finances are also taken into consideration during the custody hearing, they will have to allow Bryce to keep his nephew.
No problem there. Jax makes it clear to Bryce that not only does he want to play the part for the bitchy social worker, he also wants the real thing. No fake boyfriend. No fake relationship. He wants Bryce and he wants Liam to be his son.
Bryce doesn't know that wolf shifters exist.
They start spending time together as a family, all the while with Jax trying to find a way to tell the man he's growing to love that he's a wolf shifter and that Bryce is his mate. When Bryce, a human omega, goes into heat, things are too frenzied for Jax to tell him the truth. As they continue to spend time with each other it gets even harder for him to tell him. At first, it's because he wants to wait until Bryce loves him back. Then, other things happen that prevent him from sharing. He still hasn't given his father a decision on whether he'll take over as Alpha of the pack yet. He can't even think about making that particular decision until he's told Bryce everything. There's also the custody hearing coming up.
When Bryce gets pregnant Jax is over the moon with happiness. He will finally have his mate, a son in Liam, and a baby. He has to tell Bryce the truth before things get even deeper. The night he plans to tell Bryce, the truth behind the accident that killed Liam's mother comes out. When Jax hears that it was a wolf in the road that caused the accident, he's horrified. Surely it wasn't one of his pack? How can he tell Bryce that he, the man he loves, is a wolf too and that shifters do exist?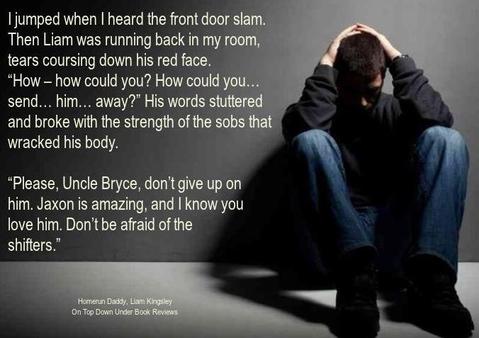 Oh, this broke my heart in so many ways. When the truth finally did come out I hurt for Jax and I hurt for Liam. I hurt for Bryce too, but the other two destroyed me. Yes, Jax should've already told Bryce the truth way before then, but he had his reasons for it. He didn't want to hurt him and he didn't want to lose him. What hurt the most was watching Liam after Bryce forced Jax to leave. That killed me. The poor child was convinced that Jax was now out of their lives and that he'd be put into foster care.
This book surprised me. I expected it to be the typical Omegaverse/mpreg book that's like every other one I've read in the past year. It was anything but. This is a fated mates story, but I wouldn't call it insta-love as far as Bryce was concerned. He knew that what he was feeling went beyond anything he'd ever felt with anybody before, but there weren't a bunch of 'I love yous' thrown out within a day or two of the men meeting. Jax is so patient, so kind. Granted, I did get a little frustrated over the amount of time it was taking for him to tell his truths to Bryce, but again, he had his reasons for it. Another thing I loved is how the mate bond would be working with not only Bryce but Liam as well. I can't say more than that other than it was unique and not something I'd seen in a shifter book before.
I seriously loved this. I loved both Bryce and Jax. I love the kids, Cole and Liam. I loved Linc and the rest of the wolf pack. It was just a really good story.