Surprised Daddy (Timberwood Cove #2), Liam Kingsley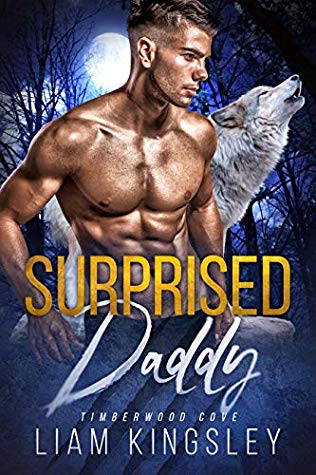 Rating: 4 Stars
Publisher: Liam Kingsley
Genre: Paranormal Gay Romance
Tags: Paranormal, Kids/Family, Fated Mates, Mpreg, Romance, Series, Wolf Shifters
Reviewer: Cindi
Purchase At: Amazon.com
Blurb –
*** This review has spoilers from the first book. ***
This alpha dad needs more…
Shawn is devastated after learning he is unable to carry children of his own, and he knows that no alpha will take a chance on a barren omega. After all, his last alpha left him when he was unable to conceive. Ever since then, Shawn has struggled with fears of abandonment. As he gets closer to Linc he finds himself wishing he could give the sweet alpha everything; his body, his heart, and more children to love.
If only he could have children of his own…
Linc loves being a dad to his eight year old son, but inside he yearns for more. Discovering Shawn is his fated mate is a dream come true but it will take time for Linc to convince his stubborn, heart-scarred mate that they have a future together. With the support of his pack, Linc and his inner wolf dedicate themselves to to wooing the skittish omega. And when a surprising revelation binds them even closer together, he'll prove that he's just the man to love Shawn… forever.
Review –
We met Linc in Homerun Daddy, the first book in the Timberwood Cove series. We also met Shawn, though briefly. And, of course, the other key players – Jaxon, Bryce, Cole, and Liam. Surprise Daddy starts as the last book ended. It's actually part of the final scene in that book but told in Linc's point of view.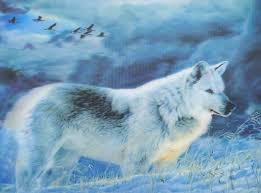 Linc, Cole, and Liam arrive at the hospital to see Jax and Bryce's new baby girl. They arrive at the same time Jaxon's father Greer does. Linc has a problem with hospital smells – they literally make him gag – so he buries his face in roses as they walk into Bryce's hospital room. There's a nurse in the room that he doesn't really notice until the flowers are moved away from his face and the smell changes from the typical hospital smells to something else entirely. His eyes go up to the nurse (that would be Shawn) and Linc can tell he feels something too. When Shawn walks out of the room, Jax, his alpha of the Timberwood Cove pack, simply says, "Go." You know something momentous is happening when three alphas – Greer, Jax, and Linc – feel the air change in the room. Linc takes off out the door, knowing that the nurse who was just in the room is his fated mate. When he finally catches up with him, he's at loss of what to say. Thankfully, two little nosy matchmakers, Cole and Liam, arrive to help the old guy out. 😉
That was so funny. Cole and Liam were funny together anyway, but it was super cute watching them be Linc's wingmen,
Linc and Shawn speak briefly but they really connect a few days later at the dog park. Linc being there at that time is not a coincidence. He borrows his ex-wive's dog (Paco, a holy terror) in hopes of seeing the hot nurse again. He'd mentioned having a Corgi, LuLu. Shawn agrees to a date. After that, things move rather quickly between the two men. Unlike Jax with Bryce, Linc is quick to tell Shawn the truth about who he is. It doesn't exactly happen the first date, but it does happen shortly thereafter. Shawn handles it much better than Bryce did.
Shawn has abandonment issues. His former boyfriend dumped him without warning because Shawn couldn't get pregnant. Since then, Shawn's avoided serious relationships. He wastes no time telling Linc that he's sterile. He wants him knowing right off so he can move on before they get in too deep. Linc, knowing Shawn's his fated mate, tells him it doesn't matter. He just wants Shawn.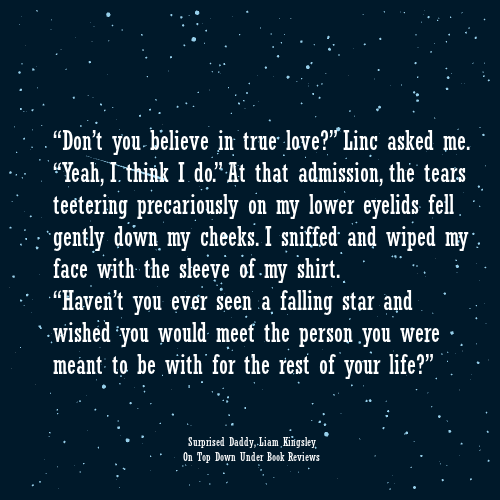 Everything is going smoothly between the two men. They've exchanged 'I love yous' and they're moving in the right direction as a family with Cole. They even get the unexpected news that Shawn is pregnant, telling him that the issue with not getting pregnant by the ex was because of the ex, not Shawn. Cole is excited about becoming a big brother and all is going well… until it's not.
There's a misunderstanding. Linc has held off the bond bite because he can't chance anything happening to Shawn or the baby. There's been zero instances where there have been problems – Bryce was pregnant when he was turned – but Linc refuses to risk the health of his mate and his unborn child. Linc says something one night that Shawn takes wrong, which has him drumming up other things in his emotional brain that basically tells him that Linc doesn't want him as much as he wants Linc. If he did, he'd go through with the mating ceremony. He becomes convinced that Linc will abandon him just like his ex did.
In my opinion, the misunderstanding went on too long, but it was resolved nicely.
The stars of this book for me are Liam and Cole. They were so funny. Both almost nine, they're at that age where they're always goofing off. They made me laugh several times.
"Alright, cubs. Where are we?" I asked in my "serious alpha" voice as I turned to face them.
"The hospital?" they asked in unison.
"Right. And there are rules when we're in the hospital. What are they?"
"Touch everything," Cole said with a snicker.
"Talk super loudly about everything!" Liam snickered.
"Shift into wolves and-" Cole laughed and couldn't continue because he was laughing so hard. I waited patiently.
"Shift into wolves and run through the halls at top speed!" Liam said to finish Cole's sentence, and then joined him in hysterics.
There were a couple of times I got misty-eyed as well.
This is a nice addition to the series. It was nice seeing Linc get his happily ever after.