Bear (The Daddies of River Gorge, #2), Jacki James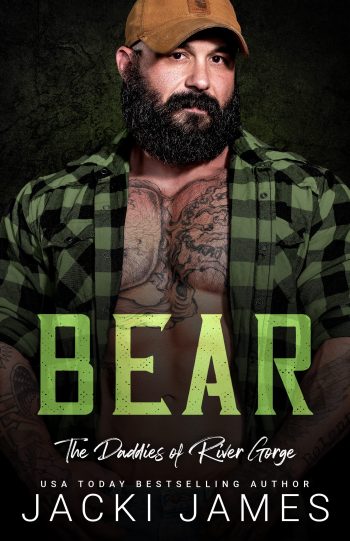 Rating: 4 Stars
Publisher: Jacki James
Genre: Gay Romance
Tags: Contemporary, Daddy Kink (Daddy/boy), Romance, Series
Length: 262 Pages
Reviewer: Cindi
Purchase At: Amazon
Blurb –
When two big, strong men who are both accustomed to being in charge fall in love, you have to wonder… Who's the Daddy?
One thing Ty Ingalls knows is when you're six-foot-three and two hundred and twenty-five pounds, people make assumptions about you. And Ty doesn't like to disappoint people. He has been the go-to guy for everyone's problems for as long as he can remember. His family, his friends, and even his former partners all look to him to be Large and in Charge whether that is what he wants or not. No one has ever wanted to take care of him. Until Bear.
Bear needs to be in control. That need, coupled with his care-taking tendencies, led him to the Daddy lifestyle. A lifestyle he isn't about to give up anytime soon. When he first meets Ty, he makes the same assumptions everyone else does, and he thinks he will have to settle for friendship, even if he finds the man distractingly attractive.
But the more time they spend together, the more he sees that being the person everyone else relies on is weighing the big man down. And then all Bear wants to do is help carry some of that load.
Ty is caught up in what the world expects from him and can't see himself as a boy… but Bear can. Will he be able to help Ty realize that the way everyone else sees him isn't as important as the way he sees himself? 
Review –
I've been a fan of Jacki James since Finding Ripley (The Men of River Gorge, #1). Bear, and Cruz before it, are set River Gorge, but they're technically a different series, even if they do have a lot of the same characters.
Ty is a big guy at 6'3″, 225 pounds. Anybody looking at him would assume he's a take charge kind of guy. In a way, he is, but secretly he yearns for somebody to take care of him. He's so used to doing it all that it never occurs to him to ask for or accept help from anyone else. A welder slash artist, he's been commissioned by the town to create a metal sculpture for a new park. Until now, he's only done his art as a hobby. This is by far the biggest piece he's ever made.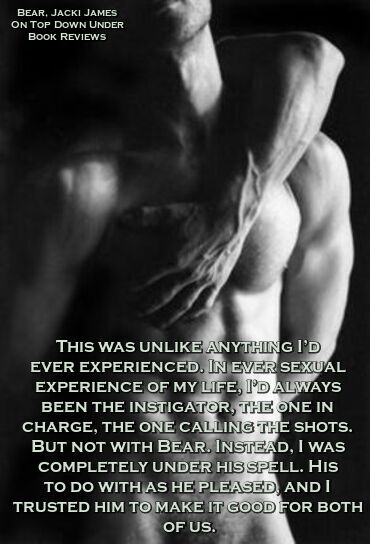 Several empty buildings near the park need to be remodeled. Roofs need to be repaired and replaced before that can happen. Bear is a popular roofer in town so he's given the contract. With Ty using one of the buildings as his workshop, he and Bear see each other quite a bit and fall into a nice friendship. They'd both like it to be more, but Bear's convinced that they wouldn't work. He feels that way because Bear is a Daddy and he assumes (wrongly) that Ty wouldn't be interested in being a boy. Ty looks the complete opposite of the boys he's had in the past, or who are with other Daddies he knows.
He looked like the kind of man who wrestled steers into submission for a living, not someone who was going to be creating a piece of art.
What Bear doesn't realize is that Ty needs somebody to take control on occasion, somebody to help him say no when the many users family members and townspeople expect him to drop everything every single time they need something done. Somebody needs to be picked up from the airport with no notice? It's okay. Ty will pick them up. A person to man the grill for a big outdoor event? No worries. Ty will do it. It doesn't matter if Ty already has plans, or if he's on a major deadline with the sculpture. Ty always says yes. If he says he's busy, it's okay because they know they can talk him into doing it anyway. They always have before, so why expect it to change now?
I was used to being the guy who did things for others, but with Bear, it was different. I could lean on him. I didn't even have to ask. And I had to admit, as strange as it felt, it also lifted a weight from my shoulders.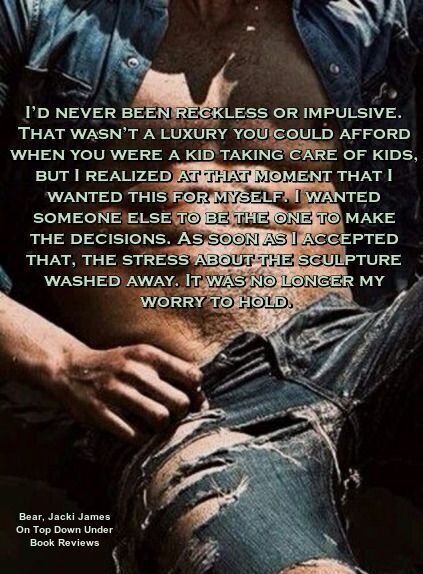 Ty being a doormat not knowing how to say no was a major issue I had with him. He was a bit of a doormat when it came to pretty much everybody and everything. There's one part in the book when Ty is slammed with only hours left to finish the sculpture when he gets a call to pick up one of his sisters at the airport. He doesn't have time. He's literally hours from finishing it – and everybody knows this – but he's the one who gets the call anyway.
Apparently cabs and Uber don't exist in River Gorge.
That was sarcasm.
Leading up to the completion of the sculpture, Ty has an incident on the softball field that knocks him out of commission for a few days when he simply doesn't have time to be out of commission. Thankfully, Bear is right there to take care of him, both on the field on off.
There's a bit of a slow burn with these two, with them becoming good friends before moving things further. While I'm all about a good slow burn story on occasion, I felt that this had a bit too much of their day to day before everything happened. I'm referring to meals they ate, conversations they had, that type of thing. All of that didn't wow me. When they did eventually move in the right direction as a couple, it was kind of a nonevent, in my opinion. And as much as I liked both guys, I didn't really feel them together. Bear was a good Daddy, but it didn't sound right in my head when Ty called him that. I think it's because they went from having a conversation about it to the word Daddy falling off Ty's tongue a little too easily. I say too easily because Ty had never considered himself a boy before. It was all new to him.
Another issue I had with the story was the lack of Ripley from Finding Ripley. I know I say that with every River Gorge book I read, but I seriously love the guy. I was missing his flamboyance and his pajama wearing goats. I was missing his humor and watching as Reed humored him. I know it wasn't their story, but I was still hoping to see them more. Ripley's in the book a few times, just not as much as I'd like.
"Not all of us are comfortable letting our freak flags fly all the time, unlike Ripley over here. So it can be nice to go to a place where we can let it all hang out, you know?"
"Honey, what you guys see is only the tip of the iceberg. You have yet to see my true freakiness." Ripley gave him a don't mess with the gay diva look that cracked me up.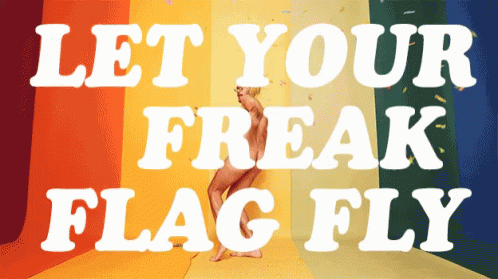 Nolan from Cruz was in it a few times, but I don't remember actually seeing Cruz at all. One of the main reasons I love the River Gorge books is because of the secondary characters. There were a few in this book, but not my real faves. Again, I know it's Bear and Ty's story, not theirs, but still.
I liked the rest of the townspeople for the most part. Some I've read about in their own books. Others who will no doubt have their own stories someday. Connie, Ty's sister, irked me. She was one of those people who didn't hesitate to use Ty. If she was unable to do something that popped up, she should've made arrangements, not bothered Ty when he was already stressed out enough and didn't have time to do whatever it was that Connie and everybody else wanted. Her son, Jack, was a sweetheart. I also adored Bear's mom.
Overall, this is a nice book. I really liked Bear. It was easy to see how much he loved Ty and wanted to do everything in the world to make him happy. He was a true Daddy and was only happy when his man was. I liked Ty as well. I just didn't like how he refused to say no when he was suckered into yet another project or favor.
Very low angst. No real drama.
I'll be reading the others because I'm invested in this little world.