Finding Ripley, Jacki James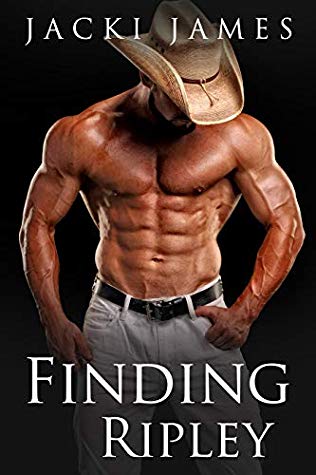 Rating: 5 'Baby Goats & Cowboys!' Stars
Publisher: Jacki James
Genre: Gay Romance
Tags: Contemporary, BDSM (light), Bi Character, Cowboy, Daddy Kink (Daddy/boy), Opposites Attract, Romance, Series, Spanking
Reviewer: Cindi
Purchase At: Amazon.com
Blurb –
A cowboy Daddy and a big city boy.
Ripley Ellis never intended to return to Bluebird Ranch. The day his father kicked him out for being gay was the day he shook the dust off his cowboy boots and moved to the city. But thanks to his homophobic father, the only way he can claim his inheritance is to return. He has to stay for one year, but that doesn't mean he has to like it.
The life of a rancher isn't an easy one. Reed Warner knows that. He also knows that there is no other life for him. It's all he's ever wanted. Now that he's retired from the rodeo, he's ready to make his dreams come true. There's only one problem—Ripley. The sassy city boy just inherited the ranch Reed is planning to buy.
If they can put aside their differences and work together, they may both find exactly what they're looking for.
Review –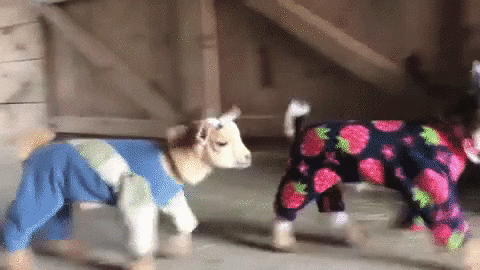 If somebody would've told me even a few days ago that I'd be adding baby goats wearing pajamas to a review I would've called them a liar. 😉 There was no way I could type this review without adding them.
I'll come back to that.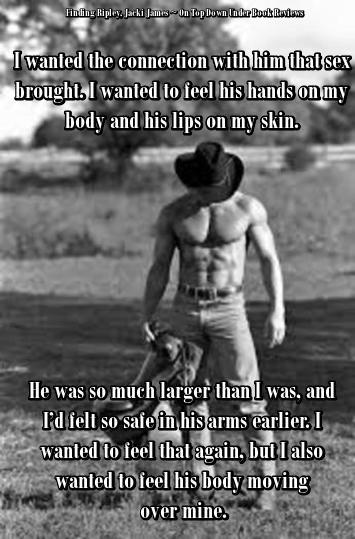 I recently read Snowflake Kisses (Snowed In – Valentines Inc., #6) by this author not knowing that the characters in that book were introduced in Finding Ripley. On one hand, I wish I would've read this one first. On the other, it gave me something to look forward to after reading about Devin and Frankie. I adored them both, so it was nice seeing them before they became a couple.
Ripley has just been informed that his father's half of his family's ranch – passed down on his late mother's side – will be sold to a homophobic church if Ripley doesn't come back and live on the ranch for a year. If he sticks it out for a year, it will go to Ripley free and clear. This was in his horrible father's will. Ripley owns half but his father had owned the other half. No way is Ripley going to allow that church to own half of what rightfully belongs in his family. After having a bit of a diva moment with his best friend Frankie, he knows what he has to do. He has to go back to his hometown – that he couldn't get away from fast enough six years ago – and spend the next twelve months living on a ranch with who he believes will be a bunch of homophobic jerks. With that last thought in mind, he makes a decision to be the biggest diva city boy he can be when he gets there. What he doesn't expect is Reed, the ranch manager.
Reed and Ripley get off to a bad start, though they both secretly want each other from the get-go. Ripley wrongly assumes that Reed is one of those homophobic jerks that he figured would be at the ranch. Reed wrongly assumes that Ripley is a city boy who's scared to get his hands dirty and wouldn't know his way around a ranch if he had to.
Oh, Ripley is totally a city boy, but he knows his way around the ranch, having grown up there until he was put out at eighteen by his father for being gay. Reed is bisexual, though Ripley doesn't learn that until quite a bit into the book.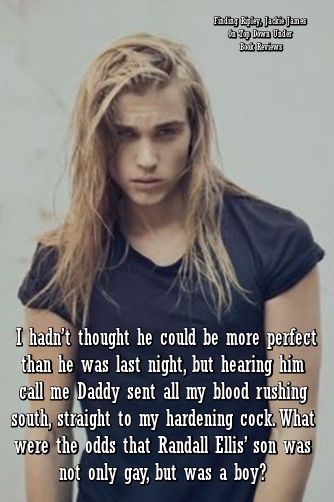 It all starts with a dance at a gay club when Ripley's out with friends – friends that he had no clue were gay when he was younger. Ripley catches Reed watching him from the bar as he dances. When Reed finally gets up the nerve to ask Ripley to dance, it was so sweet. Totally an aww! moment. Even after the dance at the club, neither man knows where he stands until Reed has a jealous moment and Ripley has an emotional one. My heart broke for Ripley as memories of his late mother hit as he went through things in the attic. Reed, ever the protector (even if he was doing it from afar), is right there for his 'boy'. I admit to getting teary reading that. Not only was Ripley dealing with sad memories but Reed was just so sweet, so caring. This wasn't the big and bad ranch manager who met Ripley his first day back in town. This was somebody altogether different. To Reed, Ripley was his baby boy and all he cared about was wrapping his big arms around him and making him feel safe, secure.
Reed was totally a Daddy, but Ripley didn't know this. He suspected, but he couldn't just come right out and ask or risk looking stupid. Ripley had been in a couple of Daddy/boy relationships before but none that went beyond a club and scenes. Reed had been a Daddy to another man (Dean) years before, but it had always been his want, his need to have a full-time boy. Dean was never that. Ripley totally was and he made sure to let Reed know this in a big way.
I loved these two guys together. I'd already fallen in love with both of them in Snowflake Kisses so it was nice seeing where they began. And, of course, I got to see Frankie, one of my new favorite characters. This ends not long before Snowflake Kisses begins, though you can read that one as a standalone.
Okay, now we get back to the baby goats in pajamas. Ripley, until he came back to his hometown, had been living off his profits from the ranch, not really having any type of direction or goals. He often shares cute videos on social media to his 5,000-plus followers. When he realizes that he has next to nothing to do at the ranch as he waits for his year to be over, he does some research and buys baby goats so he can video them for his followers. But he can't have his little goats going naked, right? *snort* So he buys them pajamas. His trying to get those pajamas on them the first time was hilarious.
I now want baby goats. 🙂
This is such a great book. I loved catching up with Frankie and Devin again and meeting a few of the other characters mentioned in Snowflake Kisses. I'll be anxiously stalking following this author in hopes of seeing the other guys (mainly Cruz, Reed's best friend) find their men as well.
Jacki James has become a new go-to author for me. I look forward to reading so much more by her.