Cruz (The Daddies of River Gorge, #1), Jacki James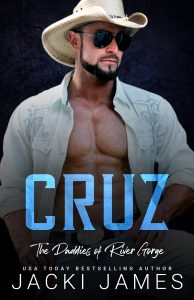 Rating: 4.5 Stars
Publisher: Jacki James
Genre: Gay Romance
Tags: Contemporary, Daddy Kink (Light), Opposites Attract/Cowboy & Geek, Romance, Series, Small Town
Length: 299 Pages
Reviewer: Cindi
Purchase At: Amazon
Blurb –
This lost boy needs a Daddy to take the reins…
Nolan Carter is incredibly successful and wealthy. On paper, it seems he's gotten everything he could want. But he's lost himself along the way.
When Nolan retreats to a Texas ranch he bought on a whim, hoping to figure out who he is without the influence of life coaches and socialites, he meets foreman Cruz Coban. Cruz is everything Nolan isn't: self-assured, comfortable in his skin, and commanding.
And he wants to take charge of Nolan too. Because Cruz is a Daddy.
Nolan has never had a Daddy before, but when Cruz takes the reins, Nolan feels accepted for who he is inside: a geeky boy who wants to be loved.
But keeping Cruz means riding off into the sunset of an entirely different life. And take charge or not, Daddy can't make this decision for him. Their happy ending is in Nolan's hands, and for once, this lost boy knows exactly where he belongs.
Review –
I first met Cruz in Finding Ripley, that I read a few years back. Being Reed's best friend, he was in that one quite a bit. I admit to having to go back into that book and refresh my memory a little before going into this one. At the time of my typing this review, I've just finished reading the book where Nolan was introduced. While Nolan wasn't in it but for a couple of pages, Cruz was.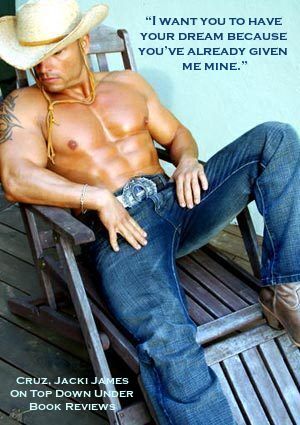 This is a classic opposites attract story.
Cruz is a cowboy on a ranch in Texas.
Nolan is an extremely wealthy man in California.
Cruz hopes to own his own ranch someday.
Nolan recently sold his company for a lot of money.
Nolan bought a ranch a few years back in Texas that he literally knows absolutely zero about. He knows so little about it than when it comes out that the foreman took off a month ago – and the staff hasn't been paid since – he had no clue. He has his assistant deal with paying them and ensuring a new foreman is in place, that new foreman being Cruz who'd previously worked with Reed. Nolan doesn't want to talk about the ranch, or make decisions about it. What does he know about ranches other than they usually have hot cowboys?
Nolan doesn't do rich well. He creates video games and other techno stuff, not people stuff. After taking some really bad advice from a life coach and others, he basically changed everything about who he was. It takes a visit from his parents to make him see that he needs a break. That break takes place at a ranch in Texas that he knows nothing about. 🙂
Cruz never expected to meet his new boss while he's standing in the kitchen in nothing but his underwear – the same boss who has refused to take his phone calls or respond to his emails for weeks. Nolan's just as freaked out as Cruz, maybe even more so. It doesn't help that he's seriously attracted to the almost naked man standing in the kitchen of the main house at the ranch.
After the first awkward meeting, the two men fall into a routine of sorts with Nolan spending time working on one of his games while Cruz works the ranch. Nolan's a stickler for everything. He has white boards, tons of notebooks, different colored pens, and pretty much anything his little nerdy heart desires.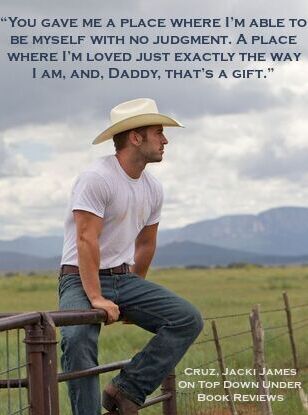 The plan is for Nolan to only hang around for a few weeks before heading back to California. There's some serious attraction happening between him and Cruz, but he has a life several states away. But then he meets others in River Gorge, most notably Ripley, who I totally adore with his baby goats and bunnies. 😉
Nolan and Cruz's relationship is a bit of a slow burn, with them building up to it for half the book or so. There's some Daddy talk bandied about here and there before something is finally done about it. It's totally worth the wait, and their first time having sex was pretty amazing. Before either man realizes what's happening, they're in a Daddy/boy relationship when Nolan had no clue he even was a boy until Cruz came into his world.
This is billed as a Daddy/boy book, but it's really pretty light. There's one sex scene where Nolan's tied up, but that's kind of the extent of all things BDSM. What I saw with Cruz and Nolan wasn't so much a Daddy/boy relationship. What I saw was a couple of men who are total opposites who found their way to each other.
Reed and Ripley were a serious Daddy and boy couple. Cruz and Nolan, not so much. That's not to say that they don't have a great relationship. They definitely do, but the Daddy aspect of the whole book was pretty nil. Even so, I really enjoyed it.
There's zero angst in this book. There are no 'big misunderstandings' that we all hate in books, nor are there any silly arguments that are just added to pad word counts.
Overall, a really good book. It didn't wow me quite as much as Finding Ripley, but it was still a very entertaining read.
4.5 stars.