Audiobook Review: A Husband for Hartwell, J A Rock & Lisa Henry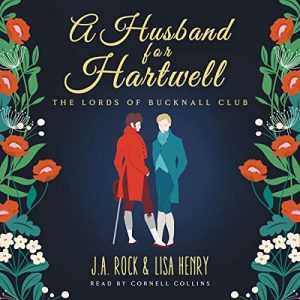 Genre/Tags: Alt-Historical, Gay Regency Romance, Humour
Author: J A Rock & Lisa Henry
Story Rating: 5 Stars
Narrator: Cornell Collins
Narrator Rating: 5 Stars
Length: 7 hours & 37 minutes 
Audiobook Buy Links: Audible Australia
He must marry, or risk his fortune.
The whole of London society has long assumed Lord William Hartwell will marry his childhood best friend, Lady Rebecca Warrington. After two seasons, Hartwell remains quite content with bachelorhood – his parents do not. When Hartwell learns they intend to cut his purse strings unless he makes a match this season, he resigns himself to a marriage of convenience with Becca, and yet he can't help but be drawn to her younger brother, Warry.
He must marry or risk his sister's ruin.
The Viscount "Warry" Warrington is used to being viewed as the tagalong little brother. Now a grown man about to enter his second season, Warry is desperate to be seen. When Lord Balfour, a handsome older peer, takes Warry under his wing, Warry thinks his dream is finally coming true until Balfour reveals his true intent – to make public a letter that will destroy Becca's reputation, unless Warry agrees to marry him.
Time is running out for both of them.
When an injury forces Warry to recover at Hartwell House, the two succumb to a secret flirtation. But, Warry's sudden announcement of his engagement to Balfour drives Hartwell near mad with jealousy – and right into Becca's arms. With the clock ticking for Warry to save his sister, will Hartwell discover the truth of Warry's feelings before it's too late?
A Husband for Hartwell is the first book in the Lords of Bucknall Club series, where the regency meets M/M romance. The Lords of Bucknall Club can be listened to in any order.
Review:
The blurb gives you pretty much all you need to know about
A Husband for Hartwell.
Although I will add that there is a bit of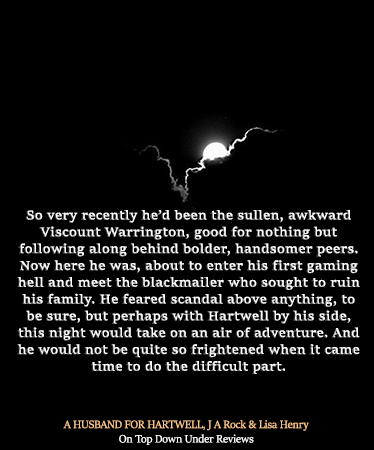 soul-searching and growth throughout the book. I enjoyed that very much. Hartwell and Warrington have known each other since children, Warry younger than Hartwell and Warry's sister, Becca. It portrays very well what it's like to be the younger sibling or friend when you so much want to be a part of the world of the cooler, older ones who often tease. The growing connection and understanding of relationships as a child compared to adult are beautifully and meaningfully written here. The book is also outright funny. Rock and Henry's humour is, as always, on point.
Hartwell blinked. Yes, that was definitely the lie he ought to have gone with. "I would never lie to you," he lied. He bowed again.
The story itself always has something interesting going on in and around the MCs. All of that as it were, this review is mainly going to me be me extolling the virtues of a good book in the hands of an excellent narrator. Since I've been 'reading' books more and more in audiobook format, I can see where a fabulous narrator can lift a good book to great heights and give the reader/listener extra pleasure.
I started my addiction to this series at book #3,
A Rival for Rivingdon,
and then read the rest all over the place. I didn't write a review for the e-book of
A Husband for Hartwell,
but I loved this audiobook so much I had to give it a proper review to add to the rest of the series on here. The narrator elevated this story to he highest heights: Cornell Collins is complete and utter perfection. He uses the best possible voices for all the characters, primary and secondary, male or female. The accent, the haughtiness, the vibe of the eccentric British aristocracy is all here. Rock and Henry's sense of time and place in a same-sex friendly Regency period is an auditory delight via Collins' stellar narration of their words. He lives and breathes the MCs, Hartwell and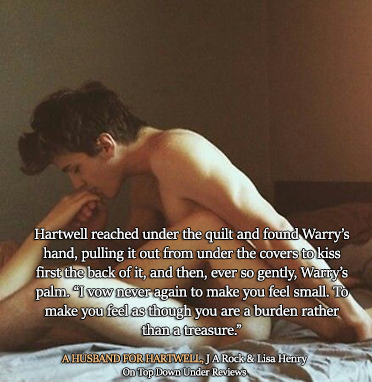 Warrington. He
is
them. And, dear lord, the obnoxious Lord Balfour is given such a subtle, menacing tone – this is where a good voice artist knows less is more. Things that I missed when I read the book previously – and there were things I definitely missed – I heard loudly and clearly via Collin's multifaceted and passionate delivery.
I bought the next audiobook,
A Case for Christmas
, immediately after I finished
"Hartwell"
because Collins was the narrator again. It was also better still in audiobook because of his narration. I'm currently at a loss right now because there isn't another in the series to listen to. I'm having
The Lords of Bucknall Club
withdrawal. I'm hoping for more soon. This book is a such a good read and if you're looking for a funny, interesting, emotionally investing Regency gay romance, and wondering whether e-book or audio, then I'd recommend the audiobook over the e-book because of the strength of the story and how it pops in narrated form. There are some books that lend themselves to narration and
A Husband for Hartwell (also A Case for Christmas)
 is certainly that. What a delight!