Hound, Colin Dereham
Rating: 4 Stars
Publisher: Pink Flamingo Media
Genre:  Erotic Gay Romance
Tags: Contemporary, Bears/Otters, Bipolar MC, Erotica
Length: 243 Pages
Reviewer: Kazza
Purchase At: amazon
Blurb:
Gary's lived with bipolar disorder since he was eighteen. He's stable and has a great career, family and friends, but at forty he's never had a relationship. Casual sex has always been the easy option—fun, plentiful and no risk of upsetting the unruly emotions that simmer below his calm exterior.
This all changes the moment he meets Jeff. There's no doubt in Gary's mind that Jeff's The One. But even though Jeff seems to be equally smitten, he only wants a part-time arrangement. Jeff works long hours, travelling constantly, and his last relationship was so abusive he's seemingly ruled them out for good.
Gary does his best to settle for things the way Jeff wants. He's not going to give him an ultimatum. Losing Jeff would be unthinkable. In any case, Jeff will come around. But each time Gary feels they are making progress, Jeff restates his position. Gary struggles with the way Jeff can be so loving, yet still maintain that he doesn't want a relationship. Gary's confidence begins to erode. Maybe he doesn't deserve more. After all, he's flawed. Damaged goods. Bipolar.
Time is running out for Gary—he knows these arrangements have a limited shelf-life and he can see Jeff is slipping away. Things reach crisis point when Jeff makes a devastating announcement, plunging Gary into a pit of despair. Gary is forced to resort to drastic measures to find a way through his quagmire of self-doubt and fight for the relationship before it's too late.
Review: 
Gary's just been made redundant at his TAFE job in Perth and his friend in Sydney organises a trial for him at a pub in Bondi so Gary thinks, why not? It's here he meets Jeff after months of furtive glances and a little flirting. Jeff is originally from America, the South, and Gary loves that accent. Jeff is clearly attracted to the burly redheaded Gary. Both men are around the same age and they click once they are brave enough to get together.
How cute it is to hear Jeff use Aussie phrases like "in the bush" in his Southern drawl. I lie and tell him I don't have any camping gear.
Gary is such a thoughtful guy, even hook-ups get treated with the utmost respect. Angus, The Lookout, crosses paths here with Gary for the first time but he has his story and men to come. Because Gary has bipolar he's not sure he should be in a relationship but he's just turned forty and noticing the loneliness.
But since I turned forty, since that incredible night with Nick, an insidious feeling of discontent has been working its way throughout my subconscious.
The cutely named Hound is an erotic romance and I've tagged it as such because there is a-lot-a-lot of sex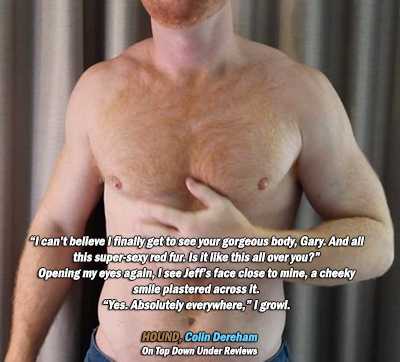 throughout. These guys have a super robust sex drive. They do their relationship by distance so there is that to add to the lust fuel. It worked for the characters and was absolutely organic to the story being told and while I could have done with less sex and some more backstory, especially on Jeff, this is Dereham's style. He's an own voice writer who will appeal to the bears and the otters and the men who love some hirsute and down and amongst it loving. Men who love arses, rimming, the scent of a hole or an armpit or the feel of some tummy and muscle. The book is definitely written with gay men in mind. I love to see people writing for their tribe and I feel Dereham does exactly that.
Their friends felt real and true and I thought it was a good representation of mates. They supported and they were flirty and they offered good advice on occasion when they knew it was needed.
I loved visiting places in Sydney and it's surrounds, like Bondi, Penrith, and the Blue Mountains. I don't always get to be in places I know so well in gay romance and I enjoy it when I do.
Dereham knows how to touch on raw emotions regarding love and desire and adult attachment and he sucks you into the feelings of his characters. Gary is bipolar and the book touches on ECT as a therapy when Garry becomes more depressed about whether Jeff will or will not be part of his life… because he really wants him to. I just wish Gary spoke up. He felt an executed boundary was too hard for him – the fear of what ifs being the reason. What if I'm too needy? What if I'm asking too much? What if I push him away? Very human, but as the book progressed I wanted both men to speak their vulnerable truth.
Here's the thing about this author, Colin Dereham has a knack of writing truly endearing, lovely characters. Gary was such a sweetheart. Jeff was a good person. Someone who suited Gary to a tee, although not having a POV made me wonder how he could be so loving in his endearments but so avoidant about a relationship. I would have loved it if we had Jeff's POV throughout as well as Gary's. You do get one POV from Jeff at the end and he makes it count.
I have read two books by this author now and will read more. I loved The Lookout, what a surprise packet, and I enjoyed the well named Hound. 4 Stars!