Eager For More (EagerBoyz #2), H L Day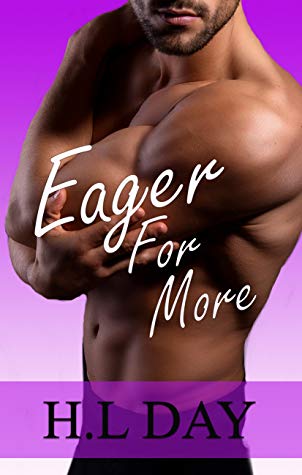 Rating: 4.5 Stars
Publisher: Self Published
Genre:  Gay Romance
Tags: Porn Star & Best Friend's Brother, Humour, Fetish, Sexy, Series 
Length: 173 Pages   
Reviewer: Kazza
Blurb:
A brother's best friend gay romance.
Cain's in love with his best friend's brother. That's just one of his secrets. He feels like he's keeping them from everyone. Nick doesn't know he's got feelings for him. Probably. His family and friends don't know he makes porn. Definitely. And his fellow porn stars don't know he's a geek. Yet.
Nick's got his own secret. A kinky one that really doesn't mesh with a career in law. He guards it closely and has no intention of revealing it to anyone. Especially not to his little brother's best friend, no matter how much misplaced hero worship he might throw his way.
An eye-opening party causes a rift between the two men making an upcoming family wedding decidedly awkward. Cain giving up might just coincide with Nick realizing he's not quite as immune to Cain's charms as he thought. Can they ever be on the same page? And even if they were Cain would run a mile if he found out what Nick's hiding. Wouldn't he?
Maybe both men have a surprise coming.
I don't consider the book's fetish to be a spoiler because it's mentioned quickly but if it worries you, don't look at my review. 
Eager For More was one of the two books being released in March that I categorically knew I wanted to read. After Eager For You I wanted to keep going with this series. The books are standalones. Previous characters get a mention or a few words, like Evan, that's it, so you can read either of the two books released so far without having read the other.
Cain is twenty-four, and his best friend's brother is the object of his desires, even a decade after first crushing on him Cain still asks Theo if Nick is about at family get-togethers. Cain and Theo are gamers and enjoy getting together most weekends to play. They also go to cons together, something some other guys don't necessarily think is an adult pastime. Nick has always called him squirt, even though Cain is buff and older and making porn, which no one knows about. Not Theo, and they are tight, especially not Nick.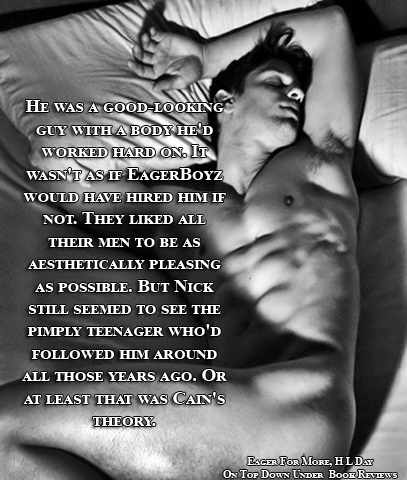 Things change after Nick's bff, Bailey – a socialite and social media influencer – gets an invite to EagerBoyz three-year anniversary and brings Nick. Then it's all, 'whoa! that guy I've been ogling from behind is Cain, and the picture behind him is him getting pounded in a scene'. Mm, hmm. From here, the sexual tension and the  emotional toing and froing starts.
Cain still likes Nick, but Nick has a fetish that has pushed other men away before and he's certain it will do the same if Cain gets to know about it. He's also Theo's best friend. So, Nick keeps Cain at arms-length and can be a tiny bit of a dick in doing so. Having said that, both of the MCs are easy to like and cheer for.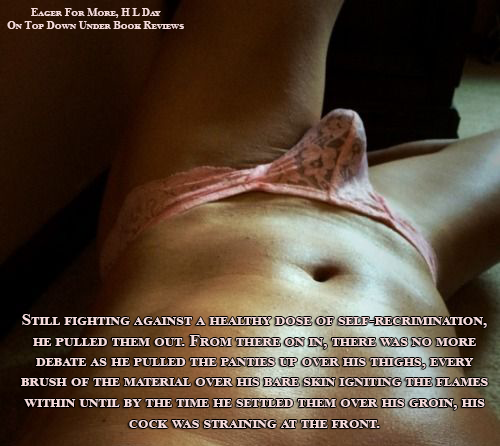 The book is sexy, and I happen to like the fetish at the heart of the book.
This is easy, happy reading in difficult times – that cannot be appreciated enough in any book right now.
Nice writing.
Cheery.
Good secondary characters, some who I'm sure will be getting their stories in series books to come. Another good, fun, contemporary romance from H L Day. 4.5 Stars!