Cloudy with a Chance of Love by E.M. Lindsey, E.M. Denning, Kate Hawthorne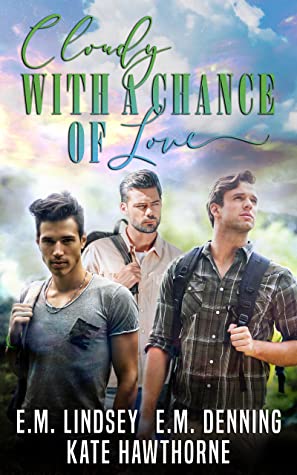 Rating: 4.5 Stars
Publisher: Self-Published
Genre: Gay Menage Romance
Tags: Contemporary, Age Gap, Menage (MMM) Romance, Opposites Attract
Reviewer: Cindi
Purchase At: Amazon.com
Blurb –
What do you get when an unexpected storm traps three men in a remote mountain cabin that only has one bed?
A recipe for grilled cheese, whatever that is.
All Collin wanted was nice weather for the last rafting tour with the outdoor excursion company his father had built from the ground up. What he got was Max, a recently single grump, and Spencer, an eternally optimistic cat rescuer.
The three men can't be any more different, but somewhere between roasting s'mores over a campfire and realizing the only road back to civilization has been washed out, something happened.
There's no electricity, but there's body heat and warm blankets, and if Collin, Max, and Spencer thought the storm was unpredictable, they didn't have any idea what to expect once their hearts got involved.
But like Collin's company, all good things must come to an end. The question is, are the three of them just a good thing? Or the real thing?
—
Cloudy with a Chance of Love is a 57,000 MMM romance with three men, one bed, and a crash course in how to make a cheese toastie.
Review –
It's Collin's last rafting tour and outdoor excursion for the company his father had built from the ground up that his brother had mostly allowed to fall into ruin. Just one more trip and he'll be able to get on with his life. What he plans to do after, he has no clue. He just knows that the biggest part of his life is coming to an end. Divorced and in his fifties, he has no idea where he'll be going next. He's kind of at a crossroads. After a few cancellations, Collin finally meets the two men he'll be sharing his last tour with.
First, there's Max, who I'm assuming is in his mid to late twenties. No character ages were mentioned beyond Collin being in his fifties and the other two men being half or more than half his age. To say Max is grumpy would be an understatement. When he originally booked the trip it was with his boyfriend of six years, Trent. The plan had been to propose during their time away. A few days before, Trent dumped him.
Then there's Spencer. Spencer has never truly had to work for anything in his life. This trip is to prove to himself and his friends that he can step out of his comfort zone and away from his cats. He owns and runs a non-profit cat sanctuary and knows absolutely nothing about camping or the great outdoors.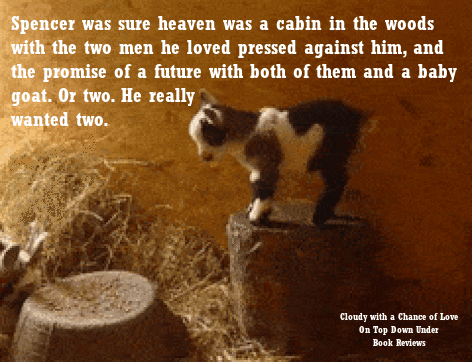 When Collin, Spencer, and Max meet, it doesn't go well. Spencer is a little too friendly and flirty, something that Max hates immediately. Spencer was way over the top at first so I could see where Max was coming from. He was actually quite annoying. I could see where Max was coming from then, not later. They start with a hike before it turns into rafting, with Max condemning and criticizing the inexperienced Spencer every step of the way, calling him Princess and Your Highness and just being an all around ass. It gets so bad that Collin has to threaten to send him back. His taunts lessen but they don't go away completely. By this time I was really feeling bad for Spencer and really hating Max. Spencer had spent his entire life being treated poorly by others just like Max. He'd scheduled this trip as a way to prove something to himself. What he got was a jerk of a travel partner and an older man who barely even humors him. Oh, Collin is nice enough, but Spencer knows the whole thing would've gone much more smoothly if he hadn't shown up.
Spencer had never loved anyone. No one liked him enough to let him try. He was too weird. Too spoiled. Too addicted to giving happy endings to old, bedraggled cats. Too uppity, too uptight. Not fun enough. Not man enough. Not enough, period.
It also doesn't help that he's attracted to both men, even the grumpy Max. He's not dumb enough to act on it. He's suffered enough rejection in his lifetime. Why add to it when they're in the middle of nowhere?
The more they hike, and during and after rafting, the worse Max seems to get. This puts everybody in a mood, with Collin just wanting to end the excursion already. But then a storm that wasn't supposed to hit until later comes through quickly and they have to find shelter or risk being swept away by a flash flood. They're close to Collin's cabin so they make a run for it. Inside, Max calms down some and his attitude slowly takes a hike. It's not Spencer's fault that he was dumped by Trent. And Spencer is so sweet. He didn't deserve any of what Max put him through.
Then there's Collin, the much older man who Max is finding himself wanting with every fiber of his being. But it's not just Collin. He wants sweet Spencer with the same intensity, though they're both so different. When the electricity goes out in the midst of the storm, Spencer's terrified. He doesn't do well in storms, much less in the dark. Even so, he refuses to share the one bed in the cabin with the other two men. He settles himself on the couch wishing he was brave enough to walk into the bedroom when Max and Collin do.
Inside the bedroom, Collin wastes no time before he's on the bed blowing Max. After a particularly loud boom of thunder, Spencer comes rushing in at the exact moment Max howls out his orgasm. Hurt for reasons he can't quite grasp yet, Spencer rushes out of the room only to be brought back by both men who make it clear that they want him as much as they want each other. They spend the next day or so getting to know each other in almost all ways. It's all going well until there's a slight misunderstanding (not a major one) that has Spencer rushing out into the storm, with Max following. When Collin finds them in the rain a few minutes later I think this is when they all fell for each other, though neither man was able to even admit it to himself yet.
And then the storm clears and it's time to go back to reality. Poor Spencer – again. I just wanted to reach into the book and hug his neck and tell him everything was going to be okay.
Two goats, a flightless duck, and an aging Englishman who knew how badly he'd fucked up when the two people who actually made him feel something had walked away and he didn't stop them.
When things do become okay again, I was happy to see that it wasn't Spencer who made the first move. And it wasn't just making a move. It involved a lot of work by one of the men to bring them all back together again. To me, that was perfect. I don't know that I could've come up with a better way – or a better man of the three doing it – for it to happen.
I can't not mention the animals. There's Robert, the three-legged, one-eyed goat. There's also Dudley the duck who would have faced certain death had he not been rescued and brought back to the cabin.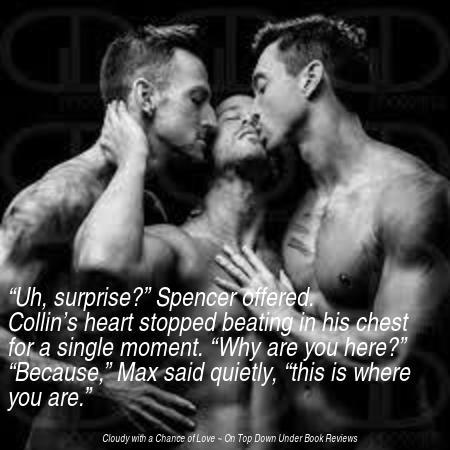 This is a really, really good book. Three men who are so different coming together to become one. Collin was in his fifties and convinced his chance of love disappeared when his ex-husband did. And Max, who never thought he could love anybody again after the devastation of the breakup with Trent. And then there was sweet and somewhat naive Spencer, who didn't believe he was worthy of anybody's love, much less that of two men. But together they were perfect for each other.
There's an epilogue that takes place a few weeks down the road. It was really nice seeing them together without the doubts that plagued them for the few weeks between them parting the first time and then finding each other again. It's like a three-piece puzzle that clicks perfectly into place when they're together.
I really enjoyed this. A lot of authors throw in a lot of unnecessary drama when it comes to menage relationships. These authors wrote it almost perfectly. I will say this… there's not as much sex in it as I expected for a MMM book. I'm not complaining, nor do I believe it needed to be filled with page after page of sex. I'm just pointing it out.