The Alpha Contract, (Mismatched Mates) Eliot Grayson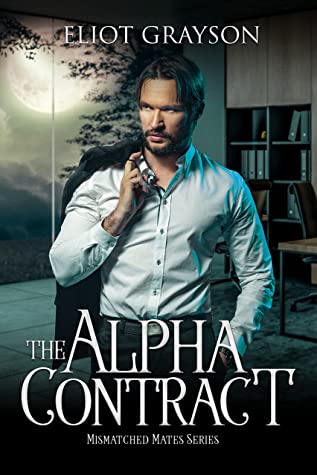 Rating: 4 Stars
Publisher: Smoking Teacup Books
Genre: Gay Romance
Tags: Contemporary Were World, Humour, GFY, Series Standalone
Length: 209 Pages  
Reviewer: Kazza
Purchase At: amazon
Blurb:
Sometimes you get what you pay for. Sometimes you get more than you bargained for…
Brook's alpha-centric family doesn't respect him. He'll only succeed his father as CEO if he takes an alpha mate. But an alpha is the last thing he wants. Brook likes to be on top, in life and in bed.
A paid mate seems like the ideal solution. The alpha can run interference with Brook's family, but Brook will be in charge. When he hires Dimitri, a rough-around-the-edges criminal who's deep in debt and desperate enough to take any job, Brook expects a transactional relationship. One night together to form the mate bond. Simple.
Dimitri's never been with another man, but how bad can it be? Even if Brook is a snobby rich dude, like his family. Only he isn't. He's funny, honorable, open-minded, and surprisingly vulnerable…and an unexpectedly willing lover. Dimitri's protective instincts are as aroused as his body.
Brook can't help responding to Dimitri's kindness, humor, and ability to take charge in bed and out—something that's never appealed to Brook until now. And that makes things anything but simple.
It's supposed to be a means to an end. A mutually beneficial arrangement. But for this to be anything more, they'll have to expose their family secrets and admit their real feelings…
The Alpha Contract can be read as a standalone and is only loosely related to the previous book in series, Lost Touch. Contains an alpha-for-hire, a wealthy executive with a plan, and plenty of knotting. This series does not contain mpreg. HEA guaranteed.
Review: 
I'm not sure what book number this is in the series. Amazon says book #8 and Goodreads says book #6. I just know it's like First Blood, which is a Mismatched Mates adjacent book. It really is a true standalone even though Drew – Lost Touch – and Brook are related.
Brook isn't an alpha but he wants to run the family business, his alpha brother is all about spending money where Brook is all about making it for Castelli Industries. This is a very loose paranormal world. It's more like a contemporary GFY romance where one guy has a fake boyfriend to appease the family, only here it's an alpha mate instead of "boyfriend."
There are a number of reasons this book shouldn't have worked for me. It's definitely a GFY and I much prefer my men in gay romance being attracted to men. However, there isn't much drama around it. It's more like weres have a preference but aren't picky to the nth degree. But $100,000 sweetens who the alpha – Dimitri – is with.
I liked Dimitri more than Brook in the beginning but then they just meshed as one and I liked them together. This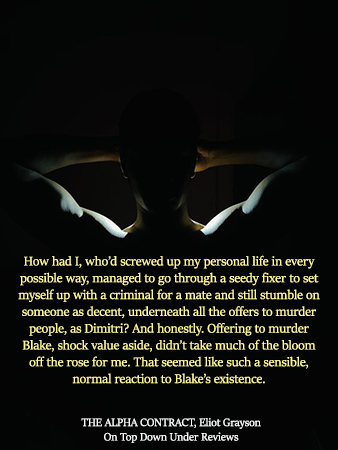 isn't unusual for me reading an EG book, one of the characters can frustrate me for a while. I got Brook's desire to prove himself. That he had to constantly was galling. That business promotion is not always based on merit but who you are and what you are remains a relatable constant. Dimitri was Brook's little rebellion so he could have an alpha that would allow him to run the business but didn't want to or couldn't undermine him. If his family picked his alpha, then that alpha would always be on the family's side, not Brook's. He'd worked too hard for that to happen and he's touchy about it.
I missed Dimitri's POV. I really would have liked Dimitri to have had one. I feel he remained on the thinner side of backstory. But he's enigmatic for a while and he's a good guy. I loved how he was alpha but calm and supportive. That he took the time to research Brook's illness… and then some. It had me all, 'Yep. Knowledge is a powerful thing'.
I really enjoy Eliot Grayson's writing style and it worked for me again. The Alpha Contract is mostly fluff and fun – which suits me just fine right now – but it also has a sharpish undertow. That's often the norm for EG's books and it pulls me in every single time. I always end up sucked in by the characters and my feelings get engaged. The references to Boogie Nights' end scene, Flying High (the name here in Australia), and My Fair Lady, or Pygmalion, landed beautifully for me.
Once again Eliot Grayson delivers an enjoyable book with interesting characters, humour I just get, and a slight edge to the character's story. Ooooh, shiny-shiny, I've just noticed that Lost and Bound is now in audiobook and I'm going to listen to the wonderful Chris Chambers deliver his sexy and edgy interpretation of this Mismatched Mates world. In the meantime, 4 Stars! for The Alpha Contract.