Twice Bitten (Blood Bonds) Eliot Grayson
Rating: 4.5 Stars
Publisher: Self Published
Genre:  Gay Romance
Tags: Paranormal, Humour
Length: IDK. Novella
Reviewer: Kazza
Purchase At: amazon
Blurb:
A werewolf walks into a vampire bar… ouch.
Vampire enforcer Angelo has enough problems already, and a tall, dark, and irritating alpha werewolf is the last thing he needs.
With his cheating, murderous mate on the run, Jack's looking for help from the local authorities—who assign Angelo to solve the problem quickly.
They don't have anything in common on paper, but sharing magical compatibility, a sense of humor, and a common goal can build a bond—whether mundane or otherwise. Even when another bond's impossible…
Warning: Contains magical attack scorpions, knotting, and a vampire who's desperate to avoid ruining his suit, falling in love, or other catastrophes. Spoiler alert: He falls in love. Does he ruin his suit, though? Read and find out! Happy ending guaranteed.
Review:
Ahhhhhhh. I'm back in this Mismatched Mates series-adjacent world. Happy reader is happy. However, I'm confused. This says Blood Bonds, #1 but I thought that was First Blood, Laurie and Victor's story, also set in and around Lancaster, Fenwick's town. However, that novella gets a Mismatched Mates #2.6 tag. Yes. Yes yes yes yes yes, I am incredibly anally retentive. It doesn't affect the story, just me.

Anyway. I had pretty similar feelings as I read Twice Bitten to First Blood, I liked the MCs. I liked the story, anything well written with vampires is crack to me, and I like shifters too. I also enjoyed being in the Lancaster side of California. I love the possibilities of where this will go… will Fenwick been seen soon? Like, can we get a glimpse? His non-presence presence is always intriguing. He's like the continuum transfunctioner – his mystery is only exceeded by his power. Dude, Where's My Car? in case you missed one of the the classics. 😀
Jack, an alpha werewolf whose twin brother has been whammied and is in a coma because of Jack's "mate," has come to Lancaster to get to the bottom of things because this is where is mate has run to. Angelo is assigned the duty of watching Jack while he's in Fenwick's territory by Esther, Fenwick's right hand woman and organiser of the vampire enforcers. Angelo also has a "mate," a nasty vampire he hasn't seen in eleven years but still bears the emotional scars of. Not to mention there is a mate bond x more than 2 in his series book. The mate bond in the Mismatched Mates world, while meaning what it does in most paranormal books, can also occur when there isn't the traditional mate because Eliot Grayson adds her own spin on shifters and vampires. I do love a good para-possessive 'mine' in paranormal books and that is a little different in Twice Bitten. It's definitely not lacking in sex appeal and chemistry because of that though. Angelo is attracted to Jack but they are a cross species pair so Angelo feels maybe that could make it tough, and the aforementioned mates business is lurking in the background. Angelo is reticent to shadow Jack because of his own experience with a "mate" and worries that, while Jack appears to be a decent were, he may be lying about not being an alpha arsehole who is only here to bring a smackdown to his mate. Angelo has triggers.
Jack and Angelo are opposites in certain ways, and not just because vampire and were, their dress couldn't be more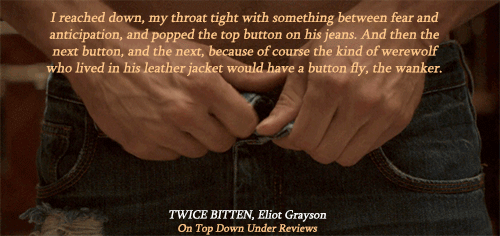 different. Jack wears jeans and leather jackets. Has that cool James Dean vibe going. Angelo has lavender hair, got to love a man who digs colours, and he wears various suits and paisley bowties and is more the Dr Who… style? I'm lost on someone else that pops to mind wearing a bowtie. They make an unlikely but sexy combo. And can you say knotting?
He didn't finish the sentence, but he didn't need to. Knot me. He was going to knot me, and I could feel it swelling just inside me, his thrusts gut-punches now rather than smooth motions, his cock locked into my body and getting bigger and harder by the second.
I won't say too much more about the overall story as this is a novella but can I ask, what happened to Emile? Is he being set up for another story or did my withered old eyes miss something? Pffft. Anyhow, I'm bursting at the seams to mention Nate and Arik still living in Laceyville with their alpha mates – poor Ian and Matthew, lol- and the business they run comingling perfectly with this story, and don't I just love love love that happening. And don't I just love them. Whether it be zombie Christmases or giant scorpion wards, 'Narik' is the magical gift that keeps on giving. They never fail to crack me up. This novella is incredibly and wonderfully snarky overall as well as sexy and funny as fuck. Pure entertainment of the very best kind, everything I expect from Eliot Grayson. I clipped so many notes that, sadly, are too numerous to use. But I had a good time revisiting them as I put this review together. Just because I appreciate that Nate is perennially coffee-addicted, and because I simply loved this quote –  it has the general book vibe – I'm adding it.
To Nate, I said, "Starbucks isn't open yet, and I have one guy tied up in the back seat and another in the trunk anyway. I don't think they'd serve us."
His gusty sigh conveyed a world of disdain and impatience. "So toss a blanket over back-seat guy, they won't be able to see much from the drive-through window. Tip well. They won't give a shit. Go to the one at the corner of Sixth and Pine in Laceyville. They're so fucking jaded. I mean, they'd probably dispose of the dude in the trunk for you if you gave them an extra fifty. No mocha with sprinkles, no discount, and possibly no magic," he warned, his voice going low and serious.
And then he hung up.
Eliot Grayson is one author that I read every book of and then listen to them all over again in audiobook because I can't get enough, and the brilliant Chris Chambers brings them to life superbly and embodies this series. I've just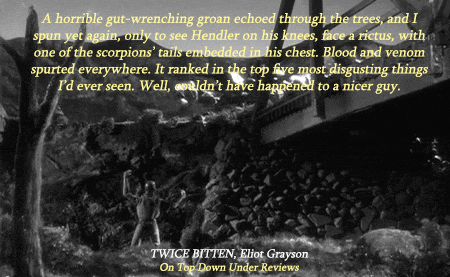 recently finished listening to The Alpha Contract and I would listen to it over again just for Chambers delivery of "eep" and "alpha" and "well, fuck." I may well be a simple soul 😀
I have yet to meet a book of Grayson's that I didn't like-to-love. Twice Bitten continues that trend. This book is funny. It's sexy. It's got good characters you can get behind. It's a contemporary paranormal world where it's set amongst humans we rarely see. There is some blood and there is the right amount of care factor about the bad guys – not much. I like that. This novella is a good size and easy reading. You don't have to have read any of the Mismatched Mates series books but if you feel inclined I'd highly, highly recommend them. Having Nate and Arik as part of this book absolutely added extra oomph for me. Grab a copy and enjoy. 4.5 Stars!