Reinventing Cato (Unfinished Business #3), Barbara Elsborg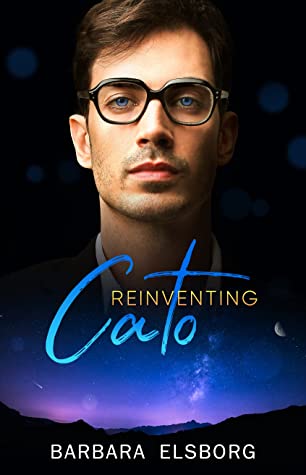 Rating: 5 Stars
Publisher: Self Published 
Genre:  Gay Romance 
Tags: Contemporary, Suspense/Mystery, Standalone Series Book, Scientist & Cop 
Length: 324 Pages
Reviewer: Kazza
Purchase At: amazon
Blurb:
Book 3 in The Unfinished Business Series but is a standalone
Fate is not always written in the stars…
Being headhunted by NASA might be his ultimate dream, but Cato's life still sucks. He's tired of anonymous one-night stands. He's tired of being lonely. And, frankly, he's tired of himself. As the clock strikes midnight on New Year's Eve, he realises the only thing to do if he wants to be happy is to reinvent himself.
Persuaded by his sister to spend New Year's Eve in Scotland with his parents, Vigge can't escape the memory of why their family fractured eighteen years ago, and his part in it. He's channelled the guilt he feels into finding truth and justice for others, but his own life is empty and cold.
A chance encounter at a snowbound airport has Vigge and Cato colliding in more ways than one. Someone seems to have it in for Cato, and as Vigge gets drawn into the mess of Cato's life, he finds himself falling for the sexy scientist. If only Vigge can make peace with his past and step away from the darkness, they just might have a chance at a future as bright as Cato's beloved stars.
Review: 
I thoroughly enjoyed Reinventing Cato. Character wise, I had a good idea of what to expect when I picked the book up. Barbara Elsborg has a 'type' in this series, and I'm happy to report that I wasn't let down. There was humour, strong, lovable characters, two souls whose time it was to meet that special person. They were ready… but Vigge needed some extra encouragement. However, the mystery elements were something unexpected, the one around Cato was a primary arc which ran the entire book and kept me on my toes throughout.
Both Cato and Vigge have a past. Vigge's is a sad one which casts a shadow over his entire (family) life. As unfair as it is,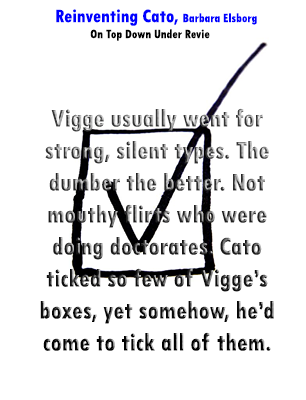 Vigge bears the brunt of the responsibility,  I really felt for Vigge, and it keeps him aloof and not quite but still pretty much in the closet. He's a police officer, part of a Major Crime Unit, his chosen line of work just reinforces his past. Cato is doing his doctorate in astrophysics at Cambridge and has been headhunted for a possible position at NASA, although he isn't sure if that's what he really wants anymore. He needs to get back to London for his first interview though. Both men happen to be in Scotland for New Year – Cato for a party and Vigge for his parents. Both of them are snowed in, no flight's are going anywhere, but Vigge is lucky enough to have a hire car. They don't know each other but Cato is trying to find someone to give him a lift back to London, all while dressed as a priest from his party the night before, and if a priest might happen to elicit trust from a possible ride, then Cato is okay with that. Vigge happens to be the "lucky" guy to agree. Cato is his usual chatty self and Vigge his usual shutdown self but there is attraction lurking underneath, of course there is. This is romance after all.
A hook up on the way back to London at a motel is hot and leads to Vigge not being very pleasant to Cato afterward. Cato doesn't know what happened for Vigge to be cold but we know it's because he's scared of how he actually feels something for Cato. This tends to be Vigge's MO during the book. His family don't talk so he doesn't know how to handle someone, especially someone as… effervescent as Cato. Effervescent is downplaying it, Cato had me occasionally taking in a deep breath because he just went full-tilt with his humour and his chatting at times. But he really is just what the doctor ordered for Vigge, who just cant help but be pulled back into Cato's orbit time and again. Plus I just loved Cato's zest for life and his attentions to multiple skills/activities.
This romance worked for me because I really, really liked both of these MCs. Yes, Cato is good at everything, everyone wants to hook up with him, but he's sweet and funny and not at all pretentious about it. The title is about Cato realising that his past with Max and Louise was just sad and is over, they were a throuple until Louise decided that Cato was one too many. Then he decided that unemotional hook-ups were the way to get over that relationship, but that made him feel like an uncaring dick, so reinventing himself was something important as his New year's resolution. He doesn't know it but his life is about to be a series of challenging and different 'reinventing' experiences.
I've been really lucky to get to read some excellent books that have connected with me over the last few weeks,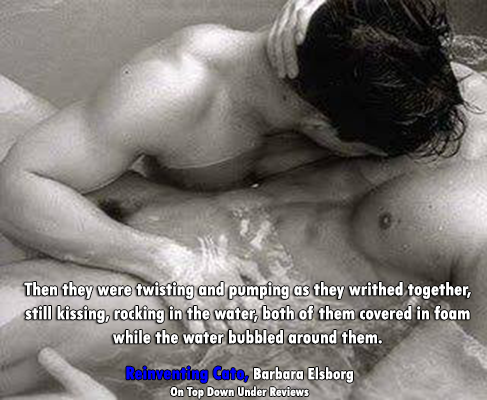 Reinventing Cato was just another one of them. From the thoughtful cover to the very last word, there is plenty to keep the reader turning the pages – the mystery elements, the romance, the love, the fun, the violin playing – I love violin – the sexy times, the joy of living life. You don't need to have read any prior book in this series, I haven't read book #1 and it made no difference to my ability to enjoy the last two books in the series. If you loved book #1, then Jonty and Devan are in this one – Cato is Devan's brother. There's a great balance of romance to family to the police work, and the amount of effort Barbara Elsborg put into the legal and astrophysics side of the storytelling is excellent.  The developing, deepening love between Cato and Vigge doesn't come easily either and it makes the reading experience that much sweeter.  5 Stars!