Audiobook Review: Exposed, H.L Day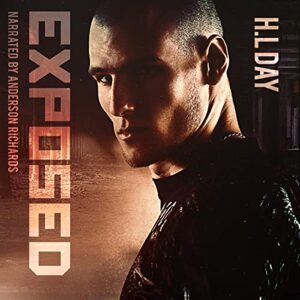 Genre/Tags: Gay Romance, Survival, Opposites Attract, Alt-Universe, Knife Play
Author: H L Day
Story Rating: 5 Stars
Narrator: Anderson Richards 
Narrator Rating: 5 Stars
Length: 13 hours and 48 minutes 
Audiobook Buy Links: Audible
Sometimes salvation comes from the most unlikely hero.
When Tate Gillespie is marked for death for a crime he didn't commit, his life crumbles. In a world where "justice" is meted out by a relentless military force, he's going to need more than a mythical guardian angel. His life down to seconds, he's saved by the mysterious X, a knife-wielding man he's never even met before. But who is X? Is he the man who threatens and kills without a second thought? Or the strangely gentle man who only seems to act that way around Tate?
X is a shadow. A wraith. A man who flits through the city virtually unseen. He's got no time for people when knives are far more reliable. X does have one weakness though – the man he's been keeping safe for years who doesn't even know it. He'd burn the whole world to keep him alive. But what he won't do is stake his claim. Tate's not his and he needs to remember that, no matter how close they might become.
With the military in hot pursuit, they're going to need to rely on X's skills to keep them both alive. Tate's feelings are growing with every hour they spend together, but X is a tough nut to crack. Can two people from very different backgrounds really find common ground? Or will one of the many perils they face throughout their long journey drive them apart?
It's all about survival. Not love. Isn't it?
Exposed is an action/adventure story featuring two men who couldn't be more opposite.
Review:
My original review of the e-book of Exposed is here. It was on my Books of the Year: 2020 for good reason, it's a fantastic piece of writing. Great MCs, lots of action, thrills, chills, survival, romance, grit and tenderness, and sex that is smokin' hot but doesn't overpower the survival storyline. Honestly, H. L Day's books translate really well to audiobook.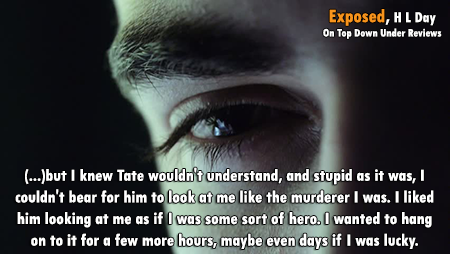 X is alpha through and through, not always my favourite type of character, TBH, but when I want a badass killer, X is the type who is at the top of my list. It's who you need when you are running from an unjust 'guilty before vaporised' system of justice in an alt-universe, or it could be our dystopian future, not hard to imagine sometimes. X's obsessive stalkery side was also perfect, something I loooove in books.
The narrator was an unknown to me but colour me a fan after his narration of Exposed. Anderson Richards nailed the enthusiastic, nervously effervescent narrative of Tate Gillespie to a T… and X, my god, I didn't think of him as having a tough as teak (British) accent when I read the book, but it was perfection. Richard's cold narration of a man who thinks nothing of taking a life also delivered such tenderness when thinking about Tate. It was perfection. It's funny, when I read the e-book all I could picture as X was Kurt Russell, mostly as Todd 3465 from Soldier, but as I listened to the audiobook, I kept picturing a (younger version of) Terrence Stamp with his grim determination as Wilson in The Limey – an actor and a movie I've always love(d).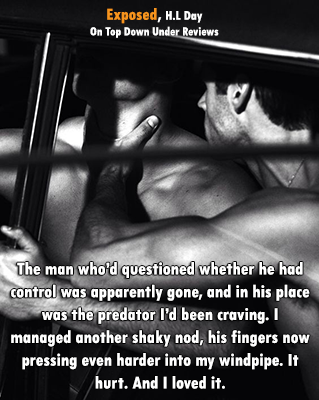 My e-book review already says plenty but I just wanted to add my two cents worth about the narration and experience I had listening to what was already a favourite book. Sometimes audiobooks can let you down when you have high expectations… this is not one of those times. Nope. This added to X and Tate's story in the best possible way because of Anderson Richards enthusiastic and in sync delivery of H L Day's superb writing. And I also wanted an excuse to add a few more visuals with quotes here because this audiobook deserves it. I'll finish by saying if you like an engrossing audiobook with a gay romance and two guys trying to make it to a better place in dark times, one a killer, the other his obsession, oooo, and the knife play is also awesome, then here's a brilliant way to spend your time listening to a really good narrator paired with a fantastic story, one that is original and also has a wicked edge. While Exposed has a happy ending, I truly hope that H.L Day revisits this pair again. Happy listening. 5 Stars!