The Snow Dragon's Mate (Lonely Dragons Club #2), Silvia Violet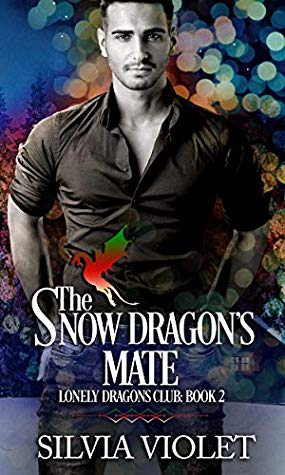 Rating: 4.5 Stars
Publisher: Silvia Violet
Genre: Gay Paranormal Erotic Romance
Tags: Paranormal, Erotica, Fated Mates, Humor, Insta-Love, Mpreg, Romance, Series, Shape Shifters
Reviewer: Cindi
Purchase At: Amazon.com
Blurb –
Best Christmas gift ever: Finding out dragons exist and one of them is your fated mate.
Kymar
Weary from centuries spent searching for my mate, I hid away in a mountain cabin until an offer from a friend leads me to the most exquisite omega I have ever seen. From the moment our eyes meet, all I want is to make him mine. A well-timed storm leaves him stranded in my lair, but when the snow melts, he insists on returning to his human life. I'm convinced we're fated for one another. Can I make this stubborn young man believe it too?
Holden
I rode on a dragon's back. A real, live dragon. In his human form, Kymar is so gorgeous I can hardly breathe around him. I'm drawn to him by a force too strong to ignore, but, magical creature or not, I can't get involved with him. Happiness never lasts. I've learned that lesson again and again. After I walk away, my longing to return grows worse every day until I start to wonder if I can find to courage to believe what my heart and my dragon say is true—Kymar and I are meant to be together.
Lonely Dragons Club series is an MM dragon shifter mpreg series about finding your one true love. The Snow Dragon's Mate is Book 2 and the next book is The City Dragon's Mate.
Review –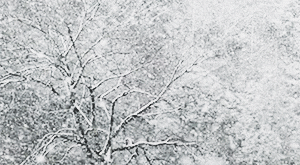 Kymar and Holden were introduced in Roman and Laszlo's story, The Christmas Dragon's Mate (#1 in the series). Kymar, an impatient dragon shifter, arrived at Laszlo's house in his true form. He got a dressing down by Laszlo for not being careful about being seen. Only a select few know that dragons exist. When Laszlo didn't respond to a text, Kymar took it upon himself to just show up at his place. Well, the text was important, but still. When he arrived he saw Holden. Holden is Roman's best friend, a human omega. Sparks flew immediately as soon as Kymar shifted back to his human form. Neither he nor Holden believe in wasting time when it comes to sex so they were already, within seconds of meeting, planning a hookup. Hell, they were all over each other, not even caring who saw them.
Kymar is one of the small group of dragon shifters that they jokingly call the Lonely Dragon's Club because they've been searching for their mates for centuries. He senses that Holden is his mate almost instantly but it seems much too coincidental and too easy. Laszlo, after all his searching, finally found his in Roman. What are the odds that Roman's best friend who, like Kymar, wasn't even supposed to be at Laszlo's at that very moment, would be Kymar's mate? Of course, Holden knows nothing about this. All he knows is that he's desperate to get Kymar alone now. 😉
"Let's get back to Holden. He smells absolutely delicious. Do you think he could be my mate?"
Laszlo shook his head. "My mate's best friend turning out to be your mate… That's ridiculous."
My mind agreed, but my heart – and my cock – protested. "Why?"
"It's just too easy."
They eventually leave and head to Kymar's lair, or his home way up in the mountains. Where Laszlo loved Christmas, Kymar loves snow. He's like a kid when he's able to get out and play in it. They're barely inside before they're all over each other. When they come up for air, they see that the snow is now so bad that there's no way anybody could drive in it, and it would be too dangerous for Kymar to shift and fly in it. It's agreed that Holden will hang around a few days, which is exactly what Kymar wants. In fact, he never wants him to leave.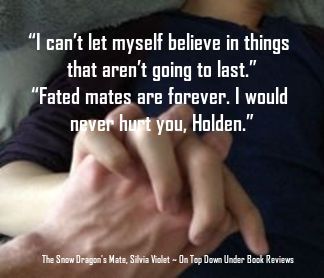 When Kymar starts talking mates and fate and all that entails, Holden balks. No way does he plan to fall for this guy only to have his heart broken later. He's been down that road before and he has no desire to do it again. He'll have sex with him a few times and move on.
Only it's not quite that easy. There's just something about Kymar…
I'll stop there.
I fell in love with both of these guys in the first book so I was eager to read their story. I wasn't disappointed. Like the first one, this is mpreg but it's not as big of a part of the story as in Laszlo's and Roman's. Kymar doesn't seem to be as possessive and bossy as Laszlo was. He is still as vain. 🙂 And while Roman was a little on the innocent side, Holden is anything but. He's not ashamed of all the guys he's had sex with. He likes sex so he has sex. That's just who he is.
I can't not mention Claudia, Kymar's amazing housekeeper. She's like a mother to him and I just adored her.
This is a really good shifter story. It had me laughing more than once and grinning from ear to ear when it was over. I added "Erotica" as a tag on this one because there's quite a bit more sex in it than in the first book. Silvia Violet does write good sex scenes. 🙂