Because of Ben (Star Crossed, #2), Lisa Henry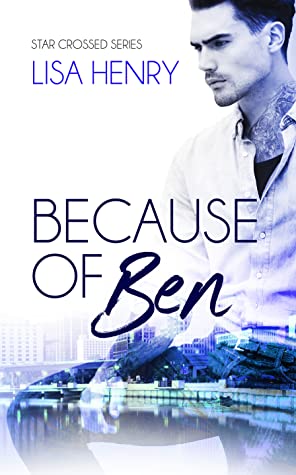 Rating: 4.5 Stars
Publisher: Self Published
Genre:  Gay Romance
Tags: Rock Star and Preacher's Son, Hurt/Comfort, Firsts, Series  
Length: 267 Pages  
Reviewer: Kazza
Purchase At: amazon
Blurb:
Marco Chase is the lead singer for Static, one of the world's most famous and successful rock bands. Marco's bad boy rock star image isn't just one he's cultivated for his fans—it's Marco all over. Marco's past is full of one night stands, bad decisions, and blackouts. Marco never saw a cage he didn't want to rattle—and from the moment he lays eyes on him, he really wants to rattle sweet, innocent Ben Selden's cage.
Ben Selden comes from a fundamentalist Baptist family. Ben is struggling under the weight of knowing that he's gay, and a lifetime's teachings that tell him that his God will condemn him, and his family reject him, if they ever find out. With a future he doesn't want already mapped out for him, Ben's at a breaking point when he meets Marco.
Marco's teasing, flirting, and obvious interest awakens a hunger in Ben, and he knows this might be his only chance to act on his attraction to a man—if he's brave enough to risk his future, and his family, to take it. He doesn't expect Marco to be his savior, but maybe a savior isn't what Ben needs—maybe he just needs someone to believe in him enough that he's willing to save himself.
Because of Ben is the second book in the Star Crossed series, where regular guys meet famous ones, and sparks fly.
Review: 
I rarely like celebrity or celebrity meeting ordinary folk in my reading. I mostly don't like a rock star MC, although I will occasionally break the mould. I didn't read book #1 for the reasons I just mentioned. Why did I pick this up? Well, Lisa Henry and a book with a religious theme or character in it, that's why. I also like seeing as many people who are religious, repressed, controlled getting the hell out of that crippling emotional scene. So this book sounded good to me.
Marco Chase is such a likeable character. He's very what you see is what you get, and I'm a big fan of WYSIWYG people. He's also a smoking, swearing, tattooed, rebellious, ADD muso who is on break and currently in Dayton, Ohio as a stopover. He was on his way to see his mum and dad in West Virginia but mixed up dates of when they'd be back from their Kentucky vacation. So he figures he'll stay a few more days in the hotel. When he spies a pretty young guy at the hotel dining room, a 'Jesus kid', wearing a conference lanyard, he feels things might just be worth staying around in Dayton that bit longer for.
Ben is at a conference with his best friend, Dion, as well as another close friend, Rachel. They're all from different churches but go to the same religious college. Rachel is a nice girl who happens to have a crush on Ben. His family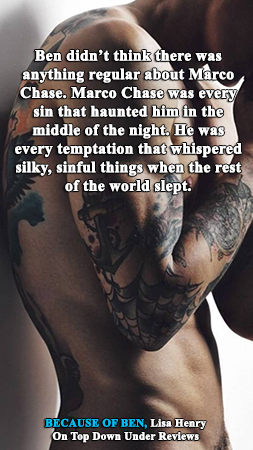 have met her and like her. They have Ben's life mapped out – finish college, come back as a pastor, marry – a girl – and live their dream. There's some awkwardness between friends: Dion has a crush on Rachel and Rachel is interested in Ben. So Ben feels bad about that. He's studying so he can take over the legacy his grandfather built, the New River Baptist Church in Bedford, Indiana. The one his father preaches at. Ben's church is fundamentalist and holds a tight rein on what the parishioner's can and can't read, watch, or listen to. Ben has never seen or heard of Static or Marco Chase before. He notices him in the dining room because Marco isn't super subtle, and Marco is somewhat flirtatious when given an inch. Ben knows he likes men, women don't cut if for him no matter how hard he might try to make that work. If he were going to have feelings for anyone, Rachel is a nice girl who would probably be it for him. But she isn't what he wants, who he can love, and never can be. The seductive guy he saw this morning, the one who people have since told him is a rock star, he does float Ben's boat.
This book is good because, while there is rumination from Ben about letting people down, doing the wrong thing by God and his own family, he wants to experience what it's like to be with a man at least once. If he never gets another chance, even if it is sinning, at least he's allowed himself to feel what he knows he wants to feel and be who he wants to be. In Dayton, he can have that opportunity.
I liked that Ben owns who he is. There was the right amount of internal worry so you knew exactly what a big deal this was to Ben. It made it as relatively realistic as possible without it veering off into gay fiction, or being self-flagellation overload. He and Marco get a chance to speak and Marco has offered him anything he wants. And Ben, while incredibly innocent, knows what that means. Ben is a sweet character and incredibly brave. He doesn't want to push the responsibility of what he's going to do – what he does do – with Marco onto the other man. He made his choice to "fall," so it's on him. Just this once…. Of course, we all know this isn't going to be the case. It's never once. This is romance. But it does pull at the heartstrings in just the right way.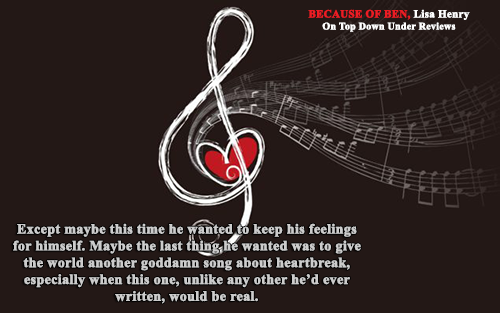 Marco is all of the things I said earlier, WYSIWYG, and he fancies Ben from the get-go. Calls him his Pretty Boy. He's generally a love 'em and leave 'em kind of guy who is wild and free and sexually fluid. He's never been tied down to a relationship because music is his great passion. Music has been his love for as long as he can remember, and he loves the success that Static has. He gets a high out of writing songs and selling the ones that don't suit the band to other artists, and performing is a buzz. But he's been thinking about relationships lately. His friends are settling down. Zane, his best friend and fellow Static founder, is married and has a baby on the way. Marco is suddenly thinking about getting a home when he usually crashes at other people's places. And it is because of Ben. because Marco falls pretty hard and fast for Ben, who is kind to the core. Marco's a decent guy at heart who, once he knows Ben and how he feels, finds himself worried about the repercussions to Ben mentally and spiritually. He wants Ben but he doesn't want to be the reason Ben faces a huge crisis of faith and conscience. He also doesn't want to lose him.
While Marco has very little tolerance for religion, he does not care for what it does to some people, Lisa Henry shows different church styles and LGBTQI friendly clergy in the book. It's balanced. Pastor Mary is a Lutheran speaking at the conference and she has a very different outlook to Ben's family's church. She has a wife and wears a Pride pin. I'm not a religious person, my husband is, so I appreciated the well-rounded outlook.
I enjoyed this book a lot. It delivered what it promised. Amen to that! There are a lot of great quotes that I could have used for this review, always a sign of enjoyable reading and just how much I'm into something. Both of these characters wormed their way into my heart. Tick. They held me in the story. Tick. Lisa Henry's books have been on my Kindle quite a bit over the last year. Because of Ben is entertaining and page-turning reading, humour, pathos and sexy-times included. 4.5 Stars!