Conspiracy Theory ( Veiled Intentions, #1), Elle Keaton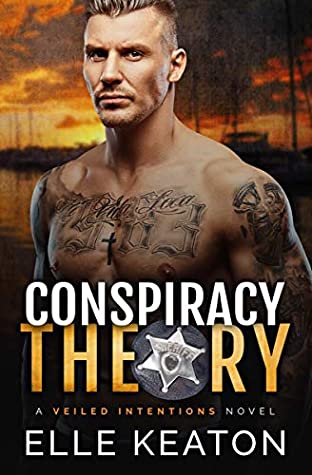 Rating: 3.75 Stars
Publisher: Self Published
Genre:  Gay Romance
Tags: Murder/Mystery, Cops, Slow Burn, Series
Length: 244 Pages
Reviewer: Kazza
Purchase At: amazon
Blurb:
Disillusioned, burned-out and fed up, homicide detective Niall Hamarsson burns his last bridge and flees to the only place he's ever called home. All he wants is to be left alone with his ghosts.
Very, very alone.
Sheriff Mat Dempsey is a glass-half-full kind of guy. He returned to Piedras a decade ago after his father's unexpected death, but he loves taking care of his small hometown. And he remembers Niall from before, the man is even more intriguing now–even if he is an arrogant ass who acts like Mat has no idea what he's doing.
Almost immediately the first suspicious death on Piedras in years has the two men at odds.
Sheriff Dempsey needs Niall to stay away from the murder investigtion, he doesn't want the ex-detective muddying the waters.
Niall's not interfering with Dempsey's investigation so much as keeping his hand in and using the case as a distraction from unwanted memories that are popping up like weeds after a storm.
Will the two men realize they work better together than apart, in more ways than one? Or will Niall successfully keep Mat at arm's length?
The Veiled Intentions series is a dual POV slow-burn three-act romantic suspense about a broody introvert and a somewhat patient Sheriff as they grope their way to a happily ever after.
Review:
I was going to put this book down on several occasions because it was slow to get going and then slow to move along. I haven't read this author before so it was an unknown purchase but it ended up being a fairly decent read.
What I liked.
It was a good book to read of a night to wind down from a day of study and work. That was immensely helpful.
I can see that maybe this place in the middle of some islands off the coast of Seattle could be enjoyable once I get the hang of the people and their place within the island. I could even get to feel comfortable just reading a calm murder/mystery series.
Alyson, Mat's mum, is a gem.
I could grow to like the MCs… but the jury is out. At the moment they aren't special. If I compare them to, say, Gregory Ashe's Shaw and North, Mat and Niall need a personality injection. However, if I compare them to Hazard and Somers, yeah, still a personality injection, but that's not such a bad thing in the latter's case. I like the lowkey relationship without drama here in Conspiracy Theory. I like that Niall, whilst living with a past of bullying and a mother who appeared as if she was problematic, isn't a Neanderthal. He's just quiet and walled off.
Fenrir, the lost dog found, makes me like the series too. I love his name. Perfect. He's a sighthound too. I know just how quirky they are.
My gripes.
As I mentioned at the beginning, it's  slow moving.
I felt minimal to no chemistry between the MCs, Mat and Niall. I'm still unsure why Matt had this burning desire for Niall.
There really wasn't enough dimension to these MCs. Niall has a difficult backstory but it isn't particularly explored. Mat is closeted. Okay, but his mum is loving and supportive. So, why? Living in small community doesn't cut it in this place. I think that 244 pages wasn't enough to allow the right exploration.
Here is where my main problem lay with this book. It's essentially a (gay) romance, but the connection is so negligible. The steam is non-existent until the last few pages – I have no issues with lack of steam, and bear in mind my use of "steam" is very tenuous – it just seemed rushed and awkward. The policing work is basic and the author made that the main arc of the book. I can pick up other murder/mystery books that are simply that, no romance. But if that is part of the book, if that is promised, then it needs to walk a balance of procedural, suspense, and chemistry. Otherwise I'll go pick up Jo Nesbo. It's not especially gripping, and I found it hard to believe the connection of murderer and murdered. It seemed more about convenience.
I give Conspiracy Theory 3.75 stars because there is much potential here. There is a kindness within the pages that I appreciated. I found zero drama, and no toxic masculinity was also very attractive. There's a chance these MCs could grow on me. I'm really, really hoping that happens – I've got my fingers crossed – bring it home, Mat and Niall. I believe the next book will hold the key as to where I sit about this series.