Police Brutality ( A Union of Swords, #2), Gregory Ashe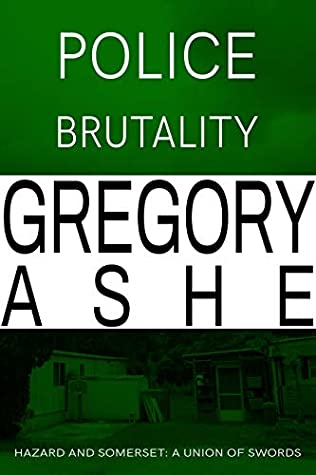 Rating: 4 Stars
Publisher:  Hodgkin and Blount  
Tags: Police/PI, Murder/Mystery, Gay Romance, Series
Length: 357 Pages
Reviewer: Kazza
Purchase At: amazon
Blurb:
For the first time in a long while, Emery Hazard's life is good. His new business as a private detective is taking off. Things are good at home. He loves his boyfriend, John-Henry Somerset; he loves their daughter. He might even love the new friends they've found. There's only one problem: Somers has been talking about marriage.
When a former colleague, Walter Hoffmeister, comes to Hazard and hires him to look into a series of anonymous death threats, Hazard eagerly jumps on the distraction. Hoffmeister might be a jerk, but he's a paying jerk, and Hazard isn't convinced the threats are serious.
Until, that is, Hoffmeister is almost gunned down on Hazard's doorstep. As Hazard investigates more deeply, he learns that more than one person in Wahredua has a reason to wish Hoffmeister dead. His search takes him to the Ozark Volunteers, reincarnated as the Bright Lights movement, but it also leads him into a sanctuary of radical Christianity. Meanwhile, an antifa activist has arrived in town, calling for Hoffmeister's death and threatening total war with the Bright Lights.
As Hazard continues to look for answers, he becomes a target too—and not just because he's helping Hoffmeister. The Keeper of Bees is still at large, and the killer hasn't lost interest in Emery Hazard. Not yet. Not, Hazard begins to suspect, until the Keeper has taken everything Hazard holds dear.
Review: 
I have this as a Union of Swords, #2, but it's something like, Hazard and Somerset 1,000: A Union of Swords, #2 but the title is too long for me to put in the header. I'm just letting people know who may not be aware. Clearly I'm lying about H&Z 1,000, but it feels like it. Ashe breaks his books about the same characters into different series within a series. So there you go.
I liked this. Not as much as The Rational Faculty which was a darn good book but I didn't have the time to review on here. I'll just say that TRF saved this interlocking series for me after the pretty basic Criminal Past. Both I've reviewed on Goodreads only.
Hazard is building his PI business after leaving the Wahredua PD under a gossipy cloud of controversy/speculation. By 'building his business' I mean his first client was brutality tortured. His second client is the first class arsehole, Officer Walter Hoffmeister. Apparently Hoffmeister, who we know through the series books, is being stalked and harassed by someone unknown and he asks Hazard to look into it, and when I say 'ask' I mean berate. But once Hoffmeister is shot at, something Hazard is caught up in, Hazard decides he'll take the case. But, you know, who wouldn't shoot at Hoffmeister? I hate guns and I'd shoot at him. The guy is the quintessential bigot who is incredibly gross even by Wahredua's arse-ometer ratings. As usual, there is a cast of incels, misogynists, bigots, fuckwits suspects in the town that I hate trying to say, spell, and think of as a place anyone would want to live.
Ashe crafts a good mystery, it's one of the reasons I come back to this series, he has the Keeper of Bees killer brewing in the background. I guess I'm waiting to see how that pans out. I also want to see how Hazard and Somers are going to go. But this is where I've decided I'm unsure. They have some progression but, ffs, I despair of there ever being something healthy between this pair. I understand we all have our own, uh, style in a relationship, but their 'style' is not good. Hazard throws things, embeds frying pans in plaster walls, breaks chairs, breaks other things in his mitt hands, is abusive to most people, including breaking Somer's partner's nose. He's fine with the next door neighbours. But I don't buy it. It's a device to soften Hazard. I'm sorry, but lol. Hazard has gone past much sympathy from me. His behaviour toward people is obnoxious. Sure, bad past – yadda yadda yadda – I get it, but he's a grown man at thirty-four, or is it thirty-five? Anyway, go and get some help, okay? It time. It's past time. The behaviour is awful and I'm more and more uncomfortable with this being written as 'it's just grumpy-wumpy Hazard', look how cute he is with Evie (Somer's daughter.)
Somers thinking he should have seen the signs of Hazard's emotional state is also unfair. Hazard just doesn't communicate. Understanding comes from information. And it was never just the situation at the Haverford. It's all of Hazard's life – the man who's been dropped into more shit than a fertiliser factory. But Hazard needs to step up to the plate of personal accountability. I don't see that happening any time soon. Authors can write a great push-pull in a relationship, all with emotion, strong feelings, and moments of tremendous difficulty. It can be written full of human frailty and flaws without this maladaptive psycho-drama.
Oh, and once again an author uses 'pansy' to describe a characteristic that isn't desirable in a man. I'm going to go full gender studies on the next author who does this. Don't pigeonhole masculinity and don't shit on femininity.
And retard. Really? Hello? It's the 21st century. It just shouldn't be used. No excuses. I don't care that Hoffmeister said it. I don't care who said it. Just, no.
What I stay for –
Masochism aside, I like the banter between this pair, with a caveat: When they both sit in functional adult, this is mostly directed at Hazard, and not a child ego state, then I enjoy Somers and Hazard together.
There were some funny moments in this book. Some touching ones.
I feel like Somers has well and truly shown remorse for his behaviour from when he was younger. He's grown emotionally. I wanted that. I got that. And it isn't even a matter of maturity, Sommers has worked hard on being a better, more aware person. He's flawed just like the rest of us, but he's resilient and mostly respectful. I now prefer Somers to Hazard.
I like Dulac, Somer's new (detective) partner.  He can be 'extra', and annoyingly frat boy, but he's loyal, and he provides some much needed comic relief.
The murder/mystery aspect of the series books is something that draws me in. They are mostly interesting, some more than others but that's true of any series. I enjoy the way Ashe has an individual book's arc and then a series overarching arc as well.
Overview: 
I'm taking each book on its own merit for the rest of this particular Hazard and Somers series and see how I feel before starting the next one. There are things I don't like about Ashe's writing, though, especially in this series.  Overall, he writes with passion and knowledge and has interesting books, but other things can be unpalatable. I know I can't keep going if Hazard doesn't stop being a glorified Neanderthal, if this toxic masculinity is to be ongoing. A big reason that I got out of het romance was because of the often (normalising of the) alpha, bullying, toxic male lead. All things taken into consideration, Police Brutality gets 4 Stars!