Only For Ollie (Star Crossed, #3), Lisa Henry
Rating: 4 Stars
Publisher: Self Published 
Genre:  Gay Romance
Tags: Demisexual MC, Sweet, Slow Burn Romance
Length: 282 Pages
Reviewer: Kazza
Purchase At: amazon
Blurb:
Xander Finch is a top-ranked MotoGP rider, desperate to get back to the circuit after an injury. He's going stir-crazy in his parents' house in Ventura while he works on his recovery. Xander has tunnel vision when it comes to his sport—it's all he's ever wanted to do in life. When he hires a massage therapist to help speed up his recovery, he's not expecting the guy to completely flip his universe on its head.
Ollie Baker is living in his car after a disastrous break-up, and jumps at the chance to earn some extra cash through massage. Xander Finch might be hot as hell, but Ollie's not going there. He's never going to let some rich guy screw him over again. Besides, Xander's straight. Isn't he?
When their friendship deepens into something more, Xander discovers that Ollie makes him feel a way that nobody ever has before, and maybe motorbikes aren't his only passion after all. Navigating Xander's newly discovered demisexuality isn't the only challenge they'll have to face if they're going to be together, because Ollie's been burned before. It's hard for him to trust Xander, to believe that he's really willing to make room in his life for Ollie as well as his racing—assuming he recovers enough to race at all.
Only for Ollie is the third book in the Star Crossed series, where regular guys meet famous ones, and sparks fly.
Review:
I wasn't actually going to read this but I needed something easy going and well written. It sounded like a calm book and Lisa Henry does write a good story or two. I read book #2 prior, but I didn't read book #1, and even though it is the Star Crossed series, these books can absolutely be read as standalones.
Xander is Zane's twin and Zane is the friend of and fellow rock star with Marco Chase from series book #2, Because of Ben. That's a really, really good book and I liked Zane so seeing how Xander went seemed like it could be a natural progression. Besides, I also like MotoGP, we've had some fantastic riders come from Australia in the sport over the years. It's definitely big in Australasia and Europe. Interest piqued.
(…) but Xander was used to being the guy who defied the odds. The kid from Ventura who got on his first motorbike at age nine and never believed he couldn't be the fastest. The kid who hadn't gone to college because he was going to race motorcycles professionally.
Xander is looking at breaking into the top 5 riders this year when he meets with an untimely ladder accident helping Zane paint his soon-to-be baby's room. It's an ironically shitty way to side-line someone who does something as adrenaline fuelled and dangerous as MotoGP. He ends up recovering at his parent's place in Ventura, California. At his physical therapists the practice nurse tells Xander that she knows someone who's a good massage therapist. Something that might just suit Xander's recovery.
Olllie is living at his best friend Maria's house because his ex broke up with him and left him without a place to live. Ollie was younger and the financially comfortable Jeffrey offered so much but ended up delivering so little, leaving Ollie in a bind. He's studying an associate degree at a community college, barely making ends meet, hoping to get into a degree at a state college to become a PT. Partially living at Maria's and partially living in his car on Maria's driveaway isn't comfortable or ideal, working part time at the unfortunately named Hot Touch is also not terribly profitable but allows him to sometimes borrow a portable massage table. He's worried about his present, his future, and whether Maria's arsehole partner, Bobby, will create more problems so he'll have to then live permanently in his car. When Maria recommends him to a guy who has need to recover in a holistic way, and massage is one of the best ways to make the body feel better. Ollie is able to make a bit more cash and Xander is able to feel more freed up and in less pain in Ollie's hands.
In all honesty, Only for Ollie has nothing spectacular happen within its pages. There's no razzle dazzle, just two guys who are decent falling in love with one another. I liked the secondary characters as well, I thought Maria was so genuine, and Xander's mum and dad are just awesome. There is a poignancy as Ollie's family has not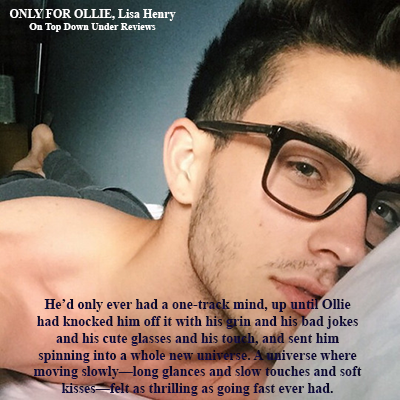 been kind to him. He misses his mother but she doesn't want to know her gay son. Meanwhile, the romance is a slow burn while Xander heals and Ollie continues with uncertainty around his future and an increasing attraction to Xander, who he also believes is straight. Anyway, he doesn't want to end up with another well off guy who will use him and dispose of him again. No good can come from leaning into that any which way. It's true that Xander is a well paid motorbike rider, and he hasn't been with a man. In fact, he's only been with a couple of women, definitely one, and doesn't understand all the fuss about the passion people seem to feel about mad sexual attraction. The songs his brother cowrites about the topic are baffling because with the one woman he mentions he felt none of that. He doesn't look at someone and think, 'I'll hit that' or even, 'I'll miss that.' Bikes are his great passion. However, Xander does grow to like Ollie as Ollie continues to massage him. He grows to like him more and more as they spend time together while he heals. He likes him even more as they sometimes watch MotoGP races together. And when Ollie's soft but firm hands help him heal, that continues to build on their connection, morphing into solid, tangible, deeper feelings for the first time in Xander's life. Until he feels that connected passion his brother writes songs about. For the first time, it's special. For the first time, someone is special to him. It's a lovely revelation.
I brought this book because I wanted nice and easy to chill out to late of a night before bed. I liked the idea of a demi MC. I wanted a contemporary romance as well. I wanted it well written with characters that I felt something for. Only For Ollie delivered all those things and wrapped them up in a nice, well paced, comfy package. 4 Stars!