The Lookout, Colin Dereham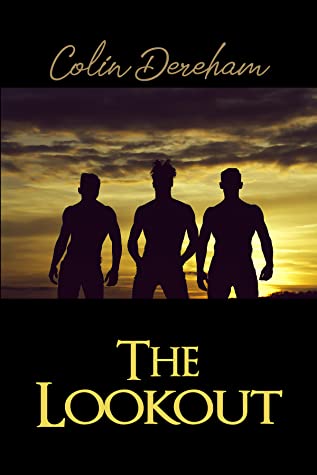 Rating: 4.5 Stars
Publisher: Pink Flamingo Media
Genre:  Gay Erotic Romance
Tags: Erotica, Gay Polyamory, Emotional, Hurt/Comfort. **Triggers: DM me on GR or Twitter if you want to know them
Length: 149 Pages  
Reviewer: Kazza
Purchase At: amazon, Pink Flamingo Media 
Blurb:
When he advertises the vacant bedroom in his apartment on a gay houseshare site, sexy teddy bear Angus ends up with more than he bargained for. Tall, dark and handsome otter Tom and blond muscle-bear Patrick couldn't be more different in personality, but Angus is so taken with them that he asks both men to move in. After a boozy first night together culminates in a skinny dip in the complex's swimming pool, Angus, Tom and Patrick fall into bed with each other. The explosive chemistry between them continues throughout a hot spring and summer. Days spent on the beach blend into nights of wild passion in Angus's huge bed, which all three inevitably end up sharing.
Fun, upbeat Patrick and quiet, affectionate Tom are everything Angus could have wished for. His nurturing side kicks in, creating a happy home for all three.
With Patrick working over the Christmas period, Tom and Angus go to visit Angus's family in the country. When they return, Patrick has changed. He's distant and sullen; there's no sign of the vibrant, happy man they've known for the past few months. At first, Angus thinks Patrick may be jealous of the close bond he's developing with Tom. He and Tom pull out all the stops to make Patrick feel as loved as possible, but their efforts go unnoticed. Then a chance discovery in the kitchen bin leads Angus to think there may be darker reasons for the change in Patrick's personality.
Tensions brew until late one night, when a disastrous phone call brings Angus's world crashing down around him. Desperately trying to make sense of what happened, Angus must rely on the love and support of others around him to slowly pick up the pieces and rebuild their happy home.
Review:
Patrick eyes us both up and down. "Look at us. The blond, the redhead and the swarthy Mediterranean. We should film a porn scene."
Bondi. Campbell Parade. Oxford Street. Paddo. The Christmas heat. It is hot here at Christmas and I love to see that in books. 'Laughs and thinks that, this is Australia' – well, at least Sydney. I have SO many memories of Bondi. I lived there for some extremely formative years of my life. My football team is based at Bondi Junction – go, Roosters. So it was nice reading about places I knew and people who seemed so familiar to me.
First of all, this book is about a polyamorous relationship. Angus, Gus for short, needs someone to take the room he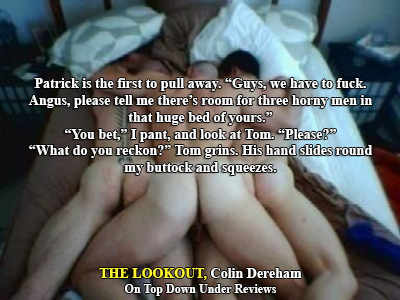 used to rent to his best friend Jools because she's moved to Melbourne. Two men apply, Patrick and Tomislav. Tom is there first when Patrick is late and presumed to be a no-show. Tom's interested and Gus rents the room to him. Patrick does eventually turn up and he is like a whirlwind, cruising in and declaring he'll take the room. Gus likes him a lot but, you know… Tom. No hard feelings. A few drinks later, a skinny dip in the pool, a ménage of mutual attraction, and voila, we have three men in a king sized bed. Possibly permanently given how well they click in and outside the bedroom. Given the high erotic content, there's definitely a whole lot of clicking inside the bedroom
So The Lookout is definitely gay erotica, but it's also so much more than that. Honestly, I'm not complaining about the quality or the honesty of the sex, but I could have done with a bit less sex and more wordcount about each man's personal backstory. The narrator throughout is Gus, and what a kind, loving, generous POV he is. Tom becomes his love. Patrick, his ray of sunshine. Both men fill out the right spot for Gus and also each other. Patrick is always just that little bit more independent in the relationship, just that little bit more enigmatic. Tom and Gus wear their relationship hearts on their sleeve more readily but this doesn't mean they feel more deeply than Patrick, and no one is discounted.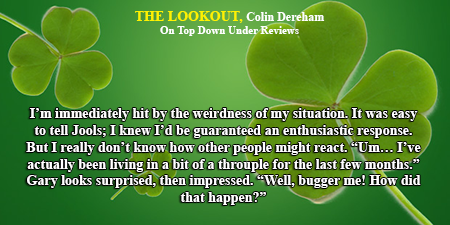 I'm assuming that this is an own voice story because it's definitely written with an eye to what some gay (bi/pan) men like, sorry if I assumed wrong, dear author. The three MCs are in their late thirties and early forties, with hair and/or beards and different cock shapes/sizes – hello, variety is the spice of life and not everyone is or wants 10 inches. Can the sex be a turn-on to anyone who is open and likes sex? Hell yeah. It's gritty and raw and passionate, sexy and loving all rolled into one. It's erotica mixed with romance and a story with so much heart. It has three characters who feel so genuine and so real that The Lookout could be about someone you know personally, they definitely felt like people I know and have known. By the end of the book you'll want to be a part of their life and comfort them when there is some HUGE comfort required. Let me tell you that this book packs a punch. It's so much more than it initially appears. It's emotional and touches a topic that affects 1 in 5 people at any given point in time. There are triggers. I'm loathe to talk about them though because it spoils the story. If you want to know, DM me on Goodreads or Twitter.
Overall: 
If you can handle a lot of sex, and there is, maybe you revel in a lot of sex and you want some romance and a hurt/comfort story with it, one that is bittersweet, then the poignantly named The Lookout is a sexy, gorgeous, heartfelt book, hopeful, but it packs a slog to the gut. I'll be reading more by Colin Dereham, he's an absolutely terrific writer. This book was such a surprise packet for me. 4.5 Stars!

NOTE: I feel that author J P Jackson's review is fantastic and probably does The Lookout far more justice than I can.