The Second Chance Suite (Pup's Creek #2), Arden Blair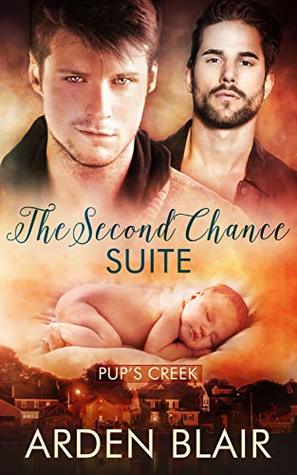 Rating: 4.5 'Second Chance' Stars
Publisher: Bay View Publishing
Genre: Gay Romance
Tags: Humor, Opposites Attract, Mpreg, Omegaverse/AU, Romance, Second Chance, Series, Small Town Politics
Reviewer: Cindi
Purchase At: Amazon.com
Blurb –
Welcome to Pup's Creek—where the skies are blue, the men are one of a kind, and dreams come true in the most unexpected ways. 
Chase Moore never thought he'd see his first love again. Why would he? They're very different people. Byron was a rough and tumble biker. Chase, on the other hand, is the straight-laced mayor of Pup's Creek. Sure, he's proud to be one of only a few omegas in politics. The only downside is his love life is nonexistent. 
Byron Hardwick never stopped thinking about Chase. They may have had their problems, but sex was never one of them. But that doesn't mean he's happy when the first person he meets riding into town is the omega who broke his heart a decade ago…even if the sparks between them instantly reignite. 
But Byron isn't interested in pretending to be something he's not. He wasn't willing to do it ten years ago, and he isn't willing now. Still, there's just something about Chase that he can't resist. 
When fate keeps throwing them together, they begin to remember what they had, leaving them to wonder: is it possible to let go of the past and embrace a future together? 
The Second Chance Suite is the second book in the Pup's Creek M/M ABO series that promises small town charm, happily ever afters, and a plenty of shenanigans. Featuring two beautiful men who can't keep their hands off each other, a dog that cant hold it in, and two old coots determined to spread gossip faster than the speed of sound.This book contains Mpreg, knotting, and all the other stuff that goes along with the genre. If this ain't your thing, I cannot help you. 
Caution: This book may incinerate upon reading.
Review –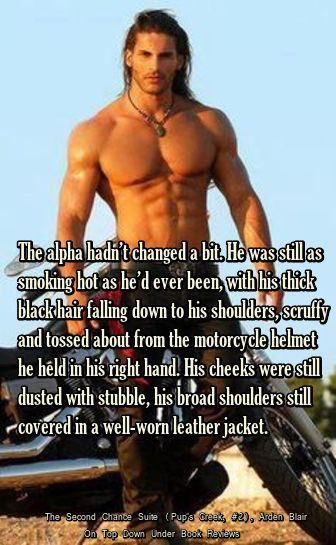 I am in love with this series. Sometimes I get lucky. This is another series I found strictly by accident. I'm so glad I did.
The Second Chance Suite immediately picks up where The Honeymoon Suite left off. Levi and Drew are hosting a grand reopening of Wishing Mill Inn. They're married and expecting their first child soon. Byron Hardwick has been Levi's best friend since they were children and has come to help out until the baby is born. He arrives at the party to the great shock of Pup's Creek's mayor, Chase Moore.
Byron Hardwick, the hot alpha he'd ditched and lamented over for the last ten years, was the single biggest regret in life. And now he was standing right in front of him.
Ten years. That was a long time. It seemed like forever since Chase had looked into Byron's dark eyes. Forever since he'd felt the alpha's strong arms wrap around him, pull him close and ignite a wildfire in his veins.
Byron was Chase's first and only love. They've not seen each other in ten years. The first meeting after a decade goes about as well as can be expected considering that Chase had broken Byron's heart. Once upon a time, leather wearing, Harley riding, bad boy Byron didn't quite have the same goals as Chase, who wanted to go into politics. Being an omega in politics would be bad enough. He'd be discriminated against at every turn. Doing it with a bad boy alpha by his side was out of the question. Sure, there were a ton of regrets, but he can't go back.
Omega politicians were incredibly rare. The belief that omegas were too flighty and indecisive to make decisions without an alpha was still a common one. The discrimination was difficult to combat.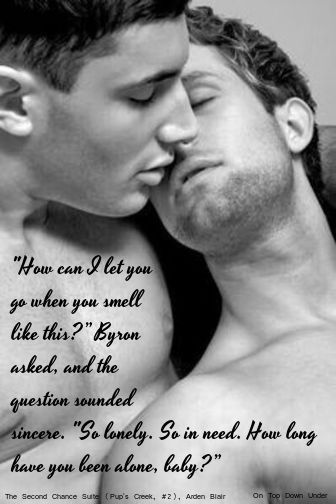 Seeing each other brings everything crashing down all over again for both men. Chase tries to play it cool but Byron's not stupid. He knows the omega wants him just as much as he wants Chase. Within minutes they're out back in the dark having sex. It's as good as they both remembered but this time Byron hurts Chase's feelings when he refuses to knot. That was never a problem before, but back then Byron thought they would be together forever. Now he can't risk doing something he feels is so intimate with a man who could easily break his heart all over again.
Even now, Chase is concerned about being seen with Byron. Pup's Creek is perfectly fine with gay alphas and omegas but there are still a few conservative elders who expect the town mayor to be squeaky clean. In other words, not have any kind of life outside of the town.
Now we get to Roscoe, who is probably the most old school of the bunch. Roscoe helps run Pup's Creek's gossip rag, The Pup's Creek Times. Until Byron rides into town the biggest story has been the Phantom Pooper. Hmm… apparently there's a big dog or something in town leaving his, well, poop all over the place. From front porches, to azalea bushes, to anywhere else you can imagine, he's left his mark. That made me crack up. At first I was like, WTF? but then I kept reading and ended up chuckling every time it was mentioned.
Now Roscoe has something more exciting than a pooping animal to write about. The squeaky clean mayor is being seen out and about with Pup's Creek's newest bad boy, Byron. Chase, always concerned about his image, tries to keep things secret. And Byron, who is amazing, is understanding and does what he can to not bring scandal to Chase after all the work he's done to get where he is.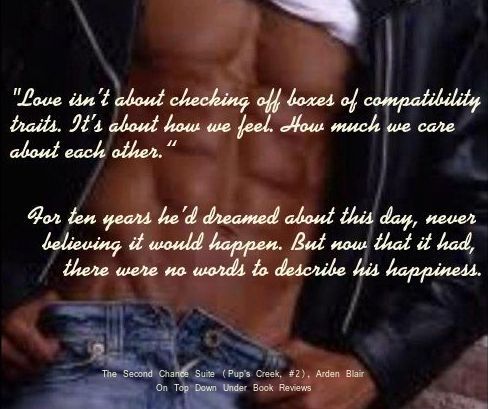 But they're powerless to stay away from each other. It also doesn't help matters when the very pregnant Levi goes into matchmaking duty and pushes them together at every turn. Levi knew about the man who broke Byron's heart a long time ago. He had no clue until now that it was the beloved mayor of Pup's Creek. Little Levi was ready to do some butt whipping – pregnant and all. 🙂 It was true loyalty to his best friend.
Byron may come across as the ultimate bad boy but he's quite successful in his own right. An artist, he's the illustrator and writer of the successful Urban Hunter graphic novel series. I throw that out there because all of that plays a part in finally bringing the two men together permanently.
I enjoyed this book almost as much as I did the first one. My only complaint (though it's not really a complaint) is that I wish there would have been a little bit more added to the ending. Don't get me wrong. It was so sweet, and so perfect, and it made me fall in love with Byron all over again. I just feel that a few more details leading up to that would've been nice. It kind of seemed a little rushed. There were also few editing issues, mostly toward the end. Otherwise, an outstanding book and a very entertaining read.
I can't not mention the sex scenes. Just… wow. There's more sex in this book than the first one. This girl's not complaining at all. 😉
I'll be eagerly awaiting more books in this series.