The Honeymoon Suite (Pup's Creek #1), Arden Blair
Rating: 4.5 'Grumpy Alpha' Stars
Publisher: Bay View Publishing
Genre: Gay Romance
Tags: Humor, Mpreg, Omegaverse/AU, Loss of a Partner, Romance, Series
Reviewer: Cindi
Purchase At: Amazon.com
Blurb –
Welcome to Pup's Creek, the world's most romantic town. Where the skies are blue, the men are one of a kind, and dreams come true in the most unexpected ways. 
At least, that was the image of Pup's Creek that omega Levi Tate grew up with. It's the town his father's met and fell in love after throwing a coin into the legendary Wishing Mill Creek. Now Levi is headed there for a long weekend, looking for the same kind of magic with his workaholic alpha boyfriend. 
But reality turns out different than the fantasy in his mind. The Wishing Mill Inn isn't half as charming as the brochure makes it out, the owner is a total alpha-hole, and Levi's boyfriend is walking out the door…leaving Levi all alone, reservation paid in full. 
Of course, it could be worse. The inn's owner—Drew—might be a dark and brooding loner, but he's also captivatingly handsome, radiating an intensity that pulls Levi in from the moment he catches the alpha's scent. He says he doesn't need Levi's help fixing up the inn, but that's never stopped Levi before.  
As they work together to make the inn as charming as it once was, Levi can't help but wonder if maybe his dreams of romance will finally come true after all. 
The Honeymoon Suite is the first book in a brand new M/M ABO universe that promises happily ever after's, steamy sex, a few laughs, and a lot of small town shenanigans.
Review –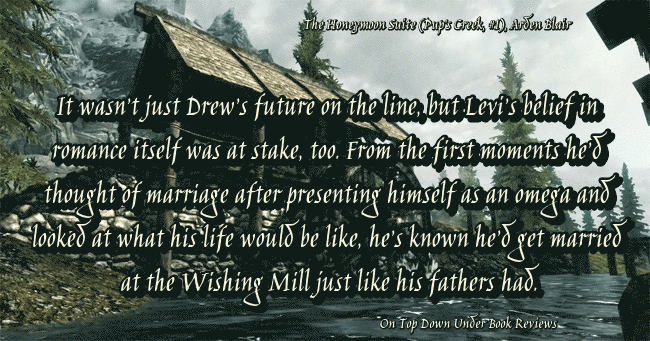 This is one of the sweetest stories I've read this year. Sweet, a tad of drama, a few aww! moments, some humor, and even a little angst.
For Levi's entire life he's been hearing the story of how his dads met and fell in love after making a wish and tossing a coin into Wishing Mill Creek in Pup's Creek. An omega, he's ready to settle down with his alpha and officially become his mate. He and Anthony have been dating for awhile and Levi is desperate to take that final step. He pushes until Anthony (a total ass) agrees to go to Pup's Creek and to stay in the same inn Levi's fathers had stayed in when they fell in love, Wishing Mill Inn.
Stand on the bank of Pup's Creek, whisper your wish to the shiniest coin in your pocket, throw it toward the old mill wheel, and your dearest desires are sure to come true.
A pretentious jerk, Anthony treats Levi like dirt and complains constantly. Inside the inn he's even worse. The place isn't exactly what Levi had pictured when he booked the Honeymoon Suite sight unseen and Anthony lets him know exactly how he feels about it.
Drew, an alpha, is the owner of the inn. It has belonged to his family for decades and he knows it's no longer as appealing as it had been back in the day. But hearing Anthony go on and on about it angers him. He's not shy about letting him know it either. He also doesn't miss the hot little omega with him. 😉
"All right," he conceded. "But just this once. And afterwards, I never want to hear you complain about not getting your way ever again."
"Well, if that ain't romance, I don't know what is," a gravelly voice said.
Not that he's looking. Well, not on purpose anyway. Drew's mate, Mark, was killed years before. Drew's basically drank himself into a stupor day after day since. He knows the inn needs to be upgraded and he's losing money daily. Hell, the only paying guests are Levi and Anthony. He just doesn't know what to do to fix it.
Anthony picks a fight and takes off, leaving Levi without a boyfriend or a way home. After hours of feeling sorry for himself he makes his way downstairs and finds the grumpy owner and they commence to get drunk together. Before the night is over, Levi (an interior designer) has talked Drew into letting him renovate the inn in exchange for room and board. What else does he have to go home to? And he's eager to see the inn that his dads stayed in successful again.
The next morning grumpy Drew has had a change of heart. This is when I absolutely fell in love with Levi. So often I see omegas written as weak. Not this guy. He stands up to big and bad alpha Drew without hesitation. They eventually work out an arrangement – Levi refuses to give up – and the renovating begins, starting with the Honeymoon Suite, of course.
Drew and Levi are a slow burn and they needed to be. Drew is still mourning Mark and feels guilty when he starts looking at Levi in a way other than an annoying, blackmailing extortionist. 😉
It wasn't right to fantasize about knotting your blackmailer, was it?
You'd have to read the book to see what I mean. Levi is not beneath using any means necessary to stay and do the renovations. All of that was funny.
Levi knows Drew doesn't like him. But then Drew jumps in – all alpha style – and stands up for Levi when a jerk alpha talks down to him. Then Drew shocks himself by getting jealous over having a bunch of unmated alphas in the Honeymoon Suite with Levi with the door closed. Of course, they're working (no hanky panky going on) but that doesn't stop Drew from barging in and basically staking a claim to Levi, though he'd deny it to his death. 😀
It was fun watching these two guys dance around each other. The way they finally get together is sweet and funny at the same time.
Of course, Levi's ex had to make another appearance.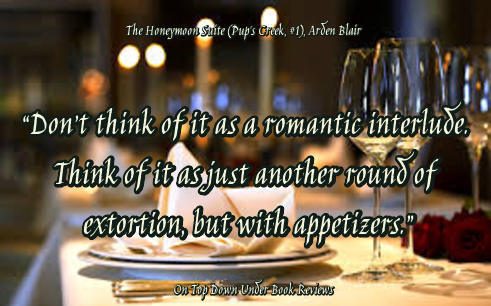 One thing I really loved about this story is that Drew was allowed to continue to mourn Mark as he was working toward something with Levi. And Levi was perfect. He knew that Mark came before him and he let Drew know that he wasn't taking his place, just sharing his heart with him.
I've listed mpreg above and there's a photo of a baby on the cover, but that's not even a focus in this book until WAY into it. Even then it takes up very little page time. I know a lot of readers aren't fans, but it did work here.
I've read a lot of omegaverse books this year, something I don't think I'd ever read before. Some have been okay. Some have been pretty good. Not many have been great. The Honeymoon Suite is. The writing is good. I love both Drew and Levi. There's just enough drama to keep it interesting without bogging it down. And when they finally do come together it's perfect.
A very enjoyable read.
Book 2 is about a bad boy biker and a straight-laced mayor. A true opposites attract story. Hopefully I'll enjoy it as much as I did this one.