One of Each (Omega House 4), Aria Grace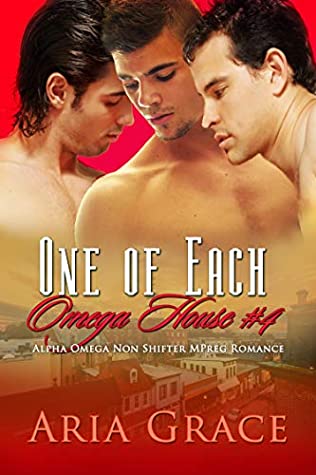 Rating: 4 Stars
Publisher: Self Published
Genre:  Gay Romance
Tags: Omegaverse, Ménage, Mpreg Light, Series (Can definitely be read as a standalone)
Length: 176 Pages
Reviewer: Kazza
Purchase At:  amazon
Blurb:
Gunnar is a mountain bike rider who is excited to find one of his favorite places to ride has a new, hot forest ranger manning the check-in station. An alpha himself, Gunnar has never been particularly drawn only to omegas, so he easily flirts with sexy alpha, Collin Rich.
After living with his brother at Omega House for the past several years, Sean is enrolled in a photography program that could lead to a good paying job. Then he'll finally be able to get his own place and live on his own. But when an attempt to take a photo of a rare still-life goes wrong, he finds himself swept into the arms of Gunnar and the new ranger, Collin.
Collin doesn't know why, but he's developed a fascination with the two men he's unexpectedly created a bond with. Now his thoughts are consumed with the two men and how they could be together.
While trying to check in on Sean, the two alphas run into each other and find out they have the same idea.
But Sean's luck takes a turn for the worst when he receives a poor grade that could result in him losing the chance at the new job. He has no other choice but to accept his professor's mysterious offer for extra credit. And with the feeling that something is amiss, he keeps his plans hidden from his new boyfriends, somehow knowing they wouldn't approve.
One of Each is a triad love story between two alphas and an omega they rescue.
Disclaimer: This book contains sexually explicit adult content that includes sex scenes between two alphas and an omega. The book is intended only for adults who enjoy male-male-male sexual themes. The book is approximately 29,000 words in length and does not end in a cliffhanger.
Review:
I bought this because it wasn't too long and it sounded like easy reading, and because I was in the right mood for a ménage within an omegaverse. I've never read Aria Grace before and I wasn't sure what to expect, especially since I've  found a lot of omegaverse books to be pretty basic (bar the outstanding Heat of Love series by Leta Blake) but this was a pleasant surprise.
One of Each is book #4 in a series but it can be read without having read any of the others that precede it. It's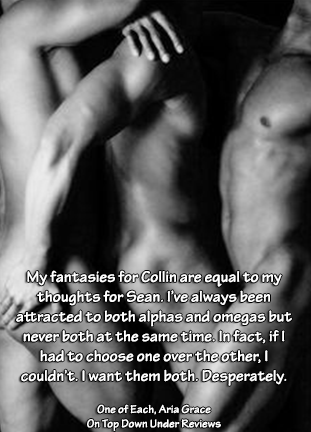 centred around the three MCs, with a bit of a moment toward the end concerning Sean and some of his omega friends who I'm sure will feature in their own books.
Aria Grace writes some pared back, raw, and hot sex scenes.  I was impressed. I also liked the characters, and that was interesting because the writing was such that there could have been a disconnect, yet as an all round package this book worked.
The basic story is that Sean needs to pass his photography class with a difficult photo shoot. He risks life and limb in the act of getting the right shot. It's lucky for him that two alphas happen to be at the park he's taking the photo at when he's swept away – by the current and by the men. 🙂 The two alphas fancy each other and they also fancy the cute omega they rescue. I liked that Gunnar and Collin were into one another as well as Sean. They met at the same approximate time and it never felt at any stage like there was a third wheel.
There was a bit of a "drama" moment toward the end but I got the why of it, it drove a bit of tension but it was quickly sorted. I believe it sets up the story for one of the other omega's in the next book, which I'll probably read when I get a chance.
There was a baby at a later point – it is an omegaverse after all – but there's nothing much to it, and that suited this reader just fine. It's mpreg light.
I enjoyed this story. It suited my headspace. It was hot. It was sweet. I enjoyed the characters and felt a connection. It exceeded my expectations. It was an on point read for me right now. 4 Stars!