Audiobook Review: Save a Horse, G A Hauser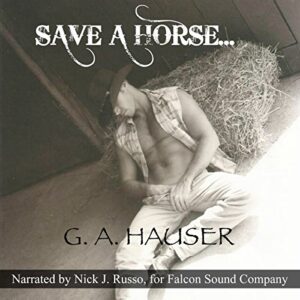 Genre/Tags: Gay Romance, Sheriff and Cowboy, Police Investigation, Closeted and Virginal MCs
Author: G A Hauser
Story Rating: 4 Stars
Narrator: Nick J Russo
Narrator Rating: 4 Stars
Length: 5 hours and 25 minutes 
Audiobook Buy Links: Audible
When Sheriff Sky Hayden gets word of human remains behind the Indigo Diamond Ranch, he not only has to deal with the possibility of a murderer in their small town, but is haunted by a handsome cowboy – one he can't seem to get out of his mind.
Cole Diamond, his father, and his two brothers work a horse ranch in a dying town in Montana. The downturn in the economy, the businesses leaving, has decimated the remaining town's folk, and the last thing they need for their livelihood is the publicity of a murder.
With everyone under suspicion, Sky has to bear the brunt of the investigation as the state patrol begins to dig deep into the lives of the people who have lived quietly off the radar. And Sky and Cole are forced to face each other, something they had managed to avoid doing for years.
As the pressure builds and accusations are made, Sky and Cole end up together once more, forming a united front against outsiders trying to destroy their small hometown. But soon the men realize the suspicion falls on them, but not for homicide…for something that is perceived as a worse crime.
"Save a Horse, Ride a Cowboy" was just a silly expression to sell on souvenir T-shirts…until the sheriff figures out "riding a cowboy" may be just what he needs to keep sane. Someone is going to get strung up in that town for crimes they didn't commit. The two men hope like hell it's not going to be them.
Review:
I first read this e-book 6 years ago. It was a an easy read. It has the most gorgeous cover. It features a sheriff and a cowboy and some drama around the body of a young woman found on the Diamond family's ranch in Montana.  I believe this was first written prior to and just at the time of Marriage Equality in the US. Anyway, the author clearly wanted to make a statement about love is love and ME, and that resonated with me when I initially read it. Plus it has hot buttons that I enjoy – cowboy, sheriff, police work, some desperate sex, two guys who waited for each other.
Cole and Sky are both closeted. They used to fool around a little with each other when they were 15 and 16, and a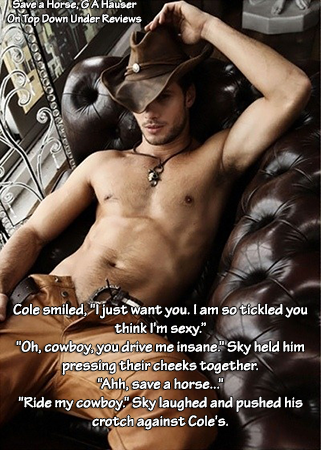 decade later neither man has forgotten the other. Only now they avoid each other because neither of them wants anyone in their small and everyone-knows-everybody-else's-business town to work out their desires and affection.  And it's not only the town itself, but Cole's family lives together on the ranch and they tend to be up in Cole's business about not dating women. He doesn't date anyone. Sky's the same. Both men are virgins and as Jay (thank you) reminded me, they have a lot of "pent-up sexual frustration and, man, does it show." There is a bit of angry posturing in this book and Cole's sister-in-law, Ria, is the "tiny" little woman in a house full of 4 other men who want to make sure Cole isn't "queer."
Are there stereotypes in this book? Yes. Did I want to whack the inappropriate state police who came in to take charge of the murder investigation? Yes!! But I still loved the sexy-voiced Sky and his use of the word darlin' – I'm a sucker for an American drawl and that word – and Cole makes you feel his desperation to bed, wed and love his sheriff.
The murder investigation was a bit of something extra to add icing to a cake of sexy, stolen moments and the need to see two hot-to-trot men who had waited long enough for their HEA to get one.
Nick J Russo does a good job of the main character's voices. He added a very sexy drawl to Sky and gave Cole a good amount of need.
Also, extra points for the square dance caller. The lyrics cracked me up and the last dance was good fun, and sweet.
Save a Horse is light reading but with heart, it was written at a crossover time for the LGBT community not being able to marry to then being able to enjoy the rights and freedoms that should have just been a given. And Sky and Cole have it right, save a horse, ride a cowboy. Yeehaw!