Nicked: Nordin (The Foster Brothers, #4), Nora Phoenix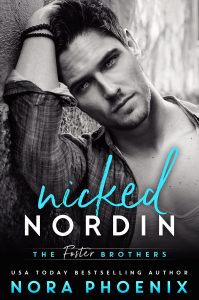 Rating: 5 'You'll Need A Whole Box of Tissues' Stars
Publisher: Nora Phoenix
Genre: Gay Romance
Tags: Contemporary, Cop/Con, Romance, Series
Length: 338 Pages
Reviewer: Cindi
Purchase At: Amazon
Blurb –
The stupidest thing a con artist can ever do is fall for the man who's trying to catch him…
Nordin likes to think of himself as a modern-day Robin Hood, redistributing the wealth from those who don't deserve it to those who do. It's fun, it's exciting, and it makes good use of his talents and gifts.
Unfortunately, not everyone sees it like that, including FBI agent Tavin Donley. He calls Nordin a con artist, which is, like, such a rude term. Worse, he's determined to catch Nordin.
That in itself is already a problem, but much worse is the fact that the chemistry between them is explosive. It always has been. And even though they're adversaries, they can't keep their hands off each other.
But when fire burns that hot, someone will get burned…
Nicked is the fourth book in The Foster Brothers series, a contemporary MM romance series about four men who chose to be brothers that can be read as stand alones. It has an epic game of cat and mouse, two men who can't keep their hands off each other, a battle for the top, and the sweetest surrender.
Review –
Nordin's voice broke, and he took a steadying breath. "The days each of you arrived at the group home were the best days of my life. We may not be related by blood, but we chose each other, and you're my brothers in every way. You've stood by me ever since, and you've been so patient with me as I fucked up again and again. Even when I shut you out, you still loved me. You've brought me so much joy and happiness. I just… I love you all so much, and I'm so grateful you're my brothers."
I couldn't wait to read this book. Of all the Foster brothers, Nordin was the leader of sorts, as well as the most secretive. The others, Jaren, Hadley, and Lagan were pretty much open books. Not Nordin. He made a promise to the younger boys when they were in the same group home that he'd always take care of them. He's kept that promise. As soon as the youngest (Lagan) turned eighteen and aged out of the foster care system, the four boys – well, men now – went to the courthouse and changed their last names to Foster. They weren't officially adopted brothers, but brothers just the same. They moved from Chicago to Seattle, putting their childhoods behind them.
Nordin's brothers have now found their happily-ever-afters – Jaren with Reid (#1), Hadley with Sebastian (#2), and Ladan with Killian (#3). Nordin has always been their protector, the one who always made sure they had food, gifts, and other necessities. It's not like the group home provided for them. Now that they found love, he's a little lost, and he admits, lonely.
Nordin would like nothing more than to walk away from his career and finally find love.
Or, should I say be with the man he already loves.
The book starts with a prologue from 2004 that shows Nordin at 14 doing something for the three boys he already considers his brothers. It also shows the reader a little about how he became a con, a grifter of sorts. We knew what he did was illegal, but we weren't told what it was. The reader learns more with each chapter.
Chapter 1 starts in 2008 and the chapters move forward in years until the here and now. I admit that I groaned to myself when I saw that. To me, that's basically the equivalent of flashbacks that I despise. But, man, once I got started, I had to force myself to stop reading even for a few minutes when I had to.
In 2008, Nordin is eighteen and aging out of the foster care system. He's in the CPS office for the umpteenth time when he spots a hot guy around his age with a black eye. He makes his way over, they hit it off, and Nordin learns that he's there for the same reason Nordin is. The guy's name is Tavin.
They plan to meet in the park later. Between the CPS office and the park meeting, Nordin is busy. He 'scores' suits for both of them, some cash, and even a fancy hotel room in the Waldorf-Astoria. None of it's legal, of course, but for some reason, he wants to do something special with Tavin. Even before they ever had their first kiss they knew they had a connection.
This begins a love story that's fifteen years in the making.
After the best night of both their young lives they separate. Tavin's goal is to get to L.A., and Nordin has to hang around Chicago until his brothers are eighteen and can all head to Seattle.
When Tavin walks away, Nordin's convinced they'll never see each other again.
~~~
"Maybe we'll meet again," Nordin said, not even believing his own words.
Tavin took both his cheeks between his hands and looked him deep into his eyes. "Not maybe. We will. One day, our paths will cross again."
God, how Nordin wished he could believe that, but sadly, he'd lost faith in promises like that a long time ago. Not that he would show Tavin his doubt.
"Okay. Until then."
"Until then."
Tavin kissed him one last time, then spun on his heels and stalked off. Nordin watched him for as long as he could, but Tavin never looked back.
~~~
"And also, if you're like, thirty and you still haven't found someone by then, look me up. I'm bound to still be single, so I'll marry you, and we'll adopt a bunch of kids."
~~~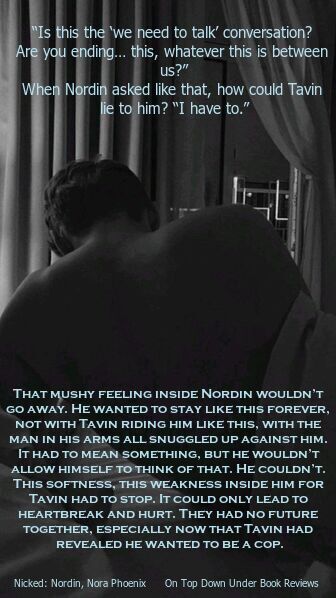 A few months later, Nordin gets a postcard from California with nothing but a phone number on it. He knows right off who it's from. One text leads to many, and even a few phone calls. Over the years they manage to find ways to meet up, each time being more explosive than the time before it. This goes on until one day Tavin has to break it off. He wants to be a cop, and what Nordin does for a living isn't exactly legal.
You can tell that these guys genuinely love each other, yet they know they can't be together. Nordin tries to do the right thing, he really does, but he can't stay away. Tavin's just as bad, even knowing being with Nordin could destroy his law enforcement career.
They still somehow always find a way to see each other again, even years later when Tavin's been given the opportunity of possibly joining the FBI. Each goodbye is heartbreaking. They never have more than a few hours here and there, but it's devastating every time they have to walk away from each other. It's never enough time.
There are a couple of times when they actually take care of each other outside of sex, one medical emergency and another health issue.
It's not just sex with these two.
The blurb is misleading, and not really accurate in a few places. I guess this is a spoiler, but I'm saying it anyway. The blurb reads like Nordin the con man is on the run from Tavin, the FBI agent, and that Tavin's been trying to catch him for whatever reason. That's not it at all. They love each other, it's so obvious, but they can't be together as a couple because they're from different sides of the law. It's not a matter of a cop or an FBI agent trying to arrest a con that he's been trying to catch for an amount of time.
When Tavin's assigned to a field office in Seattle, their coming together again – and not exactly for their stolen moments of sex and just being with each other – is inevitable.
What happens when both of their careers collide?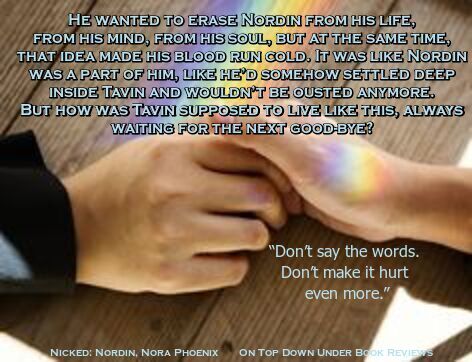 I honestly don't remember the last book that had me as teary eyed as this one did almost from the very first page. Watching Tavin and Nordin fight so hard to not love each other hurt my heart. Hell, just seeing Nordin emotional hurt my heart. He'd always been the strong one of the brothers, the one who appeared to always be in control of everything – his life, his emotions, everything. Only in Loathed: Lagan was the reader given a few glimpses of his emotional side, with him even sharing a little with Lagan about what he did for a living, something he'd never done with any of his brothers before.
Throughout the entire book, you want so much to see Tavin and Nordin finally get their HEA. I've never cheered on a couple in a book like I did Tavin and Nordin. They loved each other so much, and it killed them each time they had to separate again, but it's hard to see how they could ever be together.
It happens with the above-mentioned situation where Tavin the FBI agent meets Nordin the con during a case.
Only Nordin's not your typical con man. He gives away more than he keeps, even exacting revenge on those who harmed him, his brothers, and other foster kids. He was a modern day Robin Hood of sorts. And through it all, he never once lied to Tavin. Tavin, like Nordin's brothers, knows he does something that's illegal, but it's a don't ask, don't tell type of thing.
Throughout it all, Nordin never told his brothers about Tavin or cried on their shoulders, even though he had nobody else he could talk to. He was so used to being the one they came to, not the one who opened up about his own life.
That's all I'll say about the story.
I've been fascinated with Nordin since the first book. He was so mysterious. He was the big brother, the protector, the one who always ensured his brothers had what they needed, what they wanted. Even with them all grown, and with partners of their own, he still can't help but want to take care of them.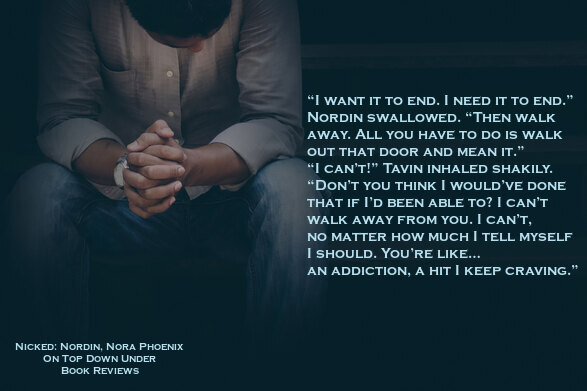 I loved seeing the other guys and their partners. The relationship between all four of the brothers is something most would kill for.
I'm sad to see the series end, but I swear I can't think of a better way for it to happen. I think Tavin and Nordin will always be up there as one of my all-time favorite fictional couples. They fought so hard to get where they are. You simply can't help but love them both. This book also goes on my all-time favorites list. Any book that can bring out the emotions like this one did is big winner to me. I cried like a big baby from the beginning to the end, and I'm not the least bit ashamed to admit it.
Now that the series is over, I'll be going back and reading all the books again. I want to see the things I missed with Nordin.
Outstanding book.
And another huge thank you to my amazing blog partner and best friend for reminding me of how much I enjoy this author's books.