Hired: Hadley (The Foster Brothers #2), Nora Phoenix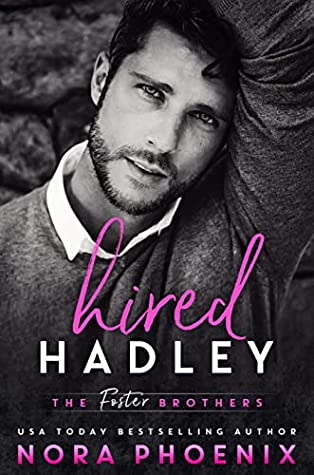 Rating: 4.5 Stars
Publisher: Nora Phoenix
Genre: Gay Romance
Tags: Contemporary, Age Gap (9 Years), Boss/Employee, Opposites Attract, Romance, Series
Length: 325 Pages
Reviewer: Cindi
Purchase At: Amazon
Blurb –
Sebastian LeClerc is richer than Midas. He's also a grumpy a**hole, a playboy, and the world's worst boss. At least, according to Hadley, who was crazy enough to take the job as Sebastian's PA.
Big mistake. Huge.
Sebastian may look like Richard Gere and be equally charming in public, but it's all an act. Hadley should know, as he's one of the few people who gets to see the real Sebastian.
Except Sebastian does seem to appreciate Hadley, calling him his sunshine. And when something nice comes out of his mouth on occasion, Hadley's heart is all aflutter.
Oh no.
It can't be.
Has Hadley fallen for his boss?
Hired is the second book in The Foster Brother series, a contemporary MM romance series about four men who chose to be brothers that can be read as stand alones. It has a grumpy billionaire boss, a sunshiney assistant, falling for the boss, a sweet guy who soaks up praise like a dying plant, and some delicious spanking.
Review –
Hadley is a PA who works for a temp agency. Caitlyn, a coworker and friend, is sick and needs somebody to fill in for her at her latest temporary job. She's only worked there for a couple of days and knows she'll get in a lot of trouble if she doesn't show up or get a replacement. Hadley, being the good friend he is, agrees. It doesn't take long before he's regretting that.
Sebastian is the CEO of a huge robotics company. He's always grumpy and goes through personal assistants like water. He's had twenty-two (!) in two years. Five minutes with him and Hadley can see why they keep taking off. The man's a jerk.
Their initial meeting doesn't exactly go as planned for either one. In Hadley's defense, he had no clue the man he was bossing around during a stranger's medical emergency outside the building was his new temporary boss. Even so, first impressions and all that.
Sebastian is every personal assistant's nightmare. Not only is he short-tempered and impatient, but he basically expects his assistants to be psychic and just know what to do. There's no instruction, no guidelines, no anything. Hadley's a damn good assistant but even he can't read the man's mind.
"I don't have time to hold your hand. This product needs to launch, and I can't afford to waste any time on mundane tasks like helping you find your way. If you can't work independently, this is not the job for you."
Hadley finally just jumps in head first and figures things out as he goes, even organizing Sebastian's very screwed up electronic filing system and his never ending email account. While that helps make his work life a little easier, Sebastian is still, well, mean. Hadley, while still professional, doesn't take any shit from his new boss man. Strangely, Sebastian respects that. What he really respects is Hadley's organizational skills. Before Sebastian realizes it's happening, his crazy and chaotic days aren't so crazy and chaotic anymore, and he's willing to fork out whatever amount of money it takes to keep his new PA.
It also helps that he's totally in lust with his new employee, though he keeps that to himself at first.
For some reason, Sebastian wanted to know if Hadley was as bossy and cheeky during sex as he was in the office. Sebastian was usually in charge during his sexual encounters, but he wouldn't mind at all letting Hadley tell him what to do in bed.
Sebastian is a bit of a man whore, though he's fairly discreet with his hookups. Hadley's totally in lust with Sebastian, but he, like his new boss, keeps his personal and professional lives separate. He doesn't do relationships, and he damn sure has no desire to hook up with somebody who basically signs his paychecks. Hadley learned a long time ago to not trust or depend on anybody except his brothers (Jaren, Ladan, and Nordin). He hooks up as much as the next guy, but it doesn't go beyond that, and it's never with anybody he knows or will risk having to see again. Even when Sebastian starts showing interest, Hadley balks, and with good reason. They both know a sexual relationship is a recipe for disaster so they fight it until one day they can't anymore.
"I know this may sound inappropriate, but would you like a hug?"
That almost brought tears to Sebastian's eyes, though why, he had no clue.
"As much as I would love to say yes, I'm pretty sure that if I touch you now, I won't be able to stop. I tend to release my frustration in sex, and you'd end up on the floor, naked, with my cock buried inside you. Also, inappropriate to say, but here we are."
Over time, Hadley sees a different side of Sebastian, even understanding to an extent why he's always so grumpy. He's overwhelmed. When he took over the company from his father, the company grew substantially, but his administrative staff didn't. His father's former assistant (Beryl, I think her name was?) is still there but she's seriously useless. She's very blunt about how she doesn't like Sebastian, won't do work for Sebastian, and is only showing up each day until she can get her retirement a few months later.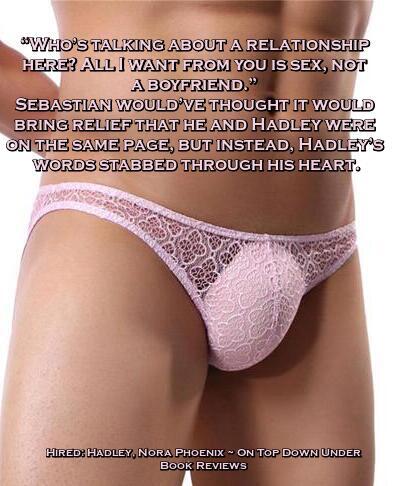 It takes no time at all before Sebastian knows he's finally got a good one with Hadley. Not only does he work his ass off, he keeps things running smooth for Sebastian, something he's not used to. He also stands up to him when nobody else ever dared to. He respects that.
When there's a health scare of sorts, their relationship goes up a notch. No longer are they employer/employee, but they've somehow become friends too. Or at least that's what Sebastian is hoping anyway. Hadley gets him when nobody ever has before. And, to Hadley's surprise, Sebastian gets him as well.
This is a slow burn of sorts but there's enough sexual tension between these guys to keep it from dragging. When they finally do have sex, it's a given that it's only sex, nothing more.
Hadley also has a thing for wearing panties, something that drives Sebastian wild.
When Sebastian starts showing his sweet side, all bets are off. From simple things like buying Hadley a kettle for the office because he likes his fancy teas, to getting him a small fridge to keep near his desk for his lunches, to (and this is a biggie) taking him on the trip of a lifetime simply because Hadley had mentioned the place was on his bucket list, but way out of his reach due to finances.
I absolutely fell in love with Sebastian when he did all of those things, but especially the trip. It wasn't just a trip. It was a big surprise that he planned on his own, even secretly contacting Lagan – someone he'd never met or even spoken with – to ensure a bag was packed for Hadley.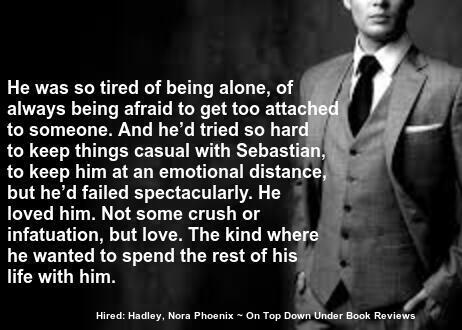 Everybody has their 'love language', something that's discussed over a family dinner with his parents and sister. Sebastian's is buying things for those he loves. He's not good at saying the words, or expressing himself in other ways sometimes, but he's very generous with his gifts. It's not like he feels he's buying affection or anything like that, nor does he ever expect anything in return. It just makes him very happy to do it. It's his way of expressing his love because he's unsure of how to do it otherwise.
That 'love language' is what ultimately tells Hadley that he means more to his boss than as just a fuck buddy.
Mr. Grumpy Butt turned into a serious sweetheart and I was cheering him on when I didn't think that would be possible. Not that I didn't like him and his prickly ways to begin with. I did. He was a mean boss in the beginning, but I've had much worse. It was actually pretty nice watching him go from being the jerk overwhelmed CEO to being the romantic and caring man he became with Hadley.
There's a lot of back and forth with both men before they figure things out. Sebastian is a known playboy who's one of the most wealthy men in the area. Until Hadley, the last thing he wanted was a relationship that lasted more than a few orgasms. 😉 Hadley, because of his bad childhood, has no desire to ever commit to anyone. He stopped trusting everybody except his brothers when he was ten for reasons that come out in the story. My heart broke for that ten-year-old boy.
Never again would he let anyone else in. All it would cause was pain because sooner or later, he'd be disappointed all over again. He'd never find a home, a place to belong, other than with his brothers.
These two guys were so good together. And the way they finally came together, when the L word was spoken the first time… just aww! It was the perfect scene for this little hopeless romantic's heart. But honestly, nothing compared to the surprise trip Sebastian took Hadley on.
The brothers – Jaren, Nordin, and Lagan – were there as Hadley came to terms with what he was feeling. While I would've loved to have seen them on-page more, especially Nordin who cracked me up big time at one point, they were amazing when Hadley needed them to be.
Overall, a great book. This series doesn't have the kink that I've gotten used to with Nora Phoenix's books, though there's a bit of spanking in this one. Even so, I enjoyed the hell out of watching Sebastian and Hadley as they worked their way to each other.
There's also a nice epilogue.
I'm really looking forward to Lagan and Nordin's books, especially Nordin's. He's the most secretive of the Foster brothers, which has me even more eager to know his story.
I can't not mention Sebastian's parents and sister. Hadley grew up in group homes, having been taken away from his parents who cared more about their substances than their child. His only family is his found family, his brothers. Sebastian grew up with doting parents and a great sister. His mother and father are parents most people dream of having. So often I see parents that don't accept their adult children. Not these two. They were amazing.
I can't wait for the next one.